Paulinho's return to the Brazil squad last year was met largely by surprise, his selection in coach Tite's first team greeted by sniggers.
A 'Premier League flop', banished to the Chinese Super League for his sins, they said the 28-year-old had no business being in the first squad of a competent coach ready to drag the world's greatest national team back out of the gutter.
---
READ MORE:
Brazil's WCQ campaign so far | IN STATS: Brazil's Uruguay romp | Report: Uruguay 1-4 Brazil
---
Paulinho had been cast aside by Brazil, a forgotten man. After starring as one of the most important figures in Luiz Felipe Scolari's squad ahead of World Cup 2014, the tournament proved a personal disaster for Paulinho long before the 7-1.

Fernandinho had relegated him to the bench following three disappointing showings in the group stage, leaving Paulinho the first member of the Scolari Family to be fully ostracised.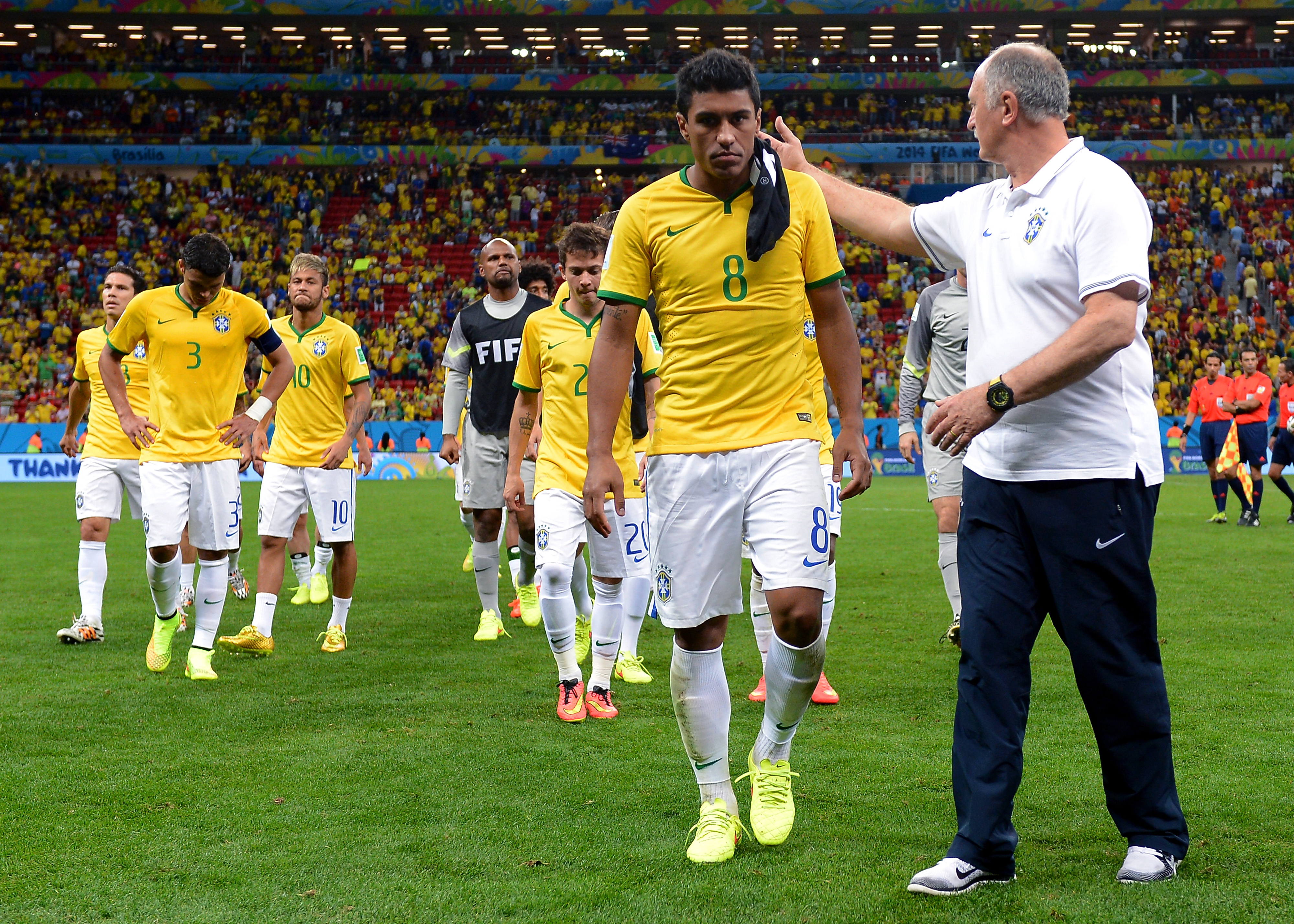 He'd not been selected even once by Scolari's successor, Dunga. He'd been nowhere near the Selecao for more than two years when Tite sat down at CBF headquarters in August 2016 to name the first squad of a new era.
But a scouting report the new boss had requested from Asia had spoken positively of Paulinho, who'd played a major role the 2012 Copa Libertadores and Club World Cup victories Tite had achieved with Corinthians.
Five years ago, en route to the Libertadores final, Tite and Paulinho met Vasco in the quarter-finals in an epic all-Brazilian clash. After 178 goalless minutes, shortly after Diego Souza had missed a glaring opportunity to win it for Vasco, Paulinho strode forward to strike a dramatic winner.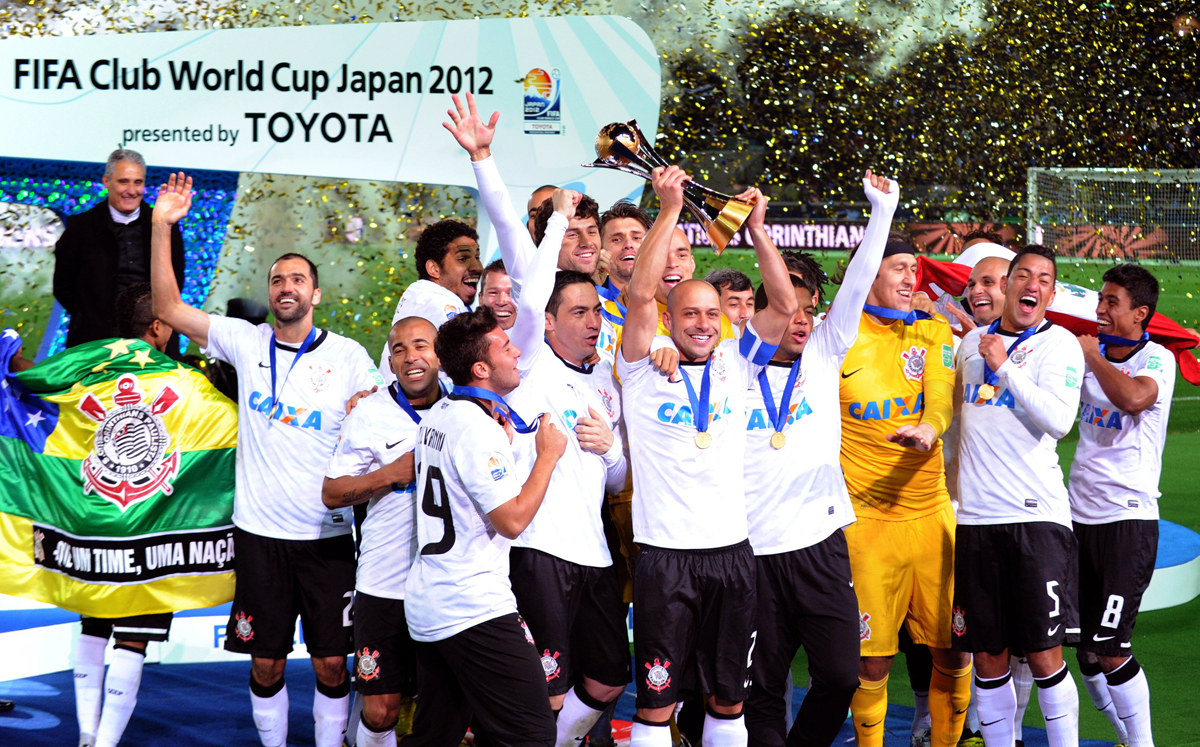 "PQPaulinho", ran the front page of Rio-based sports daily Lance! – a pun playing on the abbreviation for a phrase no Brazilian would want their mother to hear them say.
Football, like every other industry, is often more about who you know. With just three days to work with his new players ahead of a tricky international debut in Quito, Tite needed someone he could rely on, someone he knew. More importantly, Tite needed someone who knew him.
The new Brazil weren't going to play with a double-volante, there would be no dastardly duo of extra central defenders sitting in front of the back four. Tite wanted a single specialist defensive midfielder who also possessed a range of passing.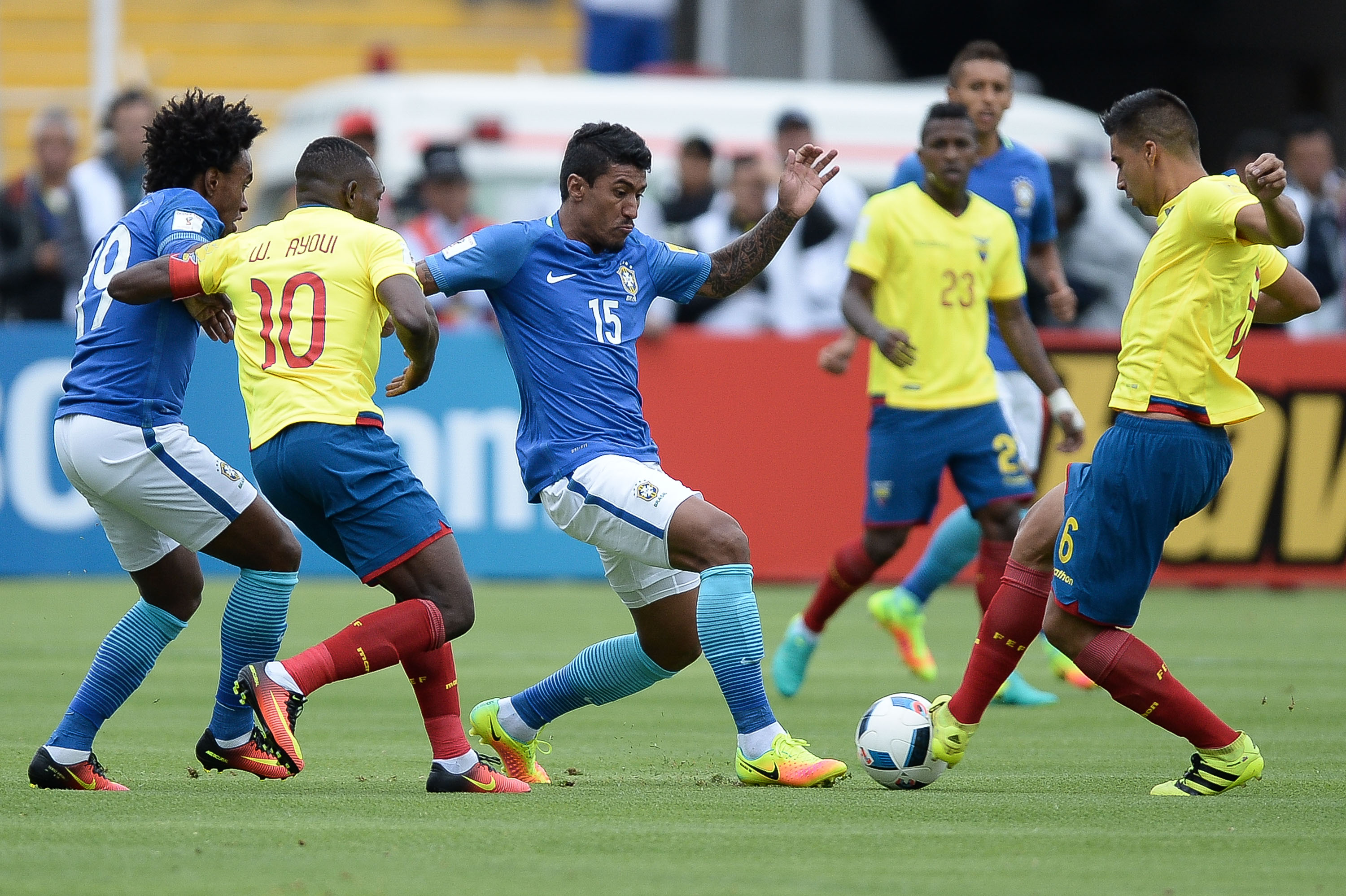 He found exactly what he was looking for in Casemiro, but needed a shuttling midfielder to slot in just ahead the Real Madrid man. A familiar face, Paulinho knew the setup better than anyone and could help translate the nuances of a hitherto esoteric system to his less learned colleagues.
Tite and Paulinho reunited. 2016's Casemiro was 2012's Ralf. Renato Augusto (another former Tite alumni) was Danilo. Paulinho was ready to turn back the clock.
Tite had spent months preparing meticulously for the Ecuador match and had identified that smart-passing midfielder Christian Noboa was key to the home side's chances.
Paulinho, then, was given a specific task: stop Noboa. He did exactly that, and after another Paulinho-assisted tactical tweak to slow the early progress of Jefferson Montero on the left side of Ecuador's attack, Brazil ran away 3-0 victors thanks to an inspired performance from debutant Gabriel Jesus.

It was the first of six consecutive victories as Brazil recovered from a poor start to take Conmebol World Cup qualifying by storm.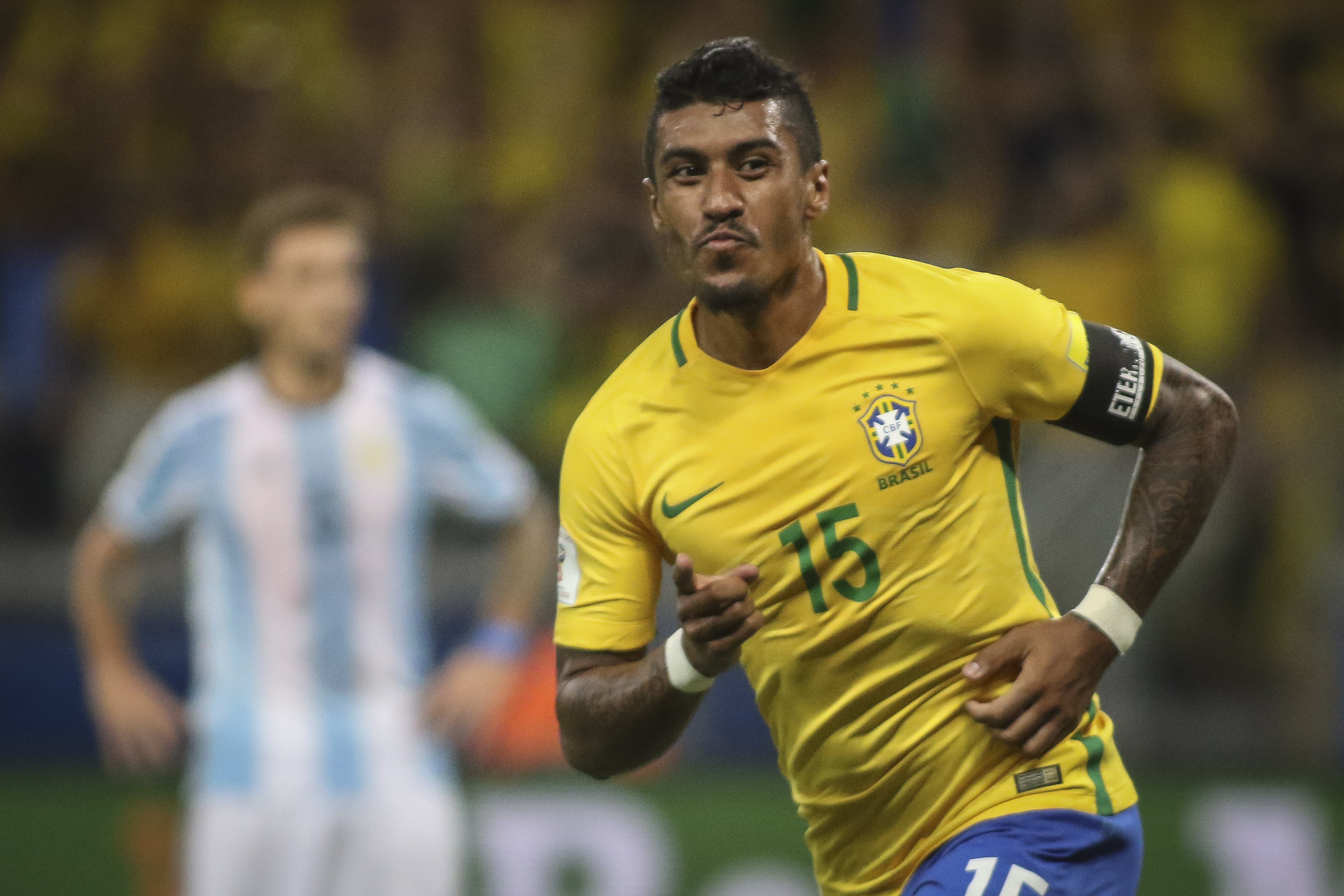 Since then, Paulinho has returned time and again. Prior to this week's clash with Uruguay, he'd missed just one of Tite's six games in charge, due to a suspension for the match with Bolivia in October.
It was assumed he would miss out on a place in the squad that would face Colombia a few days later, but so important had he become that Tite instead just named a 24th squad member for the Bolivia game.
Paulinho struck his first Brazil goal in over three years when he grabbed the third in a famous 3-0 victory over Argentina in November.
And on Thursday he went two better, netting the first hat-trick of his career as Tite scored his toughest victory in the job so far, dismantling Uruguay 4-1 in Montevideo, ending the Celeste's six-game winning streak in the capital and inflicting their first home defeat since 2009.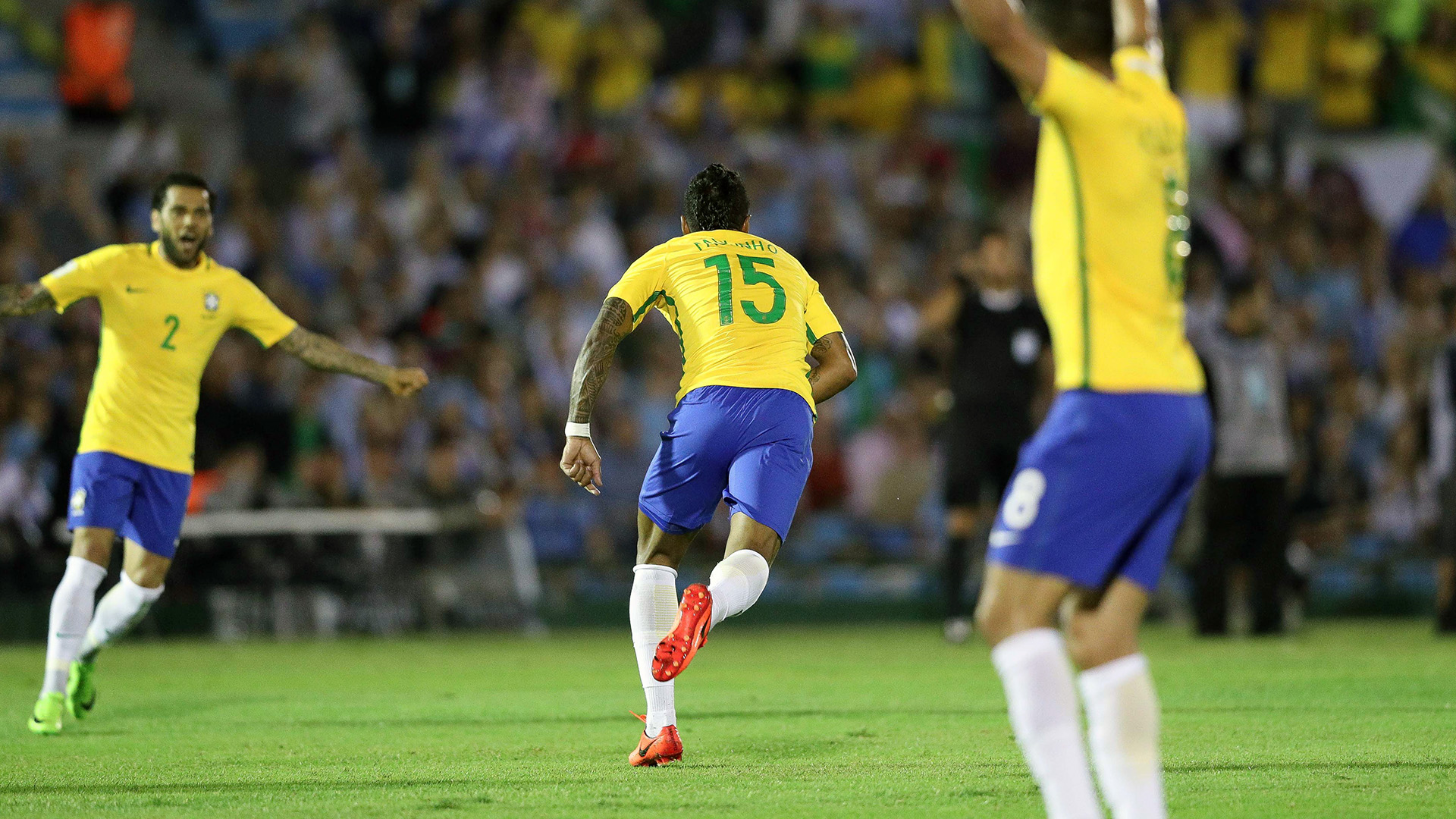 Paulinho became the first Brazilian to net a hat-trick against Urguay in almost half a century, since his namesake Paulinho Valentim hit one in 1959.

All the qualities that transformed him from a player who considered giving up the game after failing to make the grade in Lithuania and Poland into one of the most-wanted midfielders in world football were evident once more.

Strong, athletic, dynamic and with that rare ability to perfectly time his late runs into the box, in 2012 Paulinho had been the star of a Corinthians side that wasn't supposed to have any.
He appeared tailor-made for English football ahead of a £17 million move to London, and now appears tailor-made for the in-form national team on the planet. Perhaps Tottenham Hotspur and then coach Andre Villas-Boas didn't know what they had?
"What a monster!" announced Globo on Thursday, awarding Paulinho a rating of 9.5/10. Tite was lost for words. "What more can we say? His performance said it all."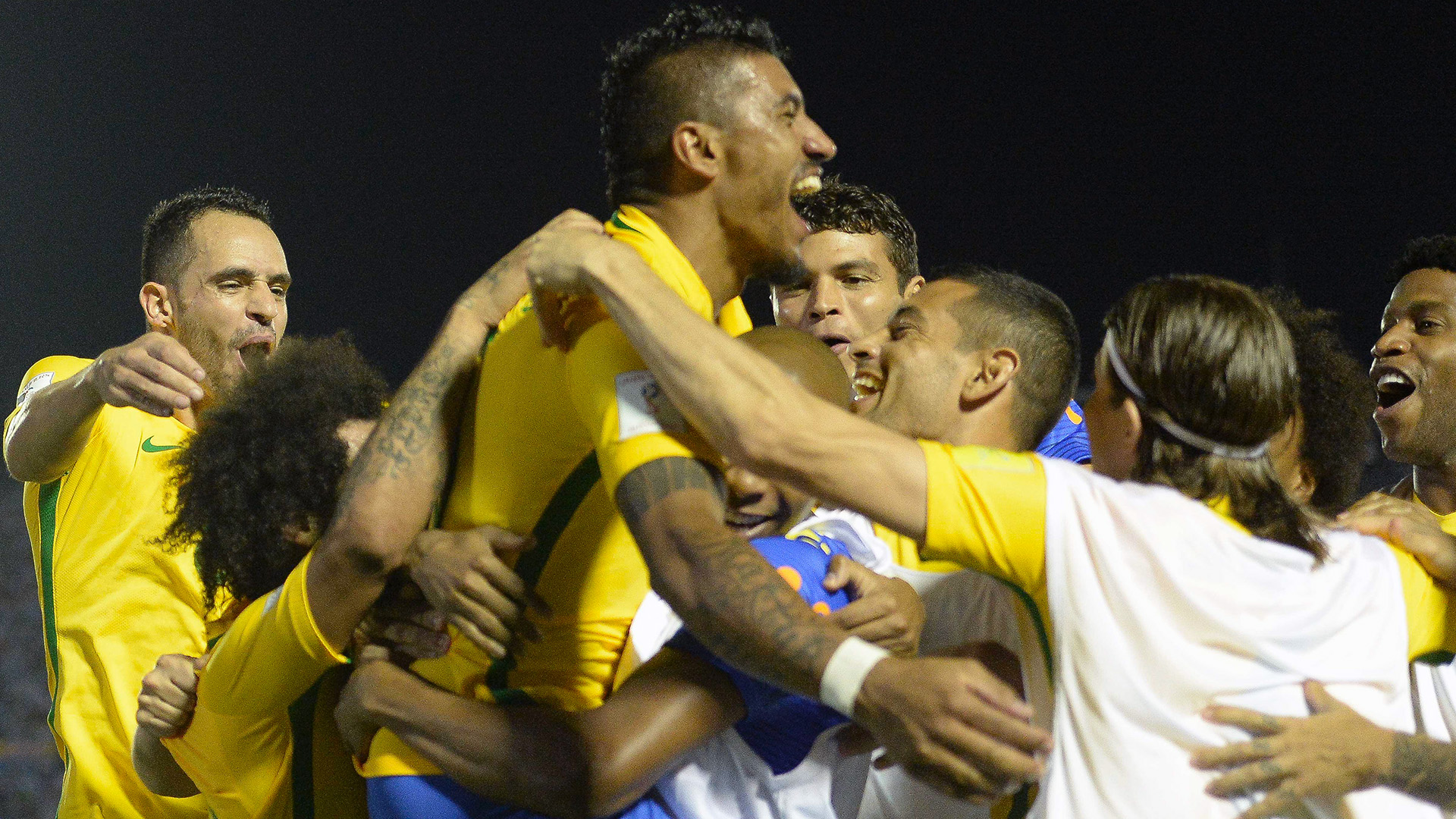 Paulinho himself described the night as "no accident," but admitted he'd "never even dreamed of scoring a hat-trick for Brazil." In truth, neither had anyone else. Certainly not for a good while.
Three years after the infamous World Cup 2014 campaign, a forgotten man returned Brazil's national conciseness this week.

"PQPaulinho", they sniggered. And this time, the sniggers arrived out of nothing but respect, both for their mothers and for a new hero.