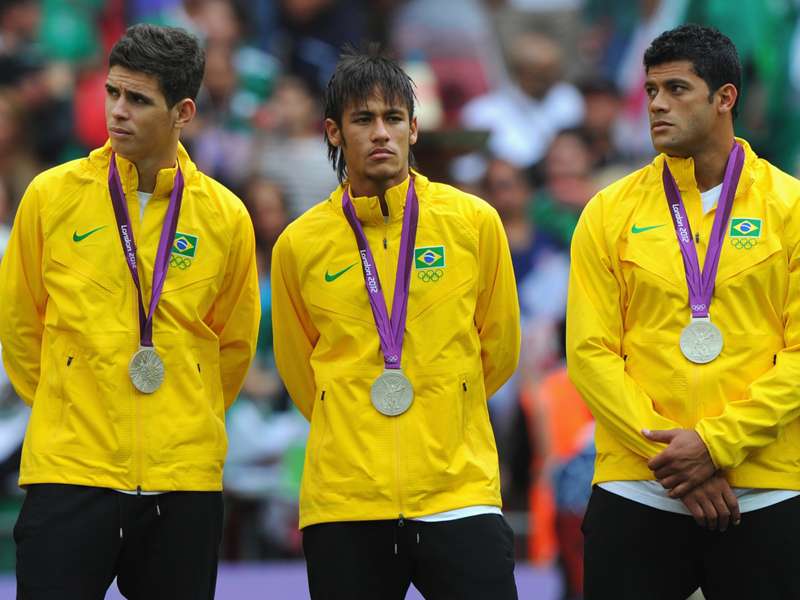 Copa America or the Olympics games? Former Brazil coach Dunga would have liked to field his strongest side in both competitions, with captain Neymar leading the charge for back-to-back titles. But the Selecao reluctantly accepted the fact they had to make a choice.
---

READ MORE:


Ronaldinho & Brazil's overage Olympians | Brazil's Olympic squad | PROFILE: Who is Rogerio Micale?
---
June's Copa America returned just one year after the previous edition, as South American football federation Conmebol teamed up with their North American neighbours Concacaf for a joint tournament to celebrate the 100th anniversary of football's oldest international competition. Taking place in USA between June 3-26, it featured all ten South American nations and six from North America.
The Olympics football tournament will be held in Rio between August 3-20. And the quest for gold has become an obsession for Brazil. With five World Cups, eight Copas America, five Confederations Cups, and five Under-20 world titles, the Olympic Gold remains the one major title for which Brazil are eligible that they are yet to win. As hosts, it's felt the Selecao have never had a better opportunity to end their wait.
The sides in Rio will be made up of Under-23 players, born on or after January 1993, but each nation is permitted three overage inclusions. However, while clubs were obliged to release their players for the official, Fifa-recognised Copa America, they were under no obligation to do so for the Olympics.
In addition to Neymar, Brazil's Olympic coach Rogerio Micale settled on 37-year-old Palmeiras goalkeeper Fernando Prass and Beijing Guoan midfielder Renato Augusto to make up his overage quota.
Below, Chevrolet Brasil Global Tour begins a series of articles looking back at Brazil's Olympic history and why the Selecao are so desperate to strike gold.
FOOTBALL AT THE OLYMPIC GAMES
After water polo, football was the first team sport to be added to the Olympic games, with the first Fifa-recognised tournament taking place at in London 1908. The first gold medal was won by hosts England, who defeated Denmark in the final, with Netherlands taking bronze.
The only tournament to pit football teams from different continents against one another, Uruguay's total dominance of the 1924 and 1928 editions saw interest in the sport reach new heights, helping to convince Fifa the sport needed its own World Cup. Brazil, meanwhile, did not compete at the Olympic Games in any capacity until 1920, and did not compete in the football tournament until 1952.
URUGUAY CROWN SOUTH AMERICA KINGS OF THE WORLD GAME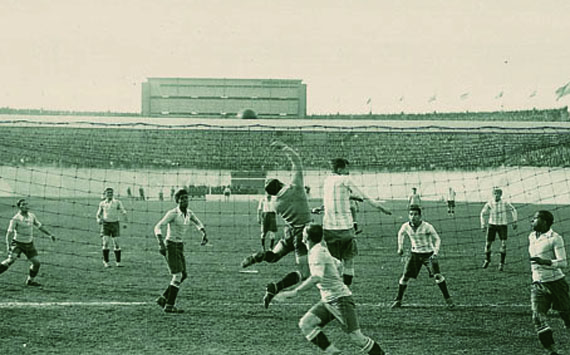 (Photo: International Olympic Committee)
They wear four stars on their shirts to this day. 1924 and 1928 were, to all intents and purposes, World Cups. Europe and South America had never met in an official capacity prior to the Paris games in 1924. Italy and Hungary were favourites to take gold, but they were in for a shock. Uruguay can hold a legitimate claim to being the nation that transformed football into the world's most popular cultural pursuit.
Only 2,000 people watched Uruguay destroy Yugoslavia 7-0 in their opener, but word of their dynamic, artful approach to the game spread and they quickly became the spectacle nobody wanted to miss. "The crowd jostled to see those men, slippery as squirrels, who played chess with a ball," wrote the great Eduado Galeano. "They chose to invent a game of close passes directly to the foot, with lightning changes in rhythm and high-speed dribbling." They hit also 17 goals in four games. They returned four years later to reclaim their crown by seeing off arch rivals Argentina in the final in Amsterdam, before hosting and winning the first World Cup two years later. South America was the new home of world football.
Beaten by Uruguay in a qualifier for the 1924 games, Argentina were furious with their neighbour's claims that victory in Paris made them world champions, and immediately challenged Uruguay to a grudge match. Argentina triumphed 3-2 following a two-legged clash, which ended amid crowd trouble in Buenos Aires.
The early years of the game in South America had become a battle for continental dominance between the River Plate sides as they shared six of the first nine editions of the Copa America. Argentina (the hermanos, 'brothers' as they are known in Brazil), had to wait a long time to settle their Olympic score, however. Currently without a senior title since they claimed the Copa America in 1993, back-to-back Gold medals in 2004 and 2008 (the latter arriving as they saw off Dunga's Brazil in the final in China) offers some consolation. That Uruguay and Argentina share two medals each makes Brazil's lack of gold all the more grating.
NO SILVER LININGS FOR THE SELECAO
While their European cousins may not hold the competition in high regard, the early importance of the Olympics still resonates across South America. The quest for gold has become an obsession for Brazil, who now claim the South American crown for themselves. The Selecao have come within touching distance of gold on three occasions, but each time have seen their dreams end with silver. In the 1984 games in Los Angeles, they were defeated 2-0 in the final by France. Four years later, in Seoul, they went down 2-1 to the Soviet Union. And in 2012, Neymar and Mano Menezes' side saw their campaign conclude with a shock 2-1 loss to Mexico.
The bronze medal at the 1996 Olympics in Georgia – secured with a 5-0 hammering of Portugal - offered little consolation for a semi-final golden goal defeat to Kanu's Nigeria; while 2008's 3-0 bronze-medal-match victory over Belgium couldn't paper over the cracks of a last-four loss to rivals Argentina by the same scoreline.
2016 is supposed to be the year that brings their long wait to an end. Brazil have a score to settle. And while he has dominated the game at domestic level, gold would be Neymar's greatest gift to his nation. If he's there.