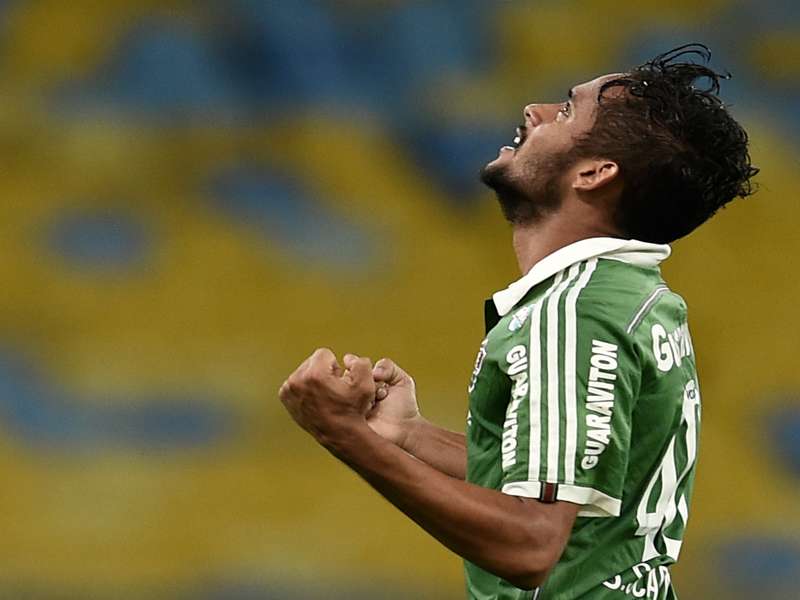 ---

EXCLUSIVE
---
Carrying responsibility with his feet planted firmly on the ground, Gustavo Scarpa has grown accustomed to the burden of expectation. At just 22-years-old, the midfielder has already become a focal point at Fluminense, one of Brazilian football's most storied clubs.
Selected as part of the 30-man preliminary squad that will go in search of Olympic gold – the only title for which Brazil is eligible but is yet to claim – a few thousand extra kilos of pressure appear set to be loaded onto his young shoulders in August.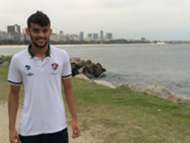 The Selecao will need all the firepower they can muster in Rio with their standing as favourites likely to see their fellow Olympians sit back and look to hit the hosts on the counter-attack. And Brazil may find a secret weapon in Scarpa, a midfielder with an increasing hunger for goals.
He is currently Flu's top scorer in 2016 season with nine strikes, and has tried his luck on no less than 42 occasions in his 11 Brasileirao 2016 matches this season – more than anyone else in the league.
That stat goes some way to explaining his nickname of Chutavinho (little shooter).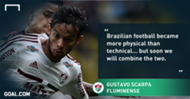 In 2015, Gustavo Scarpa received his first call-up for Brazil's Olympic team and put in a particularly impressive performance in the 5-1 victory over USA.

The chance to represent the Selecao was a huge honour for the youngster who, like so many of his compatriots, has a childhood littered with happy memories of watching the five-time world champions. It was after the World Cup 2002 victory over England that he first dreamt of pulling on the famous yellow jersey for himself, he revealed in an exclusive interview with Brasil Global Tour.
Scarpa has hit the big time. And with it about to get so much bigger, we caught up with him this week to talk over his past, present and future.
Third time lucky - how it all began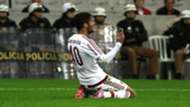 "My father was a coach in Campinas and so I started out by following him to the club. As he trained his team I would just kick a ball around with the other boys. That's when I first began to get a taste for football.

"My first contact with Fluminense was in 2002, when I played against their futsal team, I think it was nine years old. We lost but I played very well. They got in touch after that but I was so young and did not end up going to see them. A similar thing happened when I was 15, but that also didn't work out. So it was after the Copa Sao Paulo in 2012 when I played against Fluminense again that I ended up going to join the club."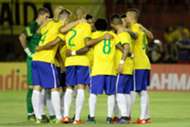 "The first week was very hard. I remember that on the third day of training it was very hot, it felt like it was almost fifty degrees and I was very anxious. But I soon got used to being so far away from my family and once I accepted that, things went much more smoothly.
"I got the nickname (Chutavinho) from my friends. It was from futsal because I really liked to shoot, sometimes without much success. It came really quickly and I just embraced it, I think it's cool (laughs)."
A meteroic rise
"I have tried to face my rise to prominence with humility and take it all in my stride. The level of responsibility on me is always increasing at Fluminense and I look to my father because he has always told me to keep my feet on the ground, to keep working hard, and that only then will good things happen in my career. He has helped me a lot, he has always advised me not to get caught up by the things that football brings and that has been a huge help."
The Selecao, Ronaldinho and World Cup 2002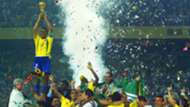 "My biggest memory with the Brazilian national team is the 2002 World Cup, but specifically the match between Brazil and England - the game when Ronaldinho scored that great goal. I remember that team very well. It was then that I began dreaming of playing in a World Cup. I know how difficult that will be but I believe I can make it through hard work and dedication.
"My biggest idol in football is Ronaldinho, as a child I would watch him play at his best with Barcelona. He has a different style to me but he was the guy who motivated me to be a footballer."
And of the current Bazil side?
"Willian also has a different playing style to me but I really like watching him, he is very technically-gifted and possesses great intelligence. I really enjoy seeing him play."
Tite, new beginnings and Willian the idol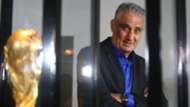 "Tite really deserved it, he is a coach who for some time has been demonstrating how talented he is and has won some big titles. He had the opportunity to be Brazil coach before, but being a smart guy he eventually decided to wait a bit and the opportunity came again. I hope it goes well because I can't speak highly enough of the guy."
New generation can help Brazil find its way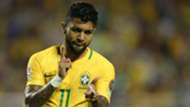 "This new generation has so many good players. Gabriel Jesus, Gabigol, Jorge, Luan, we have a really strong group, some of whom are very young and already carry great responsibility in their clubs. I'm sure that this generation can give a lot of joy to the supporters of their clubs and, one day, the Brazil fans as well."
What must change?

"I believe that Brazil will rediscover their way. It is clear that our football has changed a lot. It became more physical than technical, but in the near future Brazilian football will combine technique and physical strength and will once again have the biggest potential of any side in world football. We have the capacity to see that again."