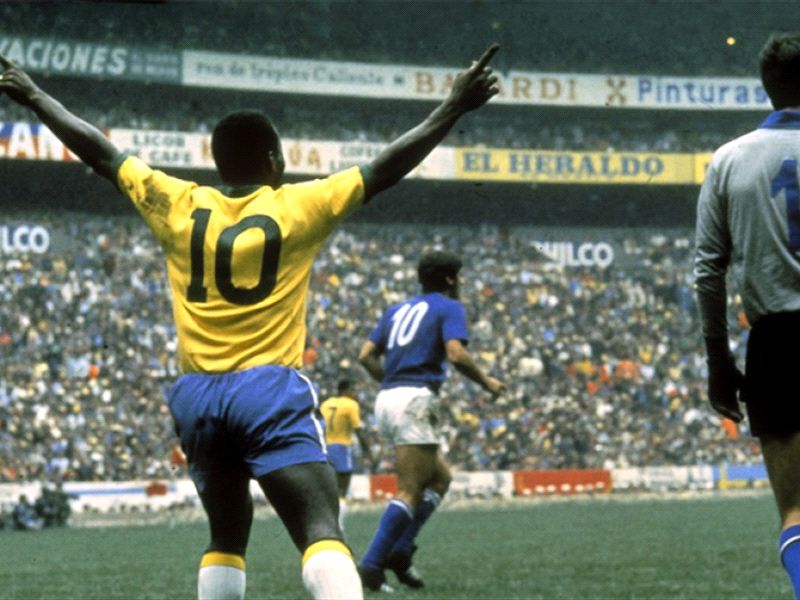 Pele made it the most famous shirt in the world. The greatest player of all time, the only man who can claim to have won the World Cup on three occasions, it was he who ensured that Brazil's No.10 jersey became immortal.

Ten players have worn the Famous number for the Selecao at World Cups for Brazil. The mystique it has carried ever since was the subject of a book, 'The Magic of the No.10 shirt' by journalists Andre Ribeiro and Vladir Lemos, and it is a number that has since been worn by many of the most talented players the game has ever seen.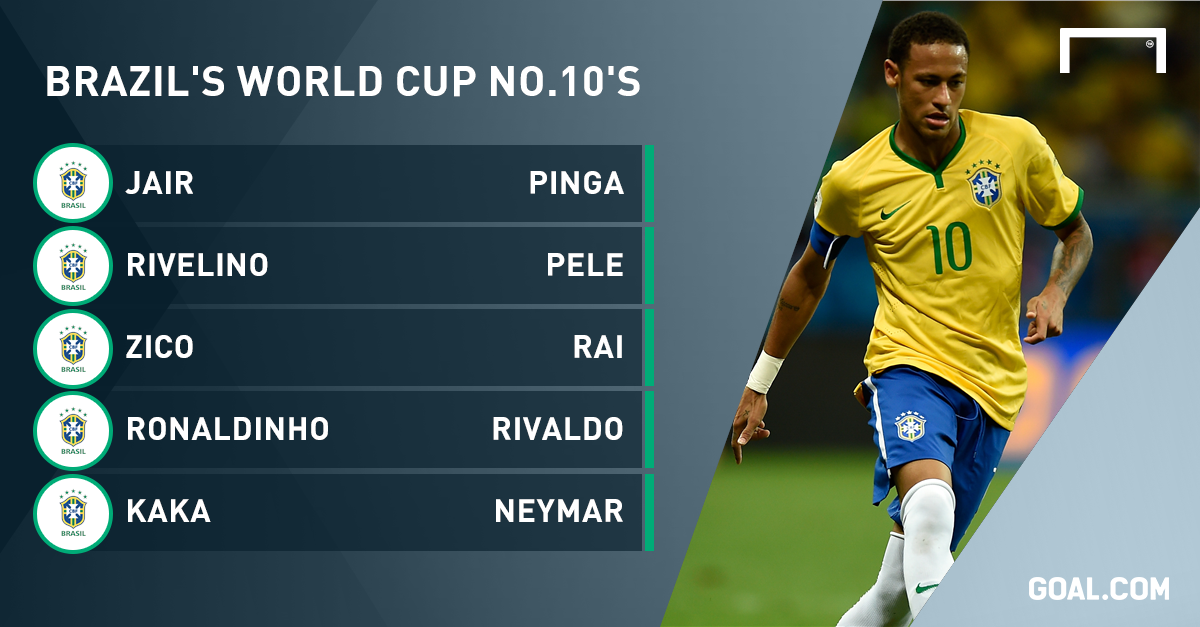 From Maradona, Messi and Riquelme, to Platini, Zidane, Laudrup, Hagi, and Baggio, the number has become synonymous with those who hold a special place in the game.
It was Pele who gave the shirt its eternal aura, but who was the best Brazilian to inherit that famous No.10?
RIVELINO - 92 caps, 26 goals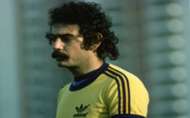 A young Rivelino had to make do with the No.11 shirt when he unleashed his howitzer of a left-foot on world football as part of the majestic side that became champions in 1970. But four years later, Pele had retired and it was time to pass the torch. He hit three goals in West Germany in 1974 but could do little to stop Johan Cruyff's remarkable Netherlands.
He returned four years later, however, and led the Selecao to a 'moral championship' as they exited the tournament in controversial fashion as Argentina blew away a strong Peru side 6-0. Credited with bringing the famous 'elastico' dribble to the world, Rivelino was a true No.10, whose magical left foot could be as delicate as it was devastating.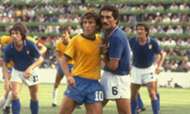 Flamengo great Zico personifies the number 10 shirt like few others. He was a consummate conductor, strutting around the freedom of the midfield, orchestrating the most enchanting of harmonies. The central figure in the mythical 1982 side that captured the world's imagination, if not the cup itself, he is the living embodiment of 'jogo bonito'.
His flawless technique, bewitching dribbling and unrivalled eye for a defence-splitting pass saw him carve out the sort of reputation reserved for the select few able to truly inspire the souls of those who live for the beautiful game. Zico played the World Cups of 1978, 1982 and 1986, and though he never claimed football's ultimate prize, he perhaps won something every bit as important.
RIVALDO - 74 caps, 34 goals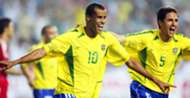 Rivaldo is an understated character off the field, but was more than happy to take centre-stage at two World Cups for Brazil. He helped inspire the side to the final in France before starring in Japan/South Korea, creating both goals for Ronaldo in the final against Germany to secure the Selecao's fifth World Cup.
Like Rivelino, he boasted a hammer-like left foot that was equally capable of the intricate, subtle shuffles away from defenders, utilising the trademark 'chop' inside that saw him grab 34 goals in 74 internationals. He was the Fifa World Player of the Year in 1999, and could still be seen playing this year at the age of 43 as player-president for Mogi Mirim, with whom he played alongside his son, Rivaldinho.
RONALDINHO - 102 caps, 35 goals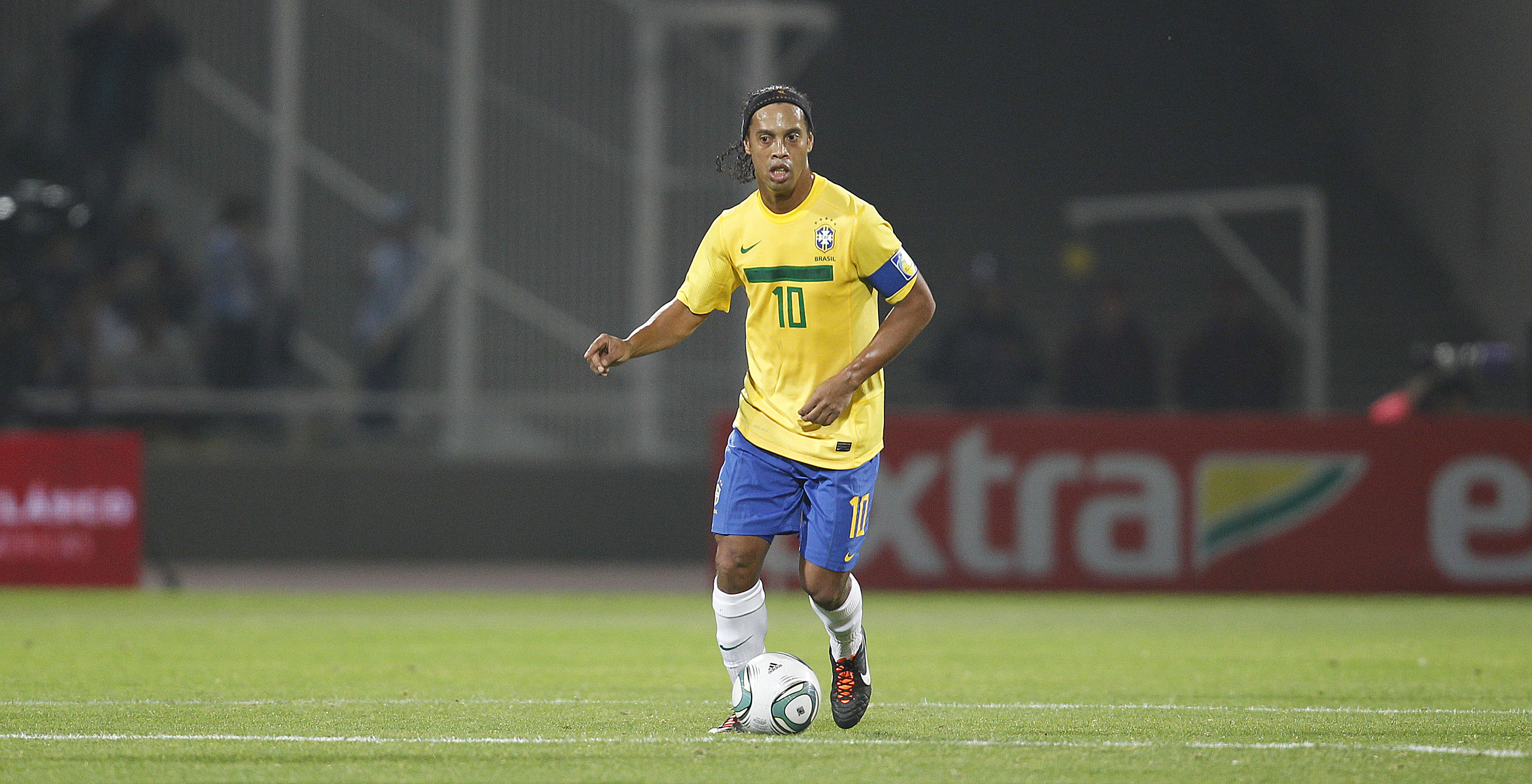 Ronaldinho took over as No.10 for the World Cup of 2006, ahead of a tournament that the local press assured would see him confirmed as a true rival to Pele's legacy as the greatest of all time. Unfortunately, Carlos Alberto Perreira's top-heavy side disappointed in Germany and exited at the quarter-finals after going down to a 1-0 defeat to France.
He would never play a World Cup finals match again, but is still remembered for his performances in 2002 – notably his remarkable free-kick that bamboozled England goalkeeper David Seaman. A two-time Fifa World Player of the Year, like Zico, Ronaldinho will forever be cherished by the game's romantics. An absolute genius, he won it all as a player but left a special legacy as arguably football's most entertaining player of all time.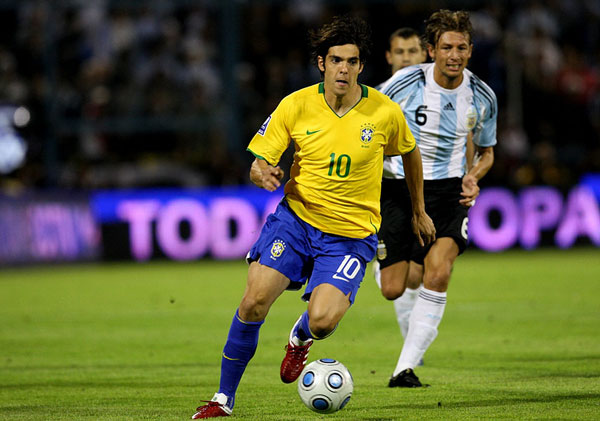 When coach Dunga left Ronaldinho out of his squad for World Cup 2010, Kaka inherited the famous jersey and led a counter-attacking team that had raced through qualification to arrive in South Africa with very real ambitions of a sixth title. Defeat to the Netherlands ended their campaign but Kaka has his World Cup-winners medal as a member of the 2002 side.
At his peak, the former Milan and Real Madrid player was a force of nature, capable of executing the sublime at ferocious, devastating pace. Injuries have since cost him the attribute that set him apart, but he has reinvented himself and remains a member of the Selecao at 33-years-old, adding valuable experience to a side that has little in terms of World Cup pedigree. A two-time Confederations Cup winner, he has over 100 caps for his country and will go down in history as one of Brazil's all-time greats.
NEYMAR - 67 caps, 46 goals
The current incumbent of the jersey has never worn the number of any other team, preferring No.11 for Santos before retaining the shirt following his move to Barcelona. A finalist for the 2015 Ballon d'Or, the 23-year-old is now captain of his country and well on his way to becoming Brazil's all-time leading scorer. He is yet to claim a major title with the Selecao but has already outscored legends such as Jairzinho, Tostao and Rivelino.
Having largely operated from the left for his club sides, Neymar plays a more traditional No.10 for Dunga, playing almost in a free role as the fulcrum of a fluid frontline. Having emerged in world football as the ultimate individualist, amassing a stunning highlight reel of flicks and tricks, he has now added a devastating goal return to his game and with as much as a decade of international football ahead of him, will no doubt go on to carve out his own special legacy with the national team.