Brazil vs Mexico
The last 10 meetings
| | | | |
| --- | --- | --- | --- |
| 13/07/2003 | Brazil 1-0 Mexico | CONCACAF Gold Cup | Mexico City, Mexico |
| 27/07/2003 | Brazil 0-1 Mexico | CONCACAF Gold Cup | Mexico City, Mexico |
| 18/07/2004 | Mexico 0-4 Brazil | Copa America | Piura, Peru |
| 19/06/2005 | Mexico 1-0 Brazil | Confederations Cup | Hanover, Germany |
| 27/06/2007 | Brazil 0-2 Mexico | Copa America | Puerto Ordaz, Venezuela |
| 12/09/2007 | Brazil 3-1 Mexico | Friendly | Foxborough, USA |
| 11/10/2011 | Mexico 1-2 Brazil | Friendly | Torreon, Mexico |
| 03/06/2012 | Brasil 0-2 Mexico | Friendly | Arligton, USA |
| 19/06/2013 | Brazil 2-0 Mexico | Confederations Cup | Fortaleza, Brazil |
| 17/06/2014 | Brazil 0-0 Mexico | World Cup | Fortaleza, Brazil |
Two old adversaries meet once again on June 7 in Sao Paulo, as Brazil host Mexico in the first Chevrolet Brazil Global Tour match to be played on home soil since last year's World Cup. The relationship between these two football powerhouses truly began almost half a century ago, at World Cup 1970 during a summer that saw Pele, Tostao, Rivelino and Gerson claim Brazil's third World title – and with it the hearts of the Mexican fans at the famous Azteca Stadium.
Their first clash, however, occurred 20 years previously at the World Cup of 1950, played in Brazil. On June 24 at the Maracana, the Selecao thrashed their North American rivals 4-0 with goals from Ademir (2), Jair and Baltazar. Four years later, in Switzerland, Brazil went one better, beating Mexico 5-0. In 1962, when the Selecao claimed their second world title, they triumphed 2-0. There would be a 52-year wait before their next meeting at a World Cup, as they played out a goalless draw in Fortaleza last year.
Brazil wins out in the head-to-head, however: in 39 matches, Brazil have won 22, Mexico 10, and there have been seven draws. But Mexico have certainly made Brazilian fans suffer, notably in finals of the CONCACAF Gold Cup in 1996, 1999 Confederations Cup, and the Olympic Games in 2012.
Below, Chevrolet Brasil Global Tour takes a look back at some of the more memorable games between Brazil and Mexico:
BRAZIL 0-0 MEXICO - 17/06/2014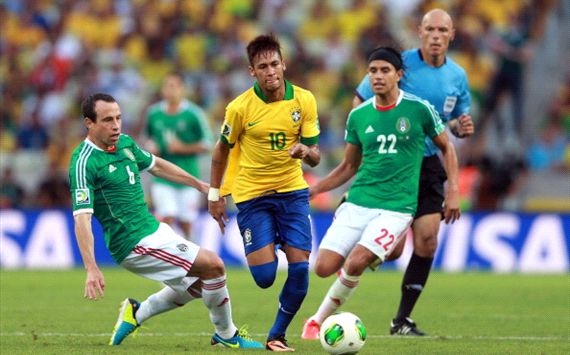 | | |
| --- | --- |
| Competition: | World Cup |
| Venue: | Estadio Castelao, Fortaleza |
| Referee | Cuneyt Cakır (Turkey) |
| Goals: | - |
| Brazil: | Julio Cesar, Daniel Alves, Thiago Silva, David Luiz, Marcelo, Luiz Gustavo, Ramires (Bernard), Paulinho, Oscar (Willian), Neymar, Fred (Jo) |
| Mexico: | Guillermo Ochoa; Javier Rodriguez, Rafael Marquez, Hector Moreno; Paul Aguilar, Hector Herrera (Marco Fabian), Jose Juan Vazquez, Andres Guardado, Miguel Layun; Giovani dos Santos (Raul Jiménez), Oribe Peralta (Javier Hernandez). |
A jam-packed Castelao expected a party, but the locals were ultimately left disappointed as the Selecao continued their laboured start to World Cup 2014. Luiz Felipe Scolari's hosts were knocked out of their rhythm by a spirited and disciplined Mexican side that would that would exit in the round of 16 only after the Netherlands were awarded a penalty deep into injury time. Mexican goalkeeper Gillermo Ochoa was named man of the match as he made save after save against tournament favourites Brazil in Fortaleza, stopping spectacularly from Neymar, Paulinho and Thiago Silva. Though El Tri themselves had chances, leaving both teams slightly disappointed to be sharing the spoils.
MEXICO 2-1 BRAZIL - 11/08/2012

| | |
| --- | --- |
| Competition: | Olympic Games |
| Venue: | Wembley, London |
| Referee: | Mark Clattenburg (England) |
| Goals: | Hulk (46); Peralta (1) |
| Brazil: | Gabriel; Rafael (Lucas), Thiago Silva, Juan Jesus, Marcelo; Sandro (Pato), Romulo, Alex Sandro (Hulk), Oscar; Neymar, Leandro Damião |
| Mexico: | Corona, Israel Jimenez (Vidrio), Salcido, Mier, Reyes; Chavez, Herrera, Aquino (Ponce), Enriquez; Peralta (Raul Jimenez), Fabian |
Brazil arrived at the London Olympics as outright favourites to claim the gold medal. The last major competition the Selecao are yet to win, the quest for Olympic glory had become an obsession. Mano Menezes had brought Thiago Silva, Hulk and Marcelo as his three overage players and the tournament was supposed to deliver the new coach's first major success. But it wasn't mean to be. As Menezes attempted to sure up the left side of his defence, right-sided forward Hulk was dropped for Alex Sandro. The change left Brazil lop-sided and ultimately resulted in an error by Rafael after just one minute that gifted Oribe Peralta an early goal. Hulk entered as a substitute and equalised, but Brazil failed to truly recover and Peralta grabbed a second with 15 minutes remaining to shatter the Selecao's dreams of ending their Olympic agony.
BRAZIL 0-2 MEXICO - 27/06/2007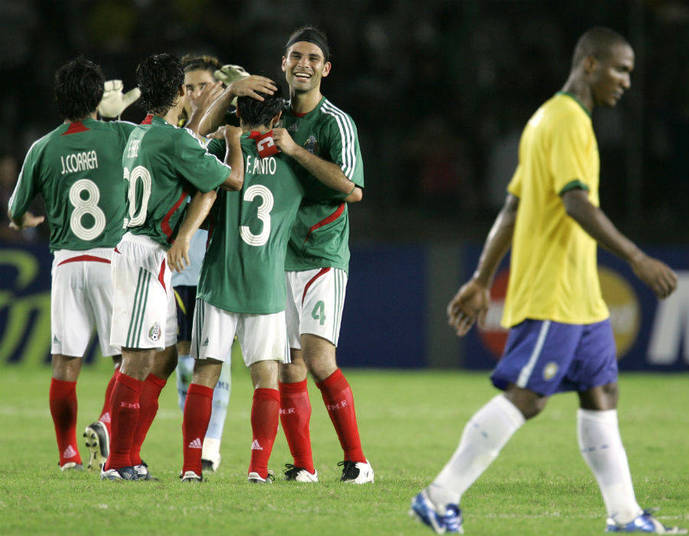 | | |
| --- | --- |
| Competition: | Copa America |
| Venue: | Estadio Polideportivo Cachamay |
| Referee: | Sergio Pezzotta (Argentina) |
| Goals: | Nery Castillo (24), Ramon Morales (29) |
| Brazil: | Doni; Maicon (Daniel Alves), Alex Rodrigo, Juan, Gilberto, Mineiro, Gilberto Silva, Elano (Afonso), Diego (Anderson Oliveira), Robinho, Vagner Love |
| Japan: | Guillermo Ochoa; Israel Castro (José Antonio Castro), Rafael Marquez, Jonny Magallon, Fausto Pinto; Fernando Arce, Jaime Correa, Gerardo Torrado, Ramón Morales (Jaime Lozano); Nery Castillo, Juan Carlos Cacho (Omar Bravo). |
Having succeeded Carlos Alberto Parreira following World Cup 2006, current boss Dunga led Brazil into Venezuela desperate to banish the memories of a disappointing month in Germany. He had sured up the defence and was expected to bring home the title, his first in management. But two goals in five first-half minutes, first from Nery Castillo and then from Ramon Morales, saw the Selecao go down to a shock defeat in their opening match of the tournament. Thankfully for Dunga, a Robinho hat-trick saw them bounce back in the following match against Chile before the same player grabbed the only goal of the game against Ecuador to assure Brazil's safe passage into the knockout stage. Brazil went on to win the tournament, defeating Argentina 3-0 in the final.
BRAZIL 3-2 MEXICO - 16/12/1997

| | |
| --- | --- |
| Comeptition: | Confederations Cup |
| Venue: | Estadio King Fahad |
| Referee: | Ian McLeod (South Africa) |
| Goals: | Romario (41), Denilson (61), Junio Baiano (66); Blanco (51), Ramirez (90) |
| Brazil: | Dida (Rogerio Ceni), Ze Maria, Aldair, Junior Baiano, Roberto Carlos, Dunga, Flavio Conceicao, Juninho Paulista, Denílson, Ronaldo (Bebeto), Romario |
| Mexico: | Oscar Perez, Francisco Gabriel De Anda (Luis Garcia), Claudio Suarez, Duilio Davino; Pavel Pardo, Raul Lara, Braulio Luna (Ramon Ramirez), Cuauhtemoc Blanco, Salvador Carmona; Francisco Palencia, Luis Hernández |
Dunga has a long history with Mexico. He was part of the Brazil team travelled to the first edition of the Confederations Cup, held in Saudi Arabia in 1997. Merging the experience of the 1994 world champions with new, younger players, Brazil beat Mexico 3-2 – the same score the two teams produced in the Copa America group stage clash just six months previously. Coach Mario Zagallo was preparing the team for the World Cup of 1998, forming a world-class front line after a young Ronaldo joined the squad to break up the pairing of Bebeto and Romario. Dunga wore the captain's armband and went on to lift the title as Ronaldo and Romario both struck hat-tricks in a 6-0 demolition of Australia in the final.