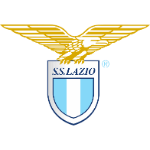 Lazio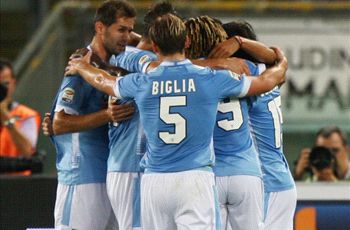 Founded: 1900
Address: Via di S. Cornelia, 1000 - 00060 Formello Italy
Phone: +39 06-97607111
Fax: +39 06-90400022
Email: segreteria@sslazio.it
Official URL: http://www.sslazio.it
Chairman: Claudio Lotito
Club Director: Igli Tare
Stadium: Stadio Olimpico - Roma
Club History

Foundation
On January 9, 1900 in Prati, Rome, nine men formed a new sports club called Società Podistica Lazio. The name was chosen to represent the entire region rather than just the city of Rome. In 1901, football was introduced to the club which had been predominately track and field until then.
The Biancocelesti joined league competition in 1912 yet the side failed to win any championships despite coming close three times.
The Fascist regime led by Mussolini attempted to merge all Roman football clubs to form one united side in 1927. Lazio were the only team to refuse the merger and did not join the new club, A.S. Roma. This marked the birth of the Derby della Capitale, and a fierce and bitter rivalry still present today between Lazio and Roma.
Le Aquile participated in the inaugural Serie A season in 1929 and had several star players in their ranks. The legendary Silvio Piola's goals saw Lazio become runners up in 1937, which was their highest pre-war finish.
Between 1934 and 1943, Piola scored 143 goals in 227 appearances for the club. He is the all-time record goalscorer in Serie A with 274 goals and he also famously scored twice for Italy in the 1938 World Cup Final victory over Hungary in Paris.
Serie B and the first Scudetto
The Biancocelesti claimed their first silverware in 1958 when they won the Coppa Italia. This was followed with disappointment however; in 1961 the club suffered their first relegation to Serie B. Two years were spent in the second division before a return to the top flight for a stint which lasted four years. Lazio won Serie B in 1968-69, and the yo-yo years continued with another relegation in 1971.
In 1973, Lazio fell just two points short of the Scudetto finishing third behind Juventus and Milan after losing the title on the last day of the season. The club had to wait only one year for the ultimate glory when their star-studded side, featuring Giorgio Chinaglia, Mario Frustalupi, Luciano Re Cecconi, Renzo Garlaschelli and captained by Giuseppe Wilson, won their first ever league title. Unfortunately, it was a downhill ride from here and Lazio finished in mid-table for the following season, narrowly avoiding relegation in 1976.
These were also tragic times for the club. Midfield star Cecconi was shot dead by police in 1977 at the age of just 28 after a prank, in which he pretended to rob his friend's jewellery shop, went wrong. Scudetto-winning Coach Tommaso Maestrelli was diagnosed with cancer and died in 1976 at the age of 54.
The club was hit with a further blow when star-striker Chinaglia left for America to play with the New York Cosmos.
1980s – Dark Years
In 1980, Lazio along with Milan were implicated in the infamous Totonero betting scandal and as punishment were relegated to Serie B. These seasons are considered to be the worst in the Biancocelesti history and despite a brief return to Serie A, they were relegated once more in 1985 with a meagre 15 points.
The following season, another player was involved in a betting scandal and Le Aquile had to play in Serie B with a 9-point deduction. Only two points were awarded for victory in those days so this had placed their campaign in dire straights. Playoff victories over both Taranto and Campobasso saved the club from what would have been a humiliating relegation to Serie C.
The Sergio Cragnotti Era
Lazio returned to the top flight in 1988 following their near Serie C experience. The Biancocelesti were then boosted by the arrival of multi-millionaire President Sergio Cragnotti who pumped millions of pounds into the club and broke many transfer records under his reign. Lazio also became the first football club to be listed on the Italian stock market.
Big names to play for the club during this era included Giuseppe Signori, Christian Vieri, Sinisa Mihajlovic, Pavel Nedved, Juan Sebastian Veron, Marcelo Salas, Hernan Crespo and Alessandro Nesta.
Several high placed finishes were recorded in the 1990s, as well as a 1998 Coppa Italia triumph, before a major disappointment came in 1999. Le Aquile were leading Serie A with just one match to play. They failed to beat Fiorentina and the Scudetto went to AC Milan. Amends were made one year later, as Coach Sven-Goran Eriksson led the club to their second Scudetto after finishing one point ahead of Juventus.
The Biancocelesti also established themselves as a strong side in Europe by reaching the UEFA Cup final in 1998 and then winning the final edition of the European Cup Winners' Cup in 1999. They then defeated newly crowned European champions Manchester United to claim the European Supercup.
New Century, Decline, Revival And Calciopoli
Lazio began their second century of calcio on a good note as they claimed a Supercoppa win and a third-placed finish but from here it all went wrong.
President Cragnotti was embroiled in financial issues and his food company which bankrolled the club went bankrupt. The all-star line-up was sold off with the sale of the club's defining symbol Alessandro Nesta to Milan credited as the one which singlehandedly saved the club.
Entrepreneur Claudio Lotito bought majority control of the club in 2004 and signalled his intentions to return the club to its former glory using methods of shrewd financial management.
Lazio, without a true club symbol to idolize since the departure of Nesta, set-up the return of Paolo Di Canio, who took a massive pay cut to play for the club. The introduction of a salary cap saw the departure of the last veterans of the glory days and the club finished sixth under new boss Delio Rossi in 2006.
Calciopoli swept through Italian football during the summer of 2006 and the club were originally relegated to Serie B. The punishment was later reduced to a three point deduction on appeal.
Lazio overcame this handicap to finish third, their highest finish in years and in doing so qualified for the Champions League. The Biancocelesti currently play in Europe's premier club competition with new stars Tommaso Rocchi, Stefano Mauri and Goran Pandev hoping to return Lazio to their heights of yesteryear.
Copyright © 2014 Goal.com All rights reserved. The information contained in Goal.com may not be published, broadcast, rewritten, or redistributed without the prior written authority of Goal.com