Cartoon of the Day: October
Commander Cristiano shows Blatter who's boss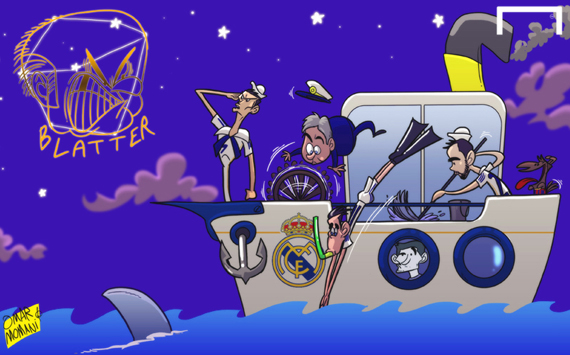 He may alledgedly spend more time in the hairdresser's, but boy does that Ronaldo know how to score goals!

After being satirised by Fifa president Sepp Blatter, who claimed Ronaldo was a commander on the pitch before doing a silly walk, the Portuguese made sure he had the last laugh by bagging a hat-trick on a crazy night in Madrid.

Gareth Bale scored twice, and set up another two, on a fine night for the Welshman (even if there was a comedy dive thrown in for good measure), while Karim Benzema hit two of his own.

Ronaldo, backed by the cheers of every home fan at the Santiago Bernabeu, marked his first goal of the night with the kind of salute fitting of a true field commander - over to you, Sepp!
Cartoon of the Day: October