FIFA 19 soundtrack: Full list of artists, songs & music on new game
EA Sports has collaborated with some of the biggest artists in the music industry in its FIFA video game series and the latest edition continues that trendsetting tradition.
Tunes such as Blur's iconic 'Song 2', Apollo 440's funky 'Stop the Rock and 'Sell Out' by Reel Big Fish will forever be associated with FIFA 98 for gamers of a certain vintage.
More recently, alt-J, Lorde and Empire of the Sun have set the tone for a younger generation of FIFA gamers, as have the likes of Foals, Beck and the late AVICII.
With the release of the new game just around the corner, Goal takes a look at the FIFA 19 soundtrack, which artists feature and more.
---
FIFA 19 soundtrack: Which artists feature?
---
Given the global appeal of football and indeed of FIFA itself, it is no surprise that EA Sports have endeavoured to create a musical accompaniment to the game that speaks to a broad span of cultural tastes.
Artists from across the planet are included on the soundtrack for FIFA 19, with six continents represented across 43 different tracks.
Among them is the award-winning Childish Gambino, whose newly released single 'Feels Like Summer' is included. Joining Childish Gambino on the track list are Gorillaz, who have contributed their song 'Sorcererz', and LSD - a supergroup consisting of Labrinth, Sia and Diplo.
The FIFA 19 soundtrack puts global superstars and household names side-by-side with up-and-coming or lesser known musicians, which, in a sense, contributes to the idea of football being a kind of leveller.
As you'd expect when drawing music from different corners of the world, there is a rich diversity of genres on the soundtrack, from R&B and funk to dance and electronica.
Washington indie rock outfit Death Cab For Cutie feature with their track 'Gold Rush', while Scottish trio Young Fathers appear with the song 'Border Girl'.
LADAMA - a Latin alternative band made up of members from Brazil, Colombia, Venezuela and the United States - are on the track list with their song 'Porro Maracatu'.
British-Spanish electronic folk band Crystal Fighters, Australian duo Yolando Be Cool and Italian rapper Ghali also appear.
You can listen to a selection of songs from the FIFA 19 soundtrack below:
Childish Gambino - Feels Like Summer
Gorillaz - Sorcererz
Death Cab for Cutie - Gold Rush
LSD (Labrinth, Sia, Diplo) - Genius
---
FIFA 19 Soundtrack on Spotify
---
You will soon be able to listen to the FIFA 19 soundtrack in full when the game is released on September 28, but in the meantime it can be streamed via Spotify.
---
FIFA 19 theme song
---
As well as a bold and diverse soundtrack, FIFA 19 also boasts a unique theme song, which takes inspiration from the game's flagship competition, the UEFA Champions League.
EA Sports enlisted the services of Academy Award-winning German composer Hans Zimmer, whose rendering of the famous Champions League anthem is a core component of the game.
Zimmer's remix can be listened to as part of the game's official trailer above.
---
FIFA 19 Ultimate Team Artist Kits
---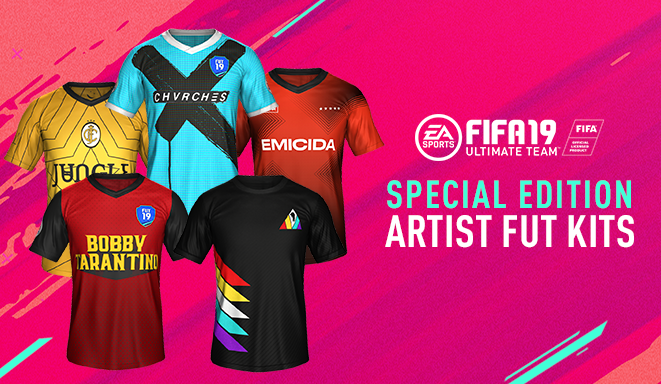 The musical influence in FIFA 19 isn't just confined to the soundtrack itself - a number of artists have collaborated with EA Sports to design special edition kits for Ultimate Team.
As you can see in the picture above, bands such as Imagine Dragons, CHVRCHES, Jungle, Logic and Emicida have all dabbled in the art of e-sports kit design.
Those who pre-order the game will get the kits along with a number of other perks, depending on the edition of the game