PROFILE
By Robin

Bairner
The forthcoming transfer window is set to be remembered as the summer of Monaco. Already they have captured the signings of Porto duo James Rodriguez and

Joao

Moutinho

with a remarkable €70 million double swoop while this week, it is expected they
will reveal

Radamel

Falcao

as the latest addition to their quickly-growing arsenal.
Monaco's lavish spending will not stop there, though. It is envisaged that at least two more players of such calibre will join before the season begins, with head coach Claudio

Ranieri

having admitted publicly he wants a strong idea of his squad by the time

pre

-season training begins on July 1.
Once again, it seems, Monaco will have a team capable of competing with Europe's best.
The man behind the project to reinvigorate the side from the principality is 46-year-old Russian tycoon

Dmitry

Rybolovlev

, who is to the

Stade

Louis II club what Roman

Abramovich

is to Chelsea.
Football, like his other hobbies of art and surfing, is a relief from day-to-day activities for Rybolovlev, who took over the club in December 2011, when the team was under threat of dropping to the third tier of the French game.
"Having lived long enough in Monaco, I realise the club is not just one of the principality's sports teams but also represents one of the main symbols of the principality, its pride and traditions," he declared on taking over.
Initially he pledged to invest up to €100 million in the side over four years but reports now suggest that figure could be up to €200m. Indeed, the signings of

Moutinho

, Rodriguez and

Falcao

alone will push the transfer dealings of the club towards that figure.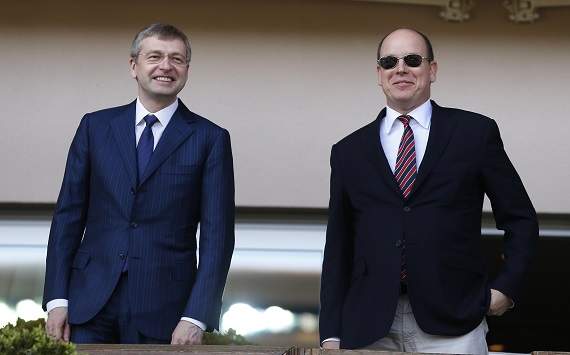 Jewel in the crown | Prince Albert II (right) wants Rybolovlev (left) to help Monaco rise again
Prince Albert II wants the club to return to being a "jewel" of the principality and boosted by the wealth of their owner they are nearing a position from which they can once again challenge for the Champions League, the competion in which they reached the final as recently as 2004.
Unlike

Abramovich

,

Rybolovlev

has not made his money from fossil fuels but fertiliser.
In stark contrast to the glamorous lifestyle he now enjoys in Monaco, his path to wealth was long and winding.
He graduated in medicine and developed an alternative therapy using magnets, but during the process of perestroika as the USSR moved away from communism and towards capitalism, his services were paid for not in cash but via discounted products. These were then sold at a profit, allowing

Rybolovlev

to grow wealthy enough to take a course in brokerage in Moscow.
As Russia continued to

de

-privatise, this proved invaluable as he was one of the few people in his home town of Perm qualified to pinpoint the best areas of investment, which he richly exploited. Only once he had seen his wealth multiply by doing this did he consolidate his wealth in

Uralkali

, a fertiliser company.


Fifteen years after his initial investment in Uralkali, Rybolovlev was able to sell his stake in the company for well over $5 billion [€3.86bn].
FOOTBALL'S RUSSIAN REVOLUTION

ROMAN ABRAMOVICH



The Russian billionaire and 50th richest person in the world, according to Forbes list 2012, bought Chelsea in 2003 with the club winning 11 trophies since including the Champions League, Europa League and three league titles.

ALISHER USMANOV



In April this year, he topped The Sunday Times Rich List and is a major shareholder in Arsenal. Usmanov was critical of the Premier League club's decision to sell Robin van Persie to Manchester United last year, but has no intention of selling up and reported to be worth around €13.6 billion.

SULEYMAN KERIMOV



Purchased Anzhi Mahachkala in January 2011, Kermiov has invested heavily in the Russian club, overseeing a host of star-studded names waltz into Anzhi including Samuel Eto'o, Roberto Carlos and January signing Willian from Shaktar Donetsk.
But the life of Monaco's owner is far more colourful than simple business transactions. In the mid-1990s he was accused of the murder of a local businessman and spent 11 months in jail only to be acquitted at trial. Subsequent threats on his life led him to wearing a bulletproof vest and would ultimately see him move to Switzerland.
A publicity-shy figure, he would also hit the headlines in 2010 when an explosive divorce from former wife Elena began and still continues to rumble on to this day. His former spouse is insisting on an incredible €4.63bn, claiming this is half the wealth he has gained since they married in 1987.
Forbes magazine lists

Rybolovlev

as the 119th richest man in the world, with assets totalling €7.03bn, yet Elena alleges that he is worth significantly more, claiming that much of her former husband's wealth is held in offshore accounts while accusing him of finding tax loopholes such as one used to buy a €68m apartment in New York for his daughter to ostensibly use as a pied-a-

terre

at college.
Indeed, in the USA, Rybolovlev is primarily known as a property magnate, having purchased Donald Trump's Palm Beach mansion for close to $100m [€77.2m]. In addition, he spent €231.9m on his pad in Monaco – 'La Belle Epoch' – which is where he is presently based.
Along with

Abramovich

,

Rybolovlev

has been ranked as one of the world's top 200 fine art collectors and his collection of 19th and 20th century paintings, in itself estimated to be worth anything up to €780m, have also provoked controversy from his ex-wife, who has done her best to lift every stone to uncover the Monaco owner's wealth.
While this bitter dispute rages in the background, the focus on

Rybolovlev

remains altogether more positive due to his footballing dealings.

His investment in the team has been broadly welcomed by the owners of their soon-to-be

Ligue

1 rivals – even if the tax breaks his side benefit from are not – and there can be little doubt the profile of Le

Championnat

and Monaco will only be more to the fore under his ownership.
Rybolovlev, it would seem, will make the Monegasques a force to be reckoned with.
Follow Robin

Bairner

on