ANALYSIS
By Robin Bairner | French Football Writer
On Sunday evening the eyes of the majority of the footballing world may have been focused on Camp Nou where a Messi and Cristiano Ronaldo-inspired Barcelona and Real Madrid played out a 2-2
Clasico
draw, but in France the highlight came at Stade Velodrome, where Olympique de Marseille's rivalry with Paris Saint-Germain entered a new era due to the big summer spending of the capital club.
Just as in Catalunya, this was a duel between two in-form forwards. Andre-Pierre Gignac gave the hosts the lead with a well-manufactured goal and was then forced to glance a leveller after two quick-fire goals by Zlatan Ibrahimovic.
Prior to the game, the Swede had been dismissed by Marseille sporting director Jose Anigo, who said he would prefer the 34-year-old Didier Drogba to the former AC Milan striker. Ibra answered emphatically, scoring a backheel volley from a corner kick to draw PSG level before hammering a breathtaking free kick past Steve Mandanda moments later.
Ibrahimovic's performance may have been memorable, but that of his team was not. For long periods of this encounter it was noticeable that the hosts were able to compete and even dominate due to their hunger and energy, with Paris Saint-Germain's midfield swamped during the opening period of the game.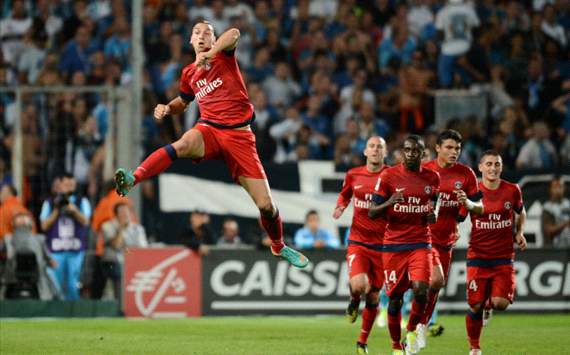 Jump for joy | Even Ibra could not inspire PSG to victory - but he was given little help
Starting with Blaise Matuidi, Clement Chantome and Marco Verratti, PSG were without a genuine anchor and during the opening 45 minutes they were outmuscled and outfought by their hosts. After the break, though, Carlo Ancelotti swung the balance in the opposite direction.
By full time the Italian had no less than six outright defenders on the field, plus Matuidi and Chantome, who may not be enforcers in the centre of the park but are by no means attacking players.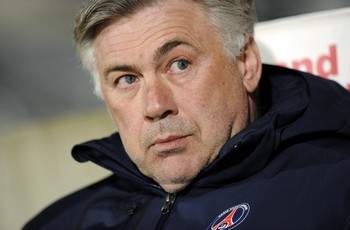 "It was as if Ancelotti expected Zlatan to say 'Ibracadabra' and conjure another special moment"
The transformation was baffling, particularly considering that Verratti and Jeremy Menez, who threatened to spark a revival of PSG's fortunes, were withdrawn just as they were getting on top of the game.
It was as if Ancelotti expected Zlatan, cast adrift along with substitute Kevin Gameiro in attack, to say "Ibracadabra" and conjure another special moment out of the blue.
After a thrilling first half, those tuning into the second period after
El Clasico
expecting to see a breathtaking climax would be disappointed. It was engrossing and exciting, but it was not the thrill-a-minute encounter that it promised.
Ancelotti's cautious side once again got the better of him, and while the Italian will probably point to the draw earned as justifying his decision not to gamble at the Ligue 1 venue that has brought PSG less success than any other, this was a missed opportunity to show their great rivals who are the top dogs this season.
Ibrahimovic's goals may have been worthy of
El Clasico
, and equal to those of Messi and Cristiano Ronaldo, but PSG's performance certainly was not.
Follow Robin Bairner on