COMMENT
By Robin Bairner
During his playing career, Didier Deschamps was once disparagingly described as "a water carrier" by Eric Cantona, but after being confirmed as France head coach on Sunday evening, the former Olympique de Marseille boss now shoulders the massive burden of expectation from his country.
Deschamps fills a void left by Laurent Blanc, whose personal disputes with the French French Football Federation (FFF) ultimately proved too much of a hurdle in prolonging his contract. While Blanc felt that the federation was not quick enough to put its confidence in him, the FFF said that cutbacks needed to be made to the coach's extensive staff.
DESCHAMPS: A FRANCE LEGEND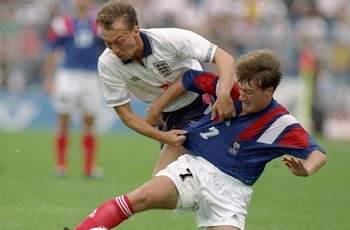 KEY DATES FROM PLAYING CAREER

29/04/1989

Debuts as a substitute against Yugoslavia, aged 20.

11/10/1989

Scores his first goal for the national team in a 3-0 win over Scotland at Parc des Princes.

01/06/1996

Captains France for the first time in a 1-0 win over Germany. Laurent Blanc strikes the winner.

12/07/1998

Leads his country to World Cup success with a 3-0 win over Brazil.

02/07/2000

Enjoys Euro 2000 success, again as captain, as France beat Italy 2-1 after David Trezeguet's golden goal.

02/09/2000

Plays his last game for France in a 1-1 draw with England; his 103rd cap.
Although the ex-Bordeaux boss leaves France after a broadly successful two-year period, he also departs with the national team facing another great crossroads.
Les Bleus
' Euro 2012 campaign was riddled by individual disputes with star players - Samir Nasri in particular - while their quarter-final exit at the hands of Spain was distinctly lame.
The great question facing 'DD' is whether he can somehow dampen the egotism of France's stars and channel their undoubted technical abilities in a more constructive manner.
Initially it was a challenge Deschamps rejected. Having departed Marseille in the wake of his own internal dispute with sporting director Jose Anigo last Sunday night, the former midfielder initially turned down the role, doubtless daunted by the task at hand.
While Deschamps' primary task is to repair conflicts with a team whose total does not equate to the sum of the individual parts, reaching the 2014 World Cup in Brazil - the ultimate goal - also promises to be an arduous task given that France have been paired with Spain in qualifying Group I.
Perhaps now more than ever, the job facing
Les Bleus
' coach is seemingly impossible. Blanc has left the post with expectations raised, but equally it will be difficult extracting more from key individuals who appear to care more about their own profiles and success than that of the team.
After a week of consideration, Deschamps, who has had previous spells in the dugouts of Monaco, Juventus and Marseille, enjoying success in each position, elected to take up the baton. And there could have been no better choice.
As the captain and leader of the France side that won the 1998 World Cup and Euro 2000, only Zinedine Zidane commands more respect in
l'Hexagone
, and his own disciplinary record on the field, coupled with his inexperience as a coach, would have made him a risky appointment and certainly no role model for a team that needs a strong hand but cool head.
Deschamps has, of course, won everything. As a player he may not have been exciting, but he was vital to a string of successful sides, winning the Champions League twice, doing so with Marseille as the youngest ever captain, Serie A three times and, perhaps most memorably, the World Cup and European Championship with his country. He did it all and acquired legendary status in the process.
Such an aura will be essential to push insubordinates such as Nasri and Patrice Evra into line; if he can't do it, no one can.
The shortlist was not great.
Fans were gripped with fear that Paul Le Guen, who maintains an inflated reputation due to his Ligue 1 successes with dominant Olympique Lyonnais early in his career, could take advantage of his Breton brotherhood with FFF president Noel Le Graet to take the job. Having failed in his subsequent roles, the arrival of the 48-year-old would have been unpalatable as it would unwelcome; a real step back to the dark days of 2008, when Raymond Domenech was scandalously allowed to retain his position after a woeful showing in Euro 2008.
Ligue 1-winning coach Rene Girard of Montpellier has already burned his bridges with the FFF after being sacked as Under-21 coach in 2008, telling then national technical director Gerard Houllier: "F*** you", while the exciting Rudi Garcia of Lille does not yet have the stature to shepherd France's difficult top players into some kind of order.
| | |
| --- | --- |
| | DESCHAMPS | ALL-TIME COACHING STATS |



| | | | | | | |
| --- | --- | --- | --- | --- | --- | --- |
| Club | Dates | Games | Won | Drawn | Lost | Win % |
| Monaco | Jun 01 - Sep 05 | 160 | 79 | 44 | 36 | 49.38 |
| Juventus | Jul 06 - May 07 | 44 | 31 | 11 | 2 | 70.45 |
| Marseille | May 09 - Jun 12 | 164 | 82 | 41 | 41 | 50.00 |
| Total | | 368 | 192 | 96 | 79 | 52.17 |
Alain Giresse and Jean Tigana, midfield greats from France's famous
Carre Magique
, both applied, but would France's precocious and arrogant youngsters respect two icons who were hanging up their playing boots just as they were born? Questionable.
Arsene Wenger wanted the job, according to reports, but a dual role in combination with the Arsenal managerial post could not be negotiated.
Deschamps was, therefore, the only viable option for a federation too short of money to attract a big foreign name such as Fabio Capello.
Alterations in the make up of the national side should be expected, but there are unlikely to be any dramatic changes.
Fringe players Mathieu Valbuena and Hatem Ben Arfa both had poor relations with DD at Marseille and will find their positions in the squad in jeopardy, but Patrice Evra has previously worked successfully with the coach at Monaco and may have his international career extended due to this move.
In terms of tactics, there will not be a radical change of direction, although Deschamps is more malleable with his methods than Blanc, whose bizarre experimentation during Euros fixtures against Sweden and Spain were undoubtedly to the cost of the team. Expect DD to be more successfully pragmatic, although the 4-2-3-1 formation will be his stock system.
While Blanc remains a great believer in the 'Barcelona approach', his successor does not value an aesthetically-pleasing passing game so highly. Under Deschamps, Marseille were immensely imposing physically in their defensive sector, and France's rearguard is now likely to mirror this.
Strength, athleticism and effectiveness will be the attributes of the defence, placed above the technical abilities that were previously valued.
It will not be the players that Deschamps drafts into the France team that will make or break his reign, though. For the next two years, DD has committed himself to a tricky man-management job that will involve extracting the best from his fantastically gifted stars, whose narcissistic flaws make
Les Bleus
so unpredictable and often so frustrating.
Follow Robin Bairner on