All good things must come to an end, and thus 32-year-old Thierry Henry drew the curtain on what has been an illustrious international career on Thursday afternoon. The circumstances surrounding the forward's decision to quit the France set-up were as disappointing as his decision was unsurprising, but in time 'Titi' will look back on a spell with les Bleus spanning 13 record breaking years and including two major competition victories.
Less than 24 hours after his move to MLS outfit New York Red Bulls was confirmed, Henry, still carrying the scars of a disappointing World Cup campaign in South Africa, which followed a turbulent season on a personal basis, announced his decision to quit the international scene.
Over the course of the last 12 months, Henry has been battered from all angles. Criticised and as yet unforgiven by many fans worldwide for his infamous part in France's qualification to the World Cup finals, the attacker endured one of the most difficult periods of career while in South Africa with les Bleus. Stripped of the captaincy pre-tournament by coach Raymond Domenech, who made it clear that Henry was not good enough to be in the team, the veteran was forced to watch on from the bench. Even when finally deployed in the les Bleus' final game against Bafana Bafana, matters went awry as France were comfortably beaten. It was to be Henry's last stand in the Maillot du Coq.
But it was not always like this for Titi, who has proven himself to be one of the international game's very best over the early part of the third millennium.
A starry-eyed 20-year-old when he debuted for France in 1997 against South Africa, Henry was immediately thrust into the starting XI of a side containing many greats. Playing alongside the likes of Laurent Blanc, Didier Deschamps and Zinedine Zidane, Henry would cut his teeth with some of the very best France ever had to offer before raising his own game to such an echelon in the ensuing decade.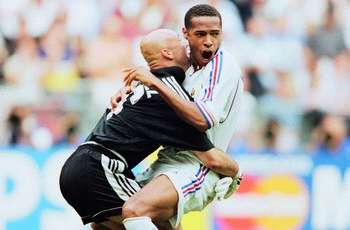 It would be on the greatest stage that Henry struck his first international goal, and again it would be against Bafana, albeit several months later in World Cup action. The young forward was by no means a regular for France at this stage, and despite finding the net twice against Saudi Arabia later in the competition his would be a largely peripheral role as Aime Jacquet's men conquered the planet on home side.
Two years later, despite a fairly modest return in terms of goals, Henry had established himself in the France starting XI, scoring four times for les Bleus as they complimented their world title with the European crown.
Having tasted nothing but success on the international scene to this point, the now Arsenal striker hit a deep trough along with his team-mates in 2002, when France were infamously bundled out of the World Cup in Japan and Korea without so much as scoring a goal. For Henry this was also a personal tragedy as he was dismissed in the second encounter against Uruguay, rendering himself unable to help his cohorts in the decisive final encounter against Denmark.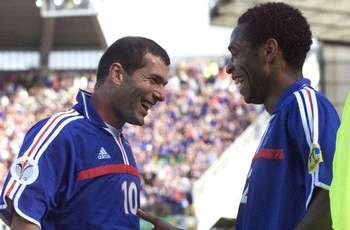 By the time he had chalked up his 40th cap, Henry was on course for a fairly unremarkable international career in terms of personal statistics. He had scored only 12 international goals, though he was about to explode into one of the most feared scorers on the planet.
From the autumn of 2002 until November of 2003, Henry became almost unplayable when he pulled on France's blue. In 16 appearances, he would score 13 goals, acquiring the Confederations Cup in the process.
Though another lull would follow in time for a disappointing Euro 2004, Henry's role in the side was given increased importance under Raymond Domenech, and with Zidane still in his pomp and goals flowing freely in the Premier League, the Frenchman again became prolific. The goals all came in ones, but they were vital in helping les Bleus through to the World Cup final, which was ultimately lost on penalties, the Gunner having been withdrawn before the end of extra-time.
In the post Zidane-era, Henry stepped into the spotlight further, almost carrying les Bleus single-handedly at times as he somehow managed to weather the storm of Raymond Domenech's mediocre management. His six goals in European Championship qualifying were vital in guiding France to Austria and Switzerland, where Domenech's negativity proved too much and the side again slumped, with the now-Barcelona forward rarely getting a chance to shine.
That campaign would prove something of a watershed for Henry, who had by that time broken Michel Platini's all-time scoring record for France by netting the decisive strikes in a win over Lithuania. He would never be the same again for les Bleus, scoring only three times in his last 16 internationals as he effectiveness gradually waned and his team-mates became increasingly dispelled by the regime.
History may well remember Henry as the man who illegally handled Ireland out of the World Cup play-offs, but in reality the striker deserves so much more than that. One of the great French forwards in his day, images of Titi scoring decisive goals for les Bleus are far more representative of a career he should reflect on with just pride.