COMMENT
By Harry Sherlock
Somewhere in a parallel universe,
England
fans are currently in the process of pinning their colours to the Three Lions' mast ahead of the World Cup. The flags are flying in the street, the replica shirts are being worn and there is a collective feeling - amongst fans, journalists and players alike - that this year will finally be our year.
But that's in a parallel universe. For in England, there appears to be a sense of apathy surrounding the 2014 showpiece in Brazil. Roy Hodgson's men have been playing well in recent friendlies but it doesn't matter; England falter on the big stage. A quarter-final exit on penalties would be an achievement. Some would say getting out of the group would suffice.
A young squad, led by an out-of-form Wayne Rooney, is short on tournament experience and lacks the punch to truly scare the likes of group opponents Italy and Uruguay. Or so it appears.
For this is the most exciting time to be an England fan since the breakthrough of the 'Golden Generation'. Throughout the 23-man squad, there is pace, there is vision and, above all, there is the genuine promise of excitement.
In 2010, following a near-flawless qualifying campaign, Fabio Capello opted for the conservative choices. He took Emile Heskey to South Africa, persuaded Jamie Carragher to come out of retirement and overlooked Theo Walcott. England were subsequently humiliated, winning just once – against Slovenia – despite being drawn in a group described as 'easy' by one tabloid newspaper.
Roy Hodgson appears to have learned from his predecessor's mistakes. Raheem Sterling, who John Barnes labelled the "best attacking player in England", has been included and looks set to shine in Brazil. Ditto Ross Barkley, Luke Shaw, Adam Lallana and Alex Oxlade-Chamberlain.
Daniel Sturridge, too, heads to the World Cup in sublime form and will lead the line, having scored 25 goals in all competitions in 2013-14 and truly established himself as one of the deadliest strikers in European football. And he heads to the World Cup ready to take on a new challenge.
None of the aforementioned six have any experience of playing on football's biggest stage which, for many countries, would give them a major disadvantage. For England it is quite the opposite.
These players didn't have to suffer the ignominy of the 4-1 defeat to Germany, nor the heartbreak of a penalty shootout defeat to Portugal. They were not on the pitch that blisteringly hot day in Shizuoka in 2002, and they have not had to fly home ashen-faced following yet another failure.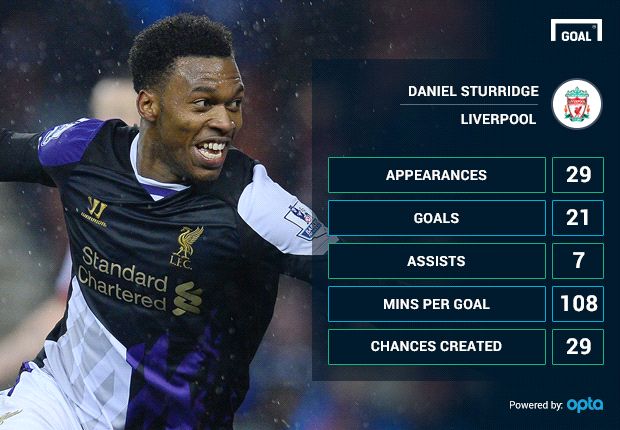 They do not possess the mental block that many England players have, they are free and they sense this is their time to shine. Even if Rooney is out of form, he will be compensated for.
But what if he recovers his touch? He has been told by Hodgson to prove his worth in the upcoming friendlies with Ecuador and Honduras and, should he do just that, he could yet explode on the international scene. Yet to score at a World Cup, Rooney has never been fully fit at this level.
In 2006, he broke a metatarsal bone playing for Manchester United in a 3-0 defeat at Chelsea. He recovered, but had a negligible impact on the tournament before he was sent off for a stamp on Ricardo Carvalho in another agonising quarter-final defeat. In 2010, he raced back from an ankle injury to face Bayern Munich in the Champions League, only to suffer a recurrence of the problem. As a result, he was nowhere near his best in South Africa.
In Brazil, it could be so different. Vilified by many – there are even calls for Lallana to start against Italy in Manuas and for Rooney, the only truly world-class player within the squad, to be dropped – this is a striker who has performed well when his back is against the wall. Sir Alex Ferguson would often whip up a siege mentality within the United dressing room and that, invariably, was when Rooney would produce his best form.
Should Hodgson let him off the leash, he could do the same for England. And the Three Lions coach does appear to know what he's doing. A manager with a fine track record at international level, he has taken average teams to the brink of glory before.
As Switzerland coach, Hodgson guided them to USA '94 – their first major tournament since 1966 – and took them to the Round of 16, where they were beaten by a strong Spain team. He also went within a whisker of guiding an even more unfancied Finland team to Euro 2008 but they could not beat Portugal in their final group game, and thus failed to make it.
Even when appointed England boss, Hodgson took the Three Lions to the quarter-finals of Euro 2012, despite having minimal time to prepare following the resignation of Capello. Now, he has overseen a full qualifying campaign and has a clear idea of how he wants this England team to play. There is no doubt that the players know too. A keen observer of the world game, he will also have a tactical plan to nullify the expansive attacking threats posed by Italy and Uruguay.
Indeed, a reshaped England including Jack Butland, Adam Johnson and Andy Carroll defeated the Azzurri 2-1 in Switzerland in 2012, while Wilshere inspired a win of the same scoreline over Brazil at Wembley a year later.
With his tactical vision and playing style clearly outlined, there is no chance of a repeat of 2010, when Capello's instructions often appeared muddled and confused, with the Italian even taking to barracking Stuart Pearce for sitting on the bench during the horrific 4-1 loss to Germany.
And with the opportunity to eliminate one of the tournament's big-hitters in the group stages, Hodgson will be well aware of the importance of a fast start, and that should transmit to the players. There can be no standing on ceremony in Brazil. There is a job to be done and the players must get down to it as soon as the whistle goes.
Should it all come together as it could, that parallel universe may just come into view. Come 20.00 on Sunday July 13, England could grind to a halt, every man, woman and child foregoing the barbecue weather to watch the Three Lions win the World Cup in the Maracana.
Joe Hart believes, telling
Goal
that England are "going there to win it", while Gerrard claims "there is no harm in dreaming." He's right. Get those flags out. This year is going to be England's year.