SPECIAL REPORT
By Wayne Veysey | UK Correspondent
The story of
Arsene Wenger
's contract renewal began in December 2012 during one of the stormiest periods of his 18-year
Arsenal
reign.
The team had slumped to 10th in the Premier League table following a 2-0 home defeat to Swansea City that was met with howls of disapproval from home supporters. It was their lowest league position at this juncture of the season for two decades.
Wenger responded by giving some of his under-performing players a rare dressing down afterwards in the confines of the Emirates Stadium changing rooms. Skipper Thomas Vermaelen, Gervinho and Carl Jenkinson were singled out for criticism.
Supporters were being more openly critical of their once-revered manager than ever before but he remained untouchable in the eyes of his employers.
With qualification to the knockout stages of the Champions League already secured, Wenger was approached by the board to arrange a time to open discussions over a new deal.
The response from the Frenchman, whose terms still had 18 months to run at that point, was that he was in no hurry and would wait until the end of the season.
With Arsenal trophyless since 2005, the domestic cup competitions had taken on far greater significance to the club. The Capital One Cup, for so long a secondary competition which Wenger would use to blood the youngsters, represented a great chance to lift some silverware but the north Londoners suffered an embarrassing exit from the competition in mid-December at the quarter-final stage when a virtually full-strength side lost on penalties to League Two Bradford City.
Wenger, while maintaining his public stance that he always honoured his contracts, began to harbour private reservations about his future. There was even a sense within the inner sanctum that he had 'lost' the players, regarded as the point of no return for top-level managers.
However, Arsenal rallied either side of the new year and, by the time of the Champions League return, he was ready to cast the doubts aside and open talks on a contract extension.
Gunners chiefs, led by Denver-based American owner Stan Kroenke, retained complete faith in the Frenchman. They put far greater store in his record of top-four finishes and ability to navigate the group stages of the Champions League year after year than the trophy void which had begun during the cash-sapping move to the Emirates.
The pressure from the fans increased on Wenger following a miserable few days in which consecutive home defeats to Blackburn Rovers in the FA Cup and Bayern Munich in the Champions League all but ended Arsenal's trophy ambitions for another season.
The day before the Munich match a national newspaper had led its back page with a report that the Gunners were ready to offer Wenger a two-year contract extension. The Frenchman, normally such a relaxed and unflappable figure in his pre-match media briefings, reacted with uncharacteristic anger to what most would consider to be a positive story. The pressure was getting to him.
Nevertheless, the support from the board remained absolute. With Arsenal's top-four hopes on a knife-edge in April 2013, Kroenke made it clear that he wanted Wenger to sign a new deal irrespective of whether the club clinched a lucrative Champions League place.
Arsenal maintained Wenger's 100 per cent record of top-four finishes on the final day of the season and preliminary talks on a new contract began over the summer.
One point of conflict was Wenger's desire to join forces once again with David Dein, his close friend and former ally, on transfer deals and contract negotiations. Kroenke, remembering how Dein had teamed up with Alisher Usmanov after being ousted from the board in 2007 before selling his stake for £75 million to the Russian billionaire, refused to bow to this request.
At the end of last September, Kroenke gave his full endorsement to the Frenchman remaining in charge for "the long term".
In turn, following an excellent start to the new season, Wenger gave a clear indication that he wanted to sign new terms which would take him into his third decade at the club. "The good thing with me, if I have one quality, you don't need a lot of talks to extend the contract I have," the manager said. "[I will sign] when we find time. I don't think that's the most important problem at the moment."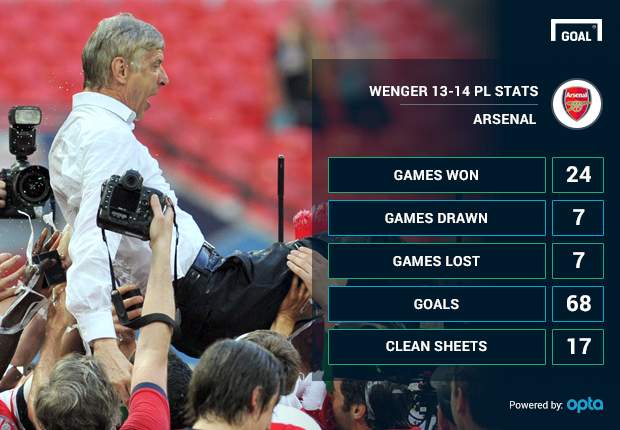 In October, Wenger agreed in principle the terms of a two-year contract extension that would keep him at the club until 2016. Intriguingly, he rejected the club's offer of a pay rise and it was settled that the fresh agreement would be on the same £7.5m-a-year terms as Wenger's existing contract.
The indications were that Wenger would soon put pen to paper. On several occasions either side of Christmas, word went around the club that the manager was about to sign the contract on the table. Each time he held back, despite Arsenal's lengthy run at the Premier League summit and their success in once again reaching the Champions League knockout stages.
THE WENGER GUARANTEE
Arsenal's successes

1996-97
1997-98
1998-99
1999-00
2000-01
2001-02
2002-03
2003-04
2004-05
2005-06
2006-07
2007-08
2008-09
2009-10
2010-11
2011-12
2012-13
2013-14
3rd in Premier League
1st in PL, FA Cup winnners
2nd in

Premier League


2nd in

Premier League


2nd in

Premier League


1st in

Premier League


2nd in PL, FA Cup winners
1st in

Premier League


2nd in PL, FA Cup winners
4th in

Premier League


4th in

Premier League


3rd in

Premier League


4th in

Premier League


3rd in

Premier League


4th in

Premier League


3rd in

Premier League


4th in

Premier League


4th in PL, FA Cup winners

Publicly, Arsenal maintained a wall of silence bar a few soothing words from Ivan Gazidis in January at a press conference confirming Puma as their new kit supplier.
The chief executive expressed total confidence that Wenger would extend beyond 2014. "We are comfortable in the position and relaxed about it. Arsene will be extending with us and at the right time we will make that announcement," he declared.
Yet, as the weeks went by and the landslide defeats in marquee matches piled up, the uncertainty around Wenger's future grew.
No one at the club seemed able to answer why a manager who was out of contract on June 30 and who had agreed a lucrative package to stay refused to put pen to paper. Wenger's media briefings offered little insight, with the Frenchman neatly sidestepping the question week after week.
The darkest period came following an abject 3-0 defeat at Everton on April 6, which ended Arsenal's shaky title challenge and left them fighting for a top-four spot. Again.
Even some of Wenger's longest-standing allies were now in the dark about the manager's intentions. He shut himself away in the immediate aftermath of the Everton defeat and, for the first time, staff felt that he might do the unthinkable and walk at the end of the season.
The anxiety spread to the boardroom. Alternative options to the man responsible for the team for a remarkable 18 years were now actively considered.
There was little appetite for wholesale change. Contact was made with Louis van Gaal, who had rejected an offer from Tottenham but was yet to agree a deal with Manchester United. Coincidentally or not, two of the Netherlands coach's former colleagues from the Dutch FA were due to start at the Arsenal academy on July 1. The possibility of promoting assistant manager Steve Bould was also discussed.
Wenger told the club that he would stay only if his twin targets were met - a top-four finish and FA Cup success.
Results improved and so did Wenger's mood. His targets were finally met on an emotional day at Wembley as Arsenal came from two goals down against outsiders Hull City to end their nine-year trophy drought.
Yet there was to be another twist to the 18-month saga.
Keen to avoid a repeat of the saga of recent months in two seasons' time, Arsenal have extended their contract offer to three years and the deal has been presented as such.
Whether he stays to the end of that contract or not, by finally signing the agreement Wenger has ensured that he will extend his spell with the club into a remarkable third decade and ended one of the longest contract sagas of all.