DEBATE
By Peter Staunton & Ben Hayward
Xavi on the bench? Not so long ago, that notion would have been ridiculed ahead of a big fixture like Barcelona's trip to Manchester City on Tuesday. After all, the 34-year-old embodies the Catalans'
tiki taka
style more than any other player.
But is that reason enough to bring him back? The midfielder's mobility has never been his best feature and, against a high-tempo rival in a physical battle, is he really the correct choice?
Coach Gerardo Martino rested Xavi on Saturday to keep the club's vice-captain fresh for the City clash but, in his absence, Barca produced their most complete performance of the entire season, thrashing Rayo Vallecano 6-0.
Rayo may be one of the worst sides in La Liga, but Barca's play was simply sublime at times, particularly from Cesc Fabregas and Andres Iniesta in midfield. So should Tata stick with those two alongside Sergio Busquets or bring back Xavi for what is probably the team's toughest test yet in 2013-14?
Goal
's Peter Staunton and Ben Hayward go head-to-head over the issue …
"XAVI IS STILL THE WORLD'S BEST MIDFIELDER"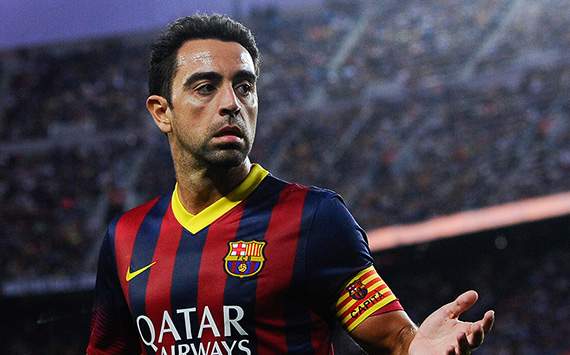 By Peter Staunton
That sheen of invincibility that Manchester City had earned under Roberto Mancini at home has been well and truly scuffed this season. First Bayern Munich came and inflicted defeat upon them for the first time in 20 European matches at the Etihad and more recently Chelsea ended their long unbeaten domestic record.
Those two matches did not have much in common, demonstrating two distinct ways of beating City on their own patch. Where Chelsea set up to frustrate City by sitting in their own half, defending with discipline and seeking to hit on the break, Bayern starved them of possession and passed the ball around them.
Barcelona are far more capable of doing the latter. Key for them in this gameplan is Xavi. Too much ink has been wasted on the fact that he is now 34 and, perhaps, beginning to show his age. He is still the best midfielder in the world, even if he does have to pick and choose his matches nowadays.
The fact remains that, Lionel Messi aside, Xavi is more suited to the Barcelona template than anyone else in the lineup. He acts as the conductor for the team, taking every second pass and moving things along. He is a playmaker who tries whenever possible to get the ball to the feet of his frontrunners. His chief strength, though, is keeping the ball from the opposition. With him in the team, Barcelona choke the life out of other clubs. In that sense he is irreplaceable, no matter how well Cesc Fabregas does as an understudy against the likes of Rayo Vallecano.
Manchester City are now accustomed to dictating the play and creating chances at will. When that doesn't happen, the frustration levels in the stands grow and the players become too easily dejected. And while he can be one of the most dangerous players for his team in possession, Yaya Toure can also be one of the most dangerous players to his team when he doesn't have the ball. He doesn't like using his energy to track runs and attempt interceptions. He can become a liability when the ball is simply moved around him.
Xavi is still the master of that.
"INIESTA & CESC SHOULD START THIS TIME"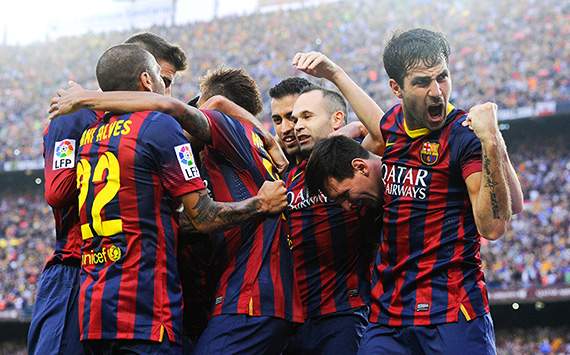 By Ben Hayward
Barcelona's possession percentage may increase slightly when Xavi is in the team, but having the ball is not everything and that has been all too evident in many European games away from home for the Catalan club over the last few seasons.
The
Blaugrana
lost 2-0 to AC Milan last season, could only draw 2-2 at Paris Saint-Germain in the Champions League quarter-finals and were then brutally beaten by Bayern Munich (4-0) in the last-four clash at the Allianz Arena. In the previous campaign, meanwhile, they were held to a goalless draw at Milan and also suffered a 1-0 defeat at Chelsea. This term, they again failed to beat an average
Rossoneri
side at San Siro as the game ended 1-1.
That's not Xavi's fault, of course, though the midfielder still symbolises more than any other player the passing and possession philosophy which made Barca brilliant. Like Pep Guardiola and Tito Vilanova before him, coach Gerardo Martino has attempted to address that by getting his side to play a more direct style - particularly on the road.
Up until now, dispensing with Xavi has not really been part of the plan, but the fantastic form of Cesc Fabregas (who is more direct than his team-mate, sets up more goals and also scores more) means Martino now has a very real alternative to the 34-year-old vice captain.
Earlier on this season, it was usually Andres Iniesta who made way to accommodate Cesc, but the 29-year-old has looked close to his imperious and brilliant best over the last three games and now cannot be left out. Iniesta or Cesc could be utilised further forward if Martino wants to pick Xavi, but fielding three dynamic forward players would work better against a high-tempo team that will come out and attack, leaving spaces at the back that can be exploited.
Alexis Sanchez, Lionel Messi, Pedro and Neymar (who will probably start on the bench as he has just returned from injury) would be ideal for those front three positions, while Cesc and Iniesta seem better suited in midfield to feed them with quick, incisive passes and through-balls from deeper positions.
Sorry Xavi.
Follow Ben Hayward on