SPECIAL REPORT
By Liam Twomey
It is 20 years since Kick It Out chairman Lord Herman Ouseley, in partnership with the Professional Footballers' Association, launched his crusade to rid the sport he loved of the hate he despised. Sadly, though, the birthday celebrations are likely to be muted.
His organisation, which began life in 1993 as a campaign whose title, 'Let's Kick Racism Out of Football', served as both slogan and mission statement, has much to be proud of. Racial prejudice within the country's most popular game is now almost universally regarded with the disgust it deserves. Kick It Out, meanwhile, has expanded its scope to fight against all forms of discrimination at all levels of the sport, and continues to make tangible gains as it embarks on a 'Season of Action' this year.
But at the top, football's anti-racism movement stands divided. The Football Association's handling of the Luis Suarez and John Terry race rows invited accusations of inconsistency, complacency and even apathy from a high-profile minority of increasingly disillusioned black footballers, while Kick It Out was perceived by some as kow-towing to the organisation which provides part of its funding, rather than fighting for the cause – and the people – it was set up to champion.
"From my perspective, we can't start looking at the next 20 years without trying to arrest the discontent among some of our supporters," former Stoke striker and Kick It Out trustee Garth Crooks tells
Goal
at the London Metropolitan Archive, where an exhibit consisting of letters, photographs and press cuttings dating back to the 1980s documents the history of the organisation.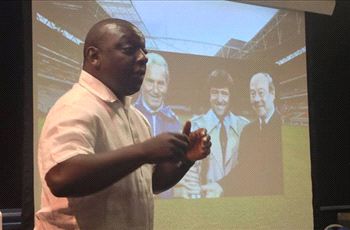 "What has been displayed in the public arena is footballers having a row – strong opinions being voiced on an issue."

- Garth Crooks
Kick It Out trustree

"We want them on board. They're very much entitled to express their views, and I welcome that. Their views are to be respected, and so are ours."
Arresting that discontent will be no easy task. Last October, a group of around 30 black players made their feelings clear by boycotting Kick It Out's anti-racism t-shirt campaign. For some it was nothing new – Joleon Lescott has refused to promote the cause since the FA failed to punish Newcastle midfielder Emre for allegedly subjecting Everton defender Joseph Yobo to racial abuse in 2007 – but most were showing their hand publicly for the first time.
It was a stance which left many at Kick It Out shocked and saddened. "It did," Crooks admits, "because it was largely incorrect.
"It was a group of players with a very loud voice and a very high profile picking on one of the small boys in the playground, when really they should have been voicing their opinions with some of the bigger boys who have something to do with their issues.
"But I take that on board, and if it means we have to have more of a say with the Premier League, and bring those concerns to the table on their behalf, then so be it."
As anger on both sides subsided, however, the door to reconciliation appeared to be creaking open. Rio and Anton Ferdinand released a joint statement indicating their willingness to work behind the scenes to help make Kick It Out "more relevant in its fight to stamp out racism in football", and Jason Roberts, one of the organisation's most vocal critics, presented 'The Way Forward Document' to all key parties involved, detailing the changes the protesters wanted to see enacted.
In the year since the boycott, the healing process appeared to be gathering pace. The PFA released a six-point plan to deal with the concerns raised and increased the number of staff in its Equalities Unit from one to five. Kick It Out established a new players' advisory board, while the FA and Premier League were also receptive to the desire for a different approach.
One word, however, has brought all the old tensions bubbling angrily back to the surface. In his new autobiography, outgoing PFA chairman Clarke Carlisle describes his emotional reaction at the time of the t-shirt protest, condemning the players who "would happily throw in a grenade, but do nothing when it explodes". He then lobs one of his own, labelling them "shithouses".
The consequences have been predictably explosive. Many of the players concerned are believed to be deeply upset, while Roberts described the insult as "disgusting" and "wholly inappropriate" in an interview with
the Independent on Sunday
earlier this month.
Lord Ouseley, however, has broadly backed Carlisle's argument, and Crooks – who says the former QPR defender, who prepares to stand down in November, has been a "magnificent chairman" – is also reluctant to condemn him. "From my perspective, the debate is helpful," he insists.
"What Clarke engaged in was the kind of argument you'd hear in every dressing room in the country every day, using dressing room language, which is often quite graphic. With that sort of thing there's often an explosion, the dust settles, you shake hands and get on.
"What's been displayed in the public arena is footballers having a row – strong opinions being voiced on an issue. It's very healthy.
"I respect what Jason has said. I respect if Rio and Anton want to remain silent. I respect their position. They're entitled to it, but Clarke's entitled to his view as well. We're all grown ups, we don't have to agree with each other."
Roberts was unavailable for comment when contacted by Goal, but did deliver a strongly-worded response to Carlisle's comments
on his personal blog
earlier this month, while defending the attitude of the boycotters towards Kick It Out. "Far from being S***houses, cowardly or 'beating up on a small charity' we were fighting for its soul, and independence…a fight that has been lost," he wrote.
Crooks disagrees with that gloomy assessment, and still views Roberts as a potential partner rather than an adversary. "I would welcome Jason into Kick It Out in a heartbeat, and if not perhaps the FA might find him a role," he continues. "He's articulate, he's sharp, and he's passionate about the subject. He has enough passion to add to our organisations, without doubt."
At present, the prospect of such an alliance seems remote. But Crooks believes dialogue with the doubters is the way forward. "I would like to have the opportunity to hear their challenges and to talk through where they fall down, because there's no doubt in my mind that they have a fundamental lack of understanding of what Kick It Out's responsibility is," he insists.
"Our responsibility is to raise issues and place them at the door of the only organisation [the FA] that can bring about change. We can't affect it ourselves."
Kick It Out's 'Season of Action' continues with an event at Manchester City's Etihad Stadium looking at pathways for women wanting to work in football. To attend or to find our more, please email Kick It Out's Mentoring and Leadership Manger, Troy Townsend, on troy@kickitout.org
Follow Liam Twomey on