By Mark Doyle
They say that you can't please all of the people all of the time. Well, nowhere was this better demonstrated than during the predictably lively debate prompted by the release of this year's
Goal 50
.
Lionel Messi pipped Franck Ribery to top spot to land the prestigious accolade for the third time
, after a poll of over 500 journalists across the footballing world. That was a contentious enough result as far as many of our readers were concerned but what really seemed to grate with some people were the (perceived) low rankings of players of the calibre of Juan Mata and the omission of illustrious names such as Mario Balotelli.
Consequently, Goal staged a LIVE! Q&A session at lunchtime on Monday, with Carlo Garganese and Kris Voakes agreeing to face the wrath of a few seriously annoyed readers.
It was the latter who stood up to the plate when
Mauricio Bockin Valdes
got in touch to say that he was horrified on behalf on a certain Swedish superstar. "The fact that Ibra isn't in the top 10 is just pathetic," he fumes, before concluding, "Worst list ever!"
GOAL 50
Messi's hat-trick of honours

2008
CRISTIANO RONALDO
2009
LIONEL MESSI
2010
WESLEY SNEIJDER
2011
LIONEL MESSI
2012
CRISTIANO RONALDO
2013
LIONEL MESSI
However, Kris felt that Zlatan's positioning at 25 was more than justified.
"Practically everyone above him in the Goal 50 delivered on a major occasion when necessary, but... Ibrahimovic is one year closer to finishing his career thinking 'what if?' in terms of the big European honours."
Carlo, meanwhile, had to deal with an enraged
Tony Pedroso
, who was bewildered by the fact that Bayern Munich winger Arjen Robben (fifth) had ranked 27 places above Chelsea attacking midfielder Mata.
Carlo, though, argued that the gap between the two was entirely explicable.
"There are a number of key factors we took into account when deciding the list," he stated. "These include form over the course of the season, the big occasion, team honours and legacy. Mata may have registered an incredible number of assists, but these kinds of statistics only tell part of the story.
"The Spaniard played a whopping 64 games for Chelsea last season, which already skews the numbers. The Confederations Cup disappointment played only a minor part in our decision to not place Mata higher.
"Robben ticks all the boxes with the exception of his consistency over the whole season, and was the outstanding player in the Champions League knock-outs from the quarter-final stage."
Manchester United fans were also up in arms, given that Robin van Persie was the only representative from the Red Devils, a statistic that
Sanjay Sundarjee
claimed robbed the award of "all credibility".
However, Carlo countered: "Winning your domestic league isn't enough to guarantee you a swarm of inclusions in the Goal 50. Barcelona and Juventus also romped to the Spanish and Italian leagues, respectively, and only have two players each in our list. And unlike United, Barca and Juve were more impressive in the Champions League and went further in the competition. Also, we must recognise that 2012-13 was one of the weakest Premier League seasons for a number of years.
"While the likes of Rio Ferdinand, Rafael and Michael Carrick were considered, there were superior alternatives. To make the Goal 50, an exceptional league campaign often isn't enough."
The placing of the much-maligned Fred at No.13 also infuriated, with many feeling that his inclusion was the most obvious example of the Confederations Cup having had far too great an influence on our voters. But Carlo was having none of it.
"Fred is not in 13th place just because of his Confederations Cup exploits," he insisted. "This was no knee-jerk decision. He is there because he enjoyed the best year of his career in 2012-13 for both club and country. His domestic heroics are the reason he even finished above Neymar."
That Fred made the list at all was controversial, though, given that there was no room for everyone's favourite striking enigma, with
William_McInnes
exclaiming: "Balotelli?? Definitely in the top 50 players in the world!!!"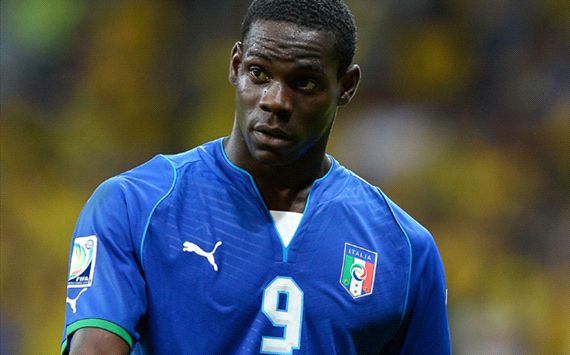 No half measures
| Mario Balotelli missed out because he barely played before January
However, Carlo pointed to the fact that Balotelli had been largely inactive for half of the year in explaining this undeniably surprising admission.

"If the Goal 50 was decided from January until July, then Mario Balotelli would not only have made our list but he would have probably walked into the top 15, maybe even the top 10," he revealed. "Unfortunately, he barely played prior to his January transfer to AC Milan."

While there were plenty of contentious exclusions, Tsukhoon was just generally baffled by the make-up of the top 50. "Why are there so many that I have never heard of?"

However, as Carlo so wonderfully put it, "This is the beauty of the Goal 50. We have a worldwide team of experts and editors situated on every continent - 36 different editions - that cover every blade of grass.

"Consequently, the Goal 50 doesn't only reward European-based players, as other awards are often guilty of.

"We hope that the Goal 50 will also serve to educate fans on the hidden gems in Africa, Asia and the Americas who deservedly sit alongside more celebrated stars."

Click HERE to see the full list for the Goal 50 for 2012-13.