Gareth Bale
cited his father, Frank, as the most important influence on his career when the
Tottenham
star collected his Football Writers' Association footballer of the year award on Thursday night.
And Spurs also have Bale's dad to thank as the 23-year-old looks likely to stay at Spurs next season, regardless of whether or not they achieve Champions League qualification.
Frank Bale is understood to be adamant that his son's career would be best served by remaining at White Hart Lane next season despite interest from some of Europe's biggest clubs.
PREVIOUSLY IN THE SWEEPER...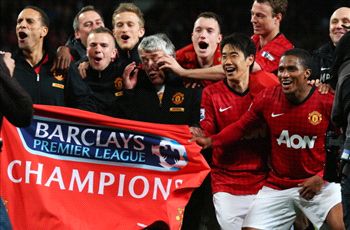 THE TRUE COST OF MAN UTD'S TITLE WIN
Manchester United may still be celebrating their dominant title win but the club's mammoth wage bill has revealed the true, astronomical cost of regaining the Premier League - and seen them leapfrog neighbours Manchester City as the country's biggest salary spenders.
The attacker's representatives from Stellar Group have been sounding out interest in their client while Spurs chairman Daniel Levy has already rebuffed enquiries from Real Madrid and Manchester United for a player whom he values at €80 million.
But Bale's parents may well have the final say, with the Welshman - once described as a "home boy" by former Spurs boss Harry Redknapp - making it clear how much he values his family.
"Every day when he came home from work, I would nag my Dad to take me out [to play football] and eventually he would," said Bale on Thursday night.
"He has given up most of his life to take me to youth-team games and he still comes to games now. He has been a massive inspiration to me and everything I do is for him and my mum."
- Greg Stobart
Forget the hairdryer, Sir Alex Ferguson is clearing his office of his most treasured possessions after his decision to step down as manager at Old Trafford.
The retiring Manchester United chief has a plaque which reads 'ayecumfegovan' above his desk - a nod to his Glasgow home and his players' difficulty in understanding his dialect.
But he will leave David Moyes a welcome present when the current Everton manager takes over at the end of the current campaign.
He has a lucky teapot which he and his coaches have used ever since he arrived some 26 years ago.
It has taken a major battering down the years but Ferguson insists that it even goes on away trips and, to emphasise its importance, kit man Albert Morgan was once hastily dispatched back to Carrington when they left the teapot behind on a trip to London.
- Paul Clennam
Loic Remy is desperate to leave QPR in the summer following the Londoners' relegation to the Championship but the France international will have to accept a pay cut upon quitting the club.
The former Marseille striker earns a whopping €106,000-a-week salary - a figure that is €23,000 more than it was originally understood that he was being paid at Loftus Road.
Liverpool and Tottenham are both monitoring the 26-year-old's situation but have been told that Remy wants a deal that matches his terms at QPR - a scenario which neither club is willing to accept.
Remy is available for around €6 million this summer and has impressed in the Premier League since joining QPR from Marseille in a €9m move in January.
Clubs from Italy and Russia have also expressed an interest in the versatile forward, who has scored five league goals for the Rs and has spoken of his desire to remain in England.
- Greg Stobart
After 26 years of dedication to Manchester United, one of Ferguson's early retirement plans is to escape the country entirely and embark on an American road trip with his wife, Cathy.
The history buff has never had the time to fulfil his ambition and will set aside three months after he recovers from a hip operation this summer.
Fergie wants to visit the Alamo and the various Presidential libraries situated across the country before returning to fulfil a role as director and ambassador for the Old Trafford club.
- Paul Clennam