John Terry
has insisted that he is not worried about his future at
Chelsea
, with the club captain not expecting any calls to extend his contract until a long-term replacement to
Rafael Benitez
as manager is found.
The former England international admits that he is not guaranteed to be offered a new deal by the club, but vows to continue giving the top-four hopefuls his best for as long as he is contracted to them.
Terry told reporters: "I'll definitely be here next year. I'm happy to leave things until they come to me.
"We don't know who the manager's going to be next year. Until that happens I can't really go knocking on the door and, being honest I'm probably not in the strongest position to go knocking anyway.
TRANSFER TALK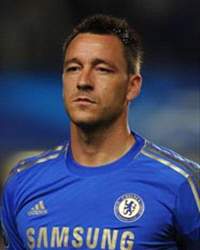 Read more on John Terry's reported plan to come out of international retirement in TRANSFER TALK.
"That's not my style. I'll wait for the club. It would be nice to get some silverware, get the season out of the way and maybe talk contracts in the summer.
"I'd love to stay at Chelsea. If that's not the case, I have got another year left which I will honour and respect.
"You understand that you can't be around forever. Where I would go after that it certainly wouldn't be in England. I couldn't do that to Chelsea or the fans. That's just not me."
Meanwhile, Terry could be eyeing a return to the England team despite snubbing the hand of FA chairman David Bernstein last week at a Uefa event.
Terry announced his international retirement after a dispute with the FA following the racism row with Anton Ferdinand, but with the current FA chairman set to retire in July, the Chelsea defender is thought to be pondering another spell with England.