COMMENT
By Jack Gaughan at Old Trafford
It is in all likelihood that this afternoon
Sir Alex Ferguson
will watch on as
Manchester United
continue to add to the staggering 874 league goals they have scored at Old Trafford during his 26-year reign.
The net has bulged continuously, the trophies have poured in almost as frequently and a footballing family has been carved from a standing start. United were a club going nowhere fast when Ferguson drove into The Cliff in November 1986, equipped solely, at first at least, to haul them away from the depths of the old First Division.
SIR ALEX'S MANAGERIAL CAREER


TEAM
P
W
D
L
WIN
%
Man Utd


1465

873

330

262

60%

Scotland

10

3

4

3

30%

Aberdeen

459

272

105

82

59%

St Mirren


169

74

41

54

44%

East Stirlingshire

17

9

2

6

53%
What ensued was the mother of all 'projects' – long before the term had even been born, abhorrently labelled and chronically overused. There were no brash public statements about plans or philosophy; Ferguson set about making regular sound decisions while the infrastructure of the club set a new ceiling for quality.
That is why, in short, Ferguson was honoured with a nine-foot bronze statue of himself on Friday. How it has come to pass that United have won 12 titles, two Champions League trophies and are five-time FA Cup winners under his stewardship is a story never again to be seen in English football.
Possessing a working involvement in everything within the club, Ferguson knows about it all from top to bottom – epitomised by the glut of talent unearthed in the 1990s and the famous tale of a meeting with 13-year-old Ryan Giggs to prise him away from neighbours City. Attention to detail breeds success.
Gary Neville, part of the crop who owed so much to Ferguson, said: "United had Sir Matt Busby, now they've got somebody who's replicated his longevity at the club and surpassed his success - you would just never believe it could be achieved.
"It's really not something you can put into words, what he has done for the club. Not just that, the success, the way he's played, bringing through young players and the performance levels over that time – everything has been right."
Around 2,500 adoring fans, the first team squad and a host of ex-players including Eric Cantona, Ole Gunnar Solskjaer, Peter Schmeichel and Ruud van Nistelrooy, turned out in the wet to mark the occasion. Tributes from Jose Mourinho, Arsene Wenger, Sepp Blatter and Tony Blair also came in. Compered by Eamonn Holmes, the 25-minute ceremony neatly symbolised the relationship between United and its most-decorated manager.
The rain streamed down onto the gravel beneath the Sir Alex Ferguson stand until the man himself got up to speak in the dying minutes. It subsided, the sun breaking through, as we finished with a rainbow hanging over the city: a modern-day Lowry could not have painted a more fitting picture.
Ferguson is, of course, in fantastic company. Around the corner, Busby was immortalised in statue in 1996, while a little further along stand the Holy Trinity – Denis Law, George Best and Sir Bobby Charlton. The latter, unsurprisingly, was gushing in his praise for the 70-year-old.
"He makes very quick decisions, Alex, and important ones. Having been a director of the club for a long time, I marvel at Alex - he's got so much quality and he's going to be with us as long as he wants. He's just a sensational manager," Charlton said.
"When we made the decision to go for him we didn't in our wildest dreams ever, ever think that it would last as long as this. But from the beginning he obviously made people aware of what he did and how he did it with regard to controlling players and how to work with [the club] management which is also very important."
'HE WAS A FATHER FIGURE'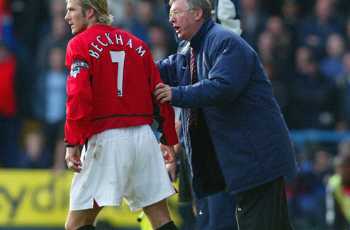 BECKHAM ON SIR ALEX

"I moved up from London to Manchester and he always said to me 'if you've got any worries, come and knock on my door - it's always open.'

"Playing under him for the years that I did - well, he was like a father figure to me."
Controlling players is an interesting point. Ferguson's two blockbusting number sevens of the last 15 years – Cristiano Ronaldo and David Beckham – both fell out with the Scot before leaving for Real Madrid. Both, all smiles, made videos wishing their old boss well and remarked fondly on their Old Trafford experience. Players come to realise the method behind his business. Egos wouldn't perform tributes without deep respect.
"I moved up from London to Manchester and he always said to me 'if you've got any worries, come and knock on my door – it's always open,'" Beckham said. "I was scared to go and knock on his door because of who he is but he always made me feel as if I was part of a family.
"He knows how to win games, how to handle pressure and how to look after his team and his players. Playing under him for the years that I did – well, he was like a father figure to me."
The bronze statue, sculptured by Philip Jackson, who also designed the Holy Trinity, has unfortunately been derided by some. One fan, walking away from the ground, said loudly on his phone: "It looks nothing like him. Why is he looking over his shoulder? It's as if he's in One Direction." The supporter was wrong – it looks like Des O'Connor – and laughing, highlighting that it doesn't matter what the piece actually looks like, just that it is there to mark the terrific achievements of a man who encapsulates the values of the area and its club.
There are seemingly no signs of Ferguson's keenness for the job abating, either. Giggs asked: "His enthusiasm is just as big as it was when I first met him and he's still successful, so why stop?"
A good question, and a variation of which will be asked countlessly before "Sir Alex the Great" takes charge of his 800th league match on May 4 when Chelsea visit, because of the clubs' comparative styles. Ferguson wouldn't last at Stamford Bridge now, and was very lucky to be afforded time in Manchester. But boy, did it pay off.
Follow Jack Gaughan on