The case against Chelsea captain John Terry for allegedly racially abusing QPR defender Anton Ferdinand should never have gone to court, team-mate Ashley Cole claimed on the witness stand on Wednesday.
The 31-year-old stands accused of a racially-aggravated public order offence during a match in October 2011, a charge that he strenuously denies, and the left-back backed up his captain's version of events, while current and former colleagues offered support for his character.
"JT was saying he thought Anton had said something black and he's just repeated it. That was it. I think we shouldn't be sitting here, personally," Cole told Westminster Magistrates' Court.
The Blues full-back admitted that he had not heard the initial exchange between Terry and Ferdinand despite standing "less than a car length" away from his captain at the time, though added: "When JT turns around I was on the halfway line looking for a free kick where they'd made a foul.
"I remember JT running back and Anton shouting things and making gestures."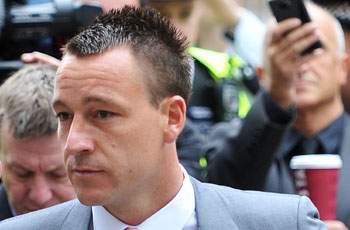 "I'm certain John Terry is not a racist"
- Jose Mourinho

Cole replied, when asked if anything had been said: "[From] what I can make out, yes. I can make out him either saying 'Bridgey', or 'black'. I can't say either. I don't hear it out loud but I'm looking at him."
The left-back had later been involved after the match in a dressing-room discussion between Terry and Ferdinand on the issue.
"Because of what JT has said on the pitch, Anton's come into the changing room and repeated it and I've repeated it back and that's it," he explained. "I said: 'Did you think he called you a racist name?'
"Basically, yeah, that was it," Cole answered when prosecutor Mr Duncan Penny suggested that that discussion had "smoothed it over". "If someone just goes up to someone and says it then of course you wouldn't take it. If someone's repeated it it's different. Racism shouldn't be tolerated."
Many Chelsea players gave their signatures in support of a statement from now-Lille winger Salomon Kalou, who wrote: "I've never heard John Terry use any form of racist language," while former Blues manager Jose Mourinho, now of Real Madrid, also gave a statement.
"I'm certain John Terry is not a racist," the Portuguese declared.
Earlier on the third day of the trial, Terry claimed that he was eager to speak to the authorities before he had even seen any video footage of the incident, so confident was he of his innocence.
He declared on the stand: "I was keen to go forward with my police statement, my FA statement. If I had anything to hide I wouldn't have done that."
The prosecution had put it to Terry that he had lashed out at Ferdinand due to continually being "humiliated in public", over his alleged affair with the partner of his former team-mate Wayne Bridge.
Prosecutor Mr Duncan Penny said: "You knew you'd crossed the line, you've regretted it ever since, and you're stuck with this story," which the Chelsea man denied.
The magistrate added that he will likely reach a verdict on Friday if the trial concludes on Thursday, though would not rule out a decision on Saturday.
The case continues.