SPECIAL REPORT
By Francois Duchateau
For weeks,
Schalke
have publicly flirted with
Rafael van der Vaart
. But, after discovering that the
Tottenham
player's demands and their contract offer were too far apart, the
Knappen
have put their efforts on hold for the time being. In fact, the Dutch star has only just begun to discuss his current situation, and future, in London. Schalke's patience, it would seem, is being tested.
During preparations for Euro 2012 in Poland and Ukraine, Van der Vaart admitted to the media that he was flattered by the
Königsblauen
's interest in him, but made it clear that remaining at Tottenham was his priority. The 29-year-old Netherlands international, who is a graduate of Ajax's legendary academy, rediscovered his love of the game in north London after his time as a Real Madrid bench-warmer.
He enjoyed the atmosphere in British football, the lifestyle, living in London, the casual environment around Harry Redknapp's squad, and the dynamic football played in the Premier League, even if he could often last only 65 minutes.
But, with the recent managerial change at Tottenham, the cards were reshuffled.
The fact is that Andre Villas-Boas has his own ideas about what is needed at Spurs, and has already brought in Gylfi Sigurdsson, who impressed during his loan spell at Swansea last season.
Van der Vaart is now in direct competition with the former Hoffenheim man in the only attacking midfield position in a 4-3-3. Luka Modric's role in the new manager's plans are somewhat inconsequential, with Real Madrid thought to be knocking on the Croatian's door.
Tottenham are letting Van der Vaart stand in the shop window which has made the Dutchman realise that the club are willing to listen to offers. Villas-Boas wants the team to be creative but, having missed out on Champions League qualification, some players must make way for large-scale squad changes. The north Londoners are demanding around £15 million for the Dutch star, an amount that Schalke could muster once bench-warmers such as Jose Manuel Jurado have been sold.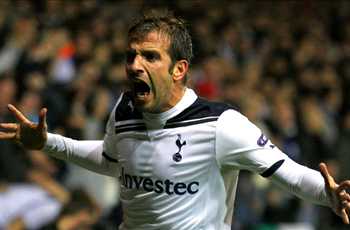 Tottenham are letting Van der Vaart stand in the shop window which has made the Dutchman realise that the club are willing to listen to offers
Yet another German club are public fans of Van der Vaart: Hamburg, whose interest in the Dutchman has come to the fore in the last few weeks. The question as to whether the frugal club would be willing to splash out on a former fan favourite remains. What is more, missing out on European qualification last season means that Hamburg are not all that attractive an option.
Top quality football, and a lavish salary, however, can boost the
Königsblauen
's case, but in the past Horst Heldt and Clemens Tönnies have both put a limit on spending. The funds available would now only be reserved for Klaas-Jan Huntelaar, Van der Vaart's compatriot. Schalke have now set about flirting, and are settling down for the waiting game. Even though both parties' demands are some way apart, it could perhaps still come to fruition later in the summer.
Van der Vaart has been confronted with a new situation for the first time at White Hart Lane and will be awaiting further developments. The professional situation of his wife, Sylvie, who is increasingly seen on German television, will also be relevant to his planning. There is pratically no interest in the left-footed star from other Euopean leagues, with it being the Bundesliga or bust for the Netherlands star. For now Schalke are buying time.