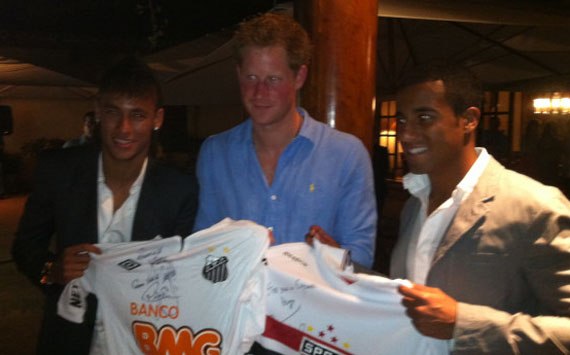 The fascination with the Royal family has always baffled me, to be honest, and, though their aura may sometimes be wasted on these shores, in Brazil it is quite clearly not the case as
Neymar
and
Lucas Moura
looked delighted to meet Prince Harry.
Britain's very own has taken to his role as 'trade ambassador' with the type of gusto that he usually reserves for fancy dress parties (ahem). His three-day jaunt around the island of Jamaica made for perfect preparation for the next leg of his tour of the Americas.
Santos striker and much-vaunted superstar Neymar tweeted photos from a charity dinner in Sao Paulo on Sunday night of himself and fellow Brazil international Lucas Moura (of Sao Paulo) presenting Prince Harry with their respective club shirts.
It was quite the shock to see arguably the most famous person in Brazil sidle up to our red-headed royal mortal but it was certainly deemed big news as he tweeted:
"Tonight I attended a charity dinner with Prince Harry, from UK. A very nice guy!"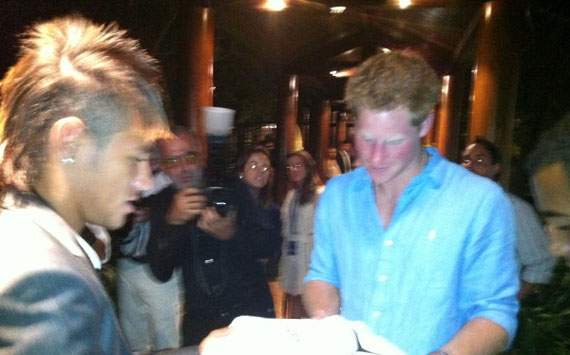 Sign here Harry | Shouldn't this be the other way around?
Neymar, 20, has been in fine recent form, scoring a frankly brilliant hat-trick in the Copa Libertadores last week against Internacional.
Sao Paulo's representative at the charity dinner was 19-year-old Lucas Moura, who is causing a similar stir amongst switched on football pundits.
He was linked with Chelsea back in January but it is possible that the £65 million release clause put them off. Nonetheless, with 11 Brazil caps, expect his name to receive increasing mentions.
Neymar's multi-lingual tweeting is as impressive as the one million followers he's acquired and it also gives rise to some entertaining photos, including this beauty with teammate Ganso.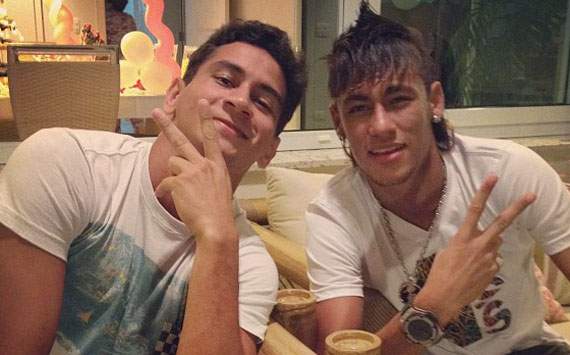 Snip snip | Um, Mr Neymar, have we introduced you to 'Ganso Scissor-Hands'?