EXCLUSIVE
By Rob Stewart
Kenny Dalglish
will be back at Goodison Park on Saturday as
Liverpool
manager for the first time in 20 years and former Reds defender John Scales believes that his players will ensure that he makes a happy return against
Everton
.
The Scot quit the manager's office at Anfield club in February 1991 shortly after an epic 4-4 draw in the FA Cup but Scales is certain he will be celebrating victory this weekend if he gets his tactics right against Everton counterpart David Moyes.
Here Scales, who helped Liverpool win the FA Cup during his two-year spell at the club and is now busy as project leader for the 'Exhibition of Champions' at Wembley Stadium, gives
Goal.com
the lowdown on where the derby will be won and lost.
Sylvain Distin vs Andy Carroll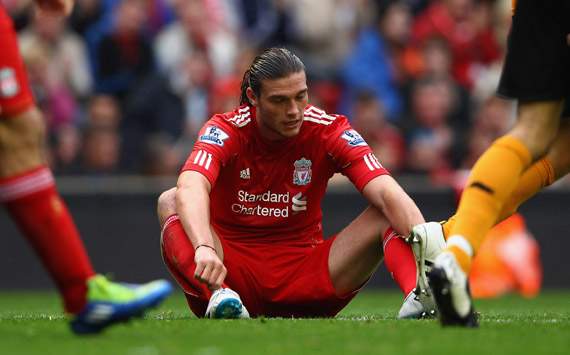 "The whole of the Everton back four will have to really work Andy Carroll up and down the pitch and Sylvain Distin will be crucial in that respect because it is important they do not just sit back and wait for crosses.
"With the injuries that Carroll had when he arrived he has not really had a consistent run of games to get fully back up to speed and that is why we have not seen the best of him. Everton's defenders have to push him out and then drop in.
"They have to dictate the way the game is played rather then be dictated to by Liverpool with Andy Carroll really pushing up against them. If he is allowed to mark Distin almost rather than Distin calling the shots that could be bad news for Everton.
"Distin is a strong lad and he will be up for the battle but they need to disrupt Carroll by squeezing up the pitch. The danger is if you are too cute you could give Luis Suarez too much space. They must be smart and not play deep."
Phil Jagielka vs Luis Suarez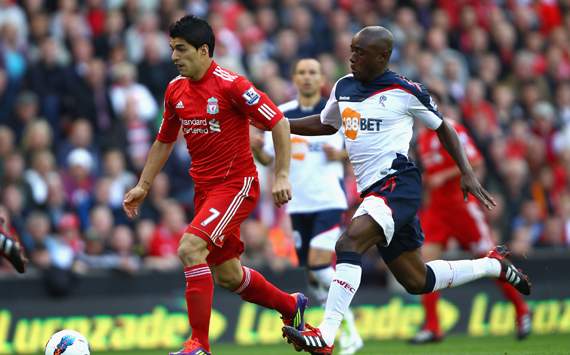 "If Liverpool's wide players, Stewart Downing and Jordan Henderson, can leave Phil Jagielka for Luis Suarez to have a go at him on a one-versus-one basis then Jagielka will have his work cut out to stop him.
"The way things are going for Suarez at Liverpool he is turning into a world-class player and he will cause any centre-half problems, even top centre-halves such as Jagielka.
"Suarez could cause them plenty of trouble if he gets the chance to run at Jagielka so the back-four have to operate as a real unit with the full-backs making sure the defence is narrow.
"So Phil will have to be on top of not only his own game but also in terms of organisation. Liverpool will have to exploit Suarez by keeping the Everton full-backs occupied."
Leighton Baines vs Jordan Henderson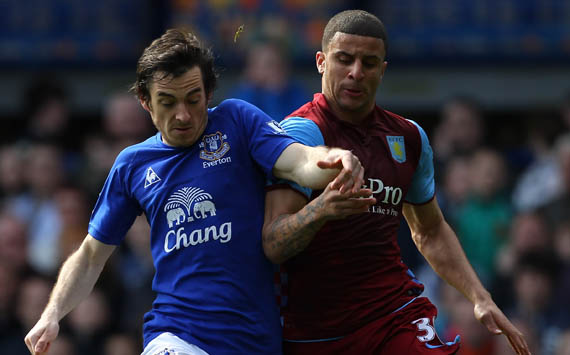 "Leighton Baines has had an outstanding start to the season while Jordan Henderson is trying to find his feet and establish himself and is also having to deal with a step up in terms of pressure and anticipation that you get at Liverpool.
"Baines should have the upper hand against Henderson but if you get Luis Suarez making runs behind him causing him a few problems and Martin Kelly breaking forward and over-lapping that could change things in Liverpool's favour by creating two-versus-one situations.
"If it was just Baines-versus-Henderson the Everton camp would have every faith that their man would come out on top. We have seen flashes from Henderson that show what he is capable of with the way he cuts inside so Baines will aim to show him down the line more and onto his stronger left-hand side."
Jack Rodwell vs Charlie Adam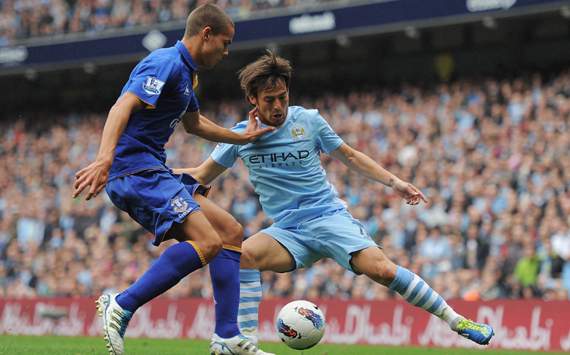 "It was a very unusual role for young Jack Rodwell when he was up against David Silva last week in the Manchester City game and he deservedly got a lot of plaudits because he acquitted himself brilliantly in a man-to-man marking job where he was very disciplined and strong.
"It helps to a degree that when you are playing in that disruptive style you get 11 players behind the ball and you go with a game-plan. I respected David Moyes' strategy at City but in a home game the emphasis will have to be very different.
"It will be tight and combative in midfield because it is a local derby but you will expect more from Rodwell in terms of imposing himself on the game. Adam has got a great range of passing if he is given time and space on the ball and he can be very influential in that central area. Moyes will be telling Rodwell to get on him to stop him playing and track his runs but Rodwell will be looking to do more offensively and creatively."
Tim Cahill vs Jamie Carragher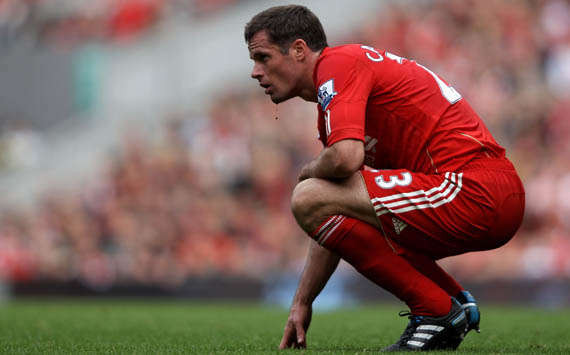 "Jamie Carragher will be out to prove some doubters wrong even if they are going to continue questioning him until he finally retires from playing because they will keep asking if his best days are behind him and whether he is still up to playing at Premier League level and can be the central figure at the heart of the Liverpool defence.
"This is the sort of challenge that he will be really relishing and as a local lad he will thrive on the atmosphere. With his experience he will know exactly what sort of threat Tim Cahill poses as a striker because he seems to be accustomed to playing up front.
"Cahill will be out to pull Carragher and his fellow centre-half out of position. It is the start of the season and I expect Jamie to come out on top in that duel and I think Liverpool will just about edge it 2-1."
Former Liverpool centre-half John Scales is the project leader of Wembley Stadium's new 'Exhibition of Champions', which is looking back at the competition's 56 showpiece matches from 1956 to 2011. To book a place on the Wembley Tour and see the 'Exhibition of Champions' visit www.wembleystadium.com/tours or call 0844 800 2755