The Bolton defender admitted it had been a tough week mentally, but he showed no signs of any transfer window disappointment on the field with an exemplary display and first goal
COMMENT
By Steven Saunders
The team sheets handed out in
Bulgaria
ahead of
England
's Euro 2012 qualifier raised a few eyebrows in the press box - and not just because of
Fabio Capello
's personnel decisions.
The Bulgarian FA, presumably thrown by the hectic end to the transfer window in their opponents' land, had new Tottenham signing Scott Parker listed as a West Ham player. That one was forgivable, at least in comparison to Stewart Downing whose club was given as ... Everton!
Assigned their correct clubs, 10 of Capello's starting XI against Bulgaria now play for the recognised Premier League Big Six of Arsenal, Chelsea, Liverpool, Manchester City, Manchester United and Tottenham. All six were represented at least once.
The odd man out was Gary Cahill, who must have felt the transfer window was just an elaborate ruse. Was he going to Arsenal? Was he going to Tottenham? Neither, as it turned out.
And so he made his first competitive start for England as a Bolton player (correctly listed by the Bulgarian FA it was, too). The way in which he performed would have had Arsene Wenger and Harry Redknapp cursing the financial haggling that saw them miss out on the 25-year-old.
Truth is, Bolton's valuation of £15 million seems absolutely spot on. Far from be disappointed by missing out on a big move personally - Cahill admitted after the game it had been a difficult week mentally - the centre-back performed with an assuredness that Arsenal and Spurs most certainly could have done with while conceding 13 goals between them to United and City just five days previously.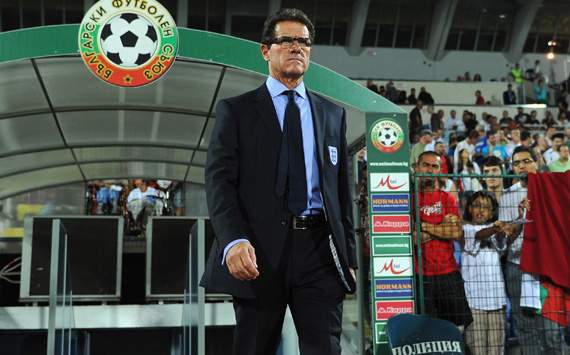 Tunnel vision | Capello's England are firmly on course for Euro 2012
By far the junior partner in the centre-back pairing with John Terry in terms of experience and years, Cahill looked the part throughout. Dominant aerially, strong in the tackle and never once out of position - think Younes Kaboul against Edin Dzeko, or Laurent Koscielny against Danny Welbeck, only the complete opposite.
Even more impressive was the way in which he took his first goal at international level. Pushed forward for a 14th-minute corner, he drifted away from Terry and into a pocket of space beautifully as the deep cross went to the Chelsea and England skipper. The knockdown didn't come his way, so Cahill repositioned himself on the shoulder of the last defender.
CAHILL COMING OF AGE


PLAYER RATING

8.5
Lovely chested control before slotting home to give England an early lead after 13 minutes. Also consistently strong in the air and dealt well with the albeit blunt Bulgarian attack.
Gareth Barry's delightful clipped pass found Cahill who chested it down and volleyed it underneath Nikolay Mihaylov's sprawling challenge and into the net. His celebrations were dampened by the fear he may have been offside (in fact, it was Rooney who perhaps should have been flagged, but wasn't) but his team-mates soon made it clear to him that it was all real. After the week he's had, Cahill can be forgiven for not counting his chickens.
It is an attitude that Capello would be appreciative of, and one that England as a squad need to maintain. This was a poor Bulgaria side. The last time England played in Sofia was the occasion of Bulgarian legend Hristo Stoichkov's final cap. Current coach Lothar Matthaus can only dream of being able to pick such talent; he must even think about sneaking on himself, no matter that he's aged 50 and German.
And there's the rub for England. They play well and beat a team they're supposed to beat, it's used against them. They play poorly but scrape by, they get pilloried. The fact remains that Capello has only ever lost once in qualifying for major tournaments as England coach, yet only won one game in a tournament finals. Montenegro's defeat in Wales makes Tuesday's game against Gary Speed's side at Wembley even tougher, but potentially even more rewarding. A place at Euro 2012 is looking certain.
The Italian will be only too aware that this team needs refining. But the way in which Wayne Rooney, scorer of two goals and now England's eighth top scorer at international level aged just 25, and new Manchester United team-mate Ashley Young are hitting it off must have him salivating, as well as Stewart Downing's burgeoning confidence following his move to Liverpool. The former Middlesbrough and Aston Villa winger made his first competitive start for England in three years.
Indeed, everywhere Capello looks through his team are players who have made encouraging starts to the season. For example, Barry, in his best form for some time at club level, was picked ahead of Frank Lampard, who could not argue the same.
The first few weeks of the season have been kind to Capello and his England camp, though Gary Cahill might argue differently. His move will come eventually - just don't expect Bolton to be any easier to negotiate with come January.