David Beckham
has once again been named as the richest footballer in the world as the sports category of the
The Sunday Times
Rich List was published.
Beckham's fortune was estimated at a massive £135 (€155) million, an amount that has risen significantly by £10m (€11.5m) over the last year.
Michael Owen was the second-richest UK footballer, coming 16th overall in the list with a huge personal fortune of £40m (€46m).
The Rich List estimates the wealth of the richest British citizens and individuals born overseas but who predominantly work or live in the United Kingdom.
The list estimates subjects' wealth from a range of identifiable factors such as land, property, racehorses, art or significant shares in publicly quoted companies. Bank accounts are not taken into consideration.
The next football figures in line were Fabio Capello and Wayne Rooney (both £37m (€42.5m)) and Rio Ferdinand (£36m (€41.3m)). They were followed by Ryan Giggs, Sol Campbell and Alan Shearer (all £34m (€39m)), who sat ahead of Robbie Fowler (£31m (€35.6m)) and Roy Keane (£30m (€34.4m)).
Steven Gerrard and Frank Lampard were locked together at £27m (€31m), along with Sir Alex Ferguson. The Manchester United manager is narrowly above Chelsea boss Carlo Ancelotti (£25m (€28.7m)) in the wealth stakes.
John Terry was rated at £23m (€26.4m), while Patrick Vieira (£21m (€24.1)), Giovanni Trapattoni (£20m (€23m)) and Didier Drogba (£19m (€21.8m)) were the other football figures inside the top 50 for sport.
Selected footballing figures from further down the list include Arsene Wenger (£19m (€21.8m)), Joe Cole and Paul Scholes (both £17m (€19.5m)), while Petr Cech, Roberto Mancini, Damien Duff, Fernando Torres and former England boss Sven-Goran Eriksson were all rated at £16m (€18.4m).
The list said Kieron Dyer was worth £14m (€16m), the same as Michael Essien, Gary Neville, Carlos Tevez and Edwin van der Sar. They were all narrowly ahead of Ashley Cole, Harry Kewell, Emile Heskey, Robbie Keane and Cesc Fabregas (all £13m (€14.9m)).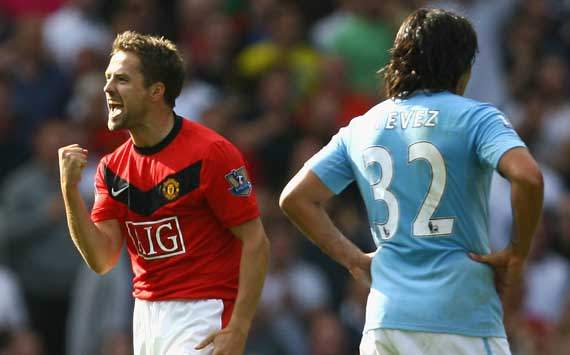 Loving life | United star Owen has a massive estimated worth of £40m
Dimitar Berbatov and Jamie Carragher (both £12m (€13.8m)) also featured in the top 100, as did Craig Bellamy (£11m (€12.6m)) and William Gallas (£10m (€11.5m)) amongst others.
Wigan Athletic owner Dave Whelan, with his family having a wealth of £190m (€218m) generated through his business exploits, topped the sporting list.
From other sports, Lewis Hamilton was ninth (£50m (€57.4m)) and his Formula 1 team-mate Jenson Button came in at No.12 (£48m (€55m)). Golfers Padraig Harrington and Lee Westwood both came inside the top 30 with fortunes of £32m (€36.7m) and £31m (€35.6m) respectively.
Boxer Ricky Hatton, who was at Wembley on Saturday to see his beloved Manchester City win the FA Cup, was judged to be worth £29m (€33.3m). Retired boxer Lennox Lewis was at No.5 in the overall list with a fortune of £95m (€109m).
Tennis star Andy Murray was in 38th position with a fortune of £22m (€25.3), which had risen by £7m (€8m) in the last 12 months alone.