Heurelho Gomes facing an uncertain Tottenham future following the howler that gifted Carlo Ancelotti's Blues a 'ghost' goal
COMMENT

By Wayne Veysey at
Stamford
Bridge
Judging by the riotous manner in which
John Terry
celebrated win number eight in
Chelsea
's last nine league matches, this derby victory has altered the title balance.
The skipper pumped his fists, swept his arms skywards in unison and jumped on David Luiz's back like a jockey soaking up the acclaim on Grand National day.
Following his 500th appearance for the club he has represented at senior level for 13 years, Terry joyously marked a triumph that ensures leaders and long-time favourites Manchester United still have a few hurdles to negotiate before racing to the finishing post.
Sir Alex Ferguson did not stay to watch Salomon Kalou score the winner from an offside position on Saturday evening but he had seen enough to know that Chelsea's thoroughbreds will provide a test of his team's mettle over the next few weeks.
One of the final fences United must clear comes at Emirates Stadium on Sunday afternoon against a struggling Arsenal team who could provide trickier opposition than expected because they will be playing without pressure or expectation.
It remains United's title to lose but Chelsea's fightback makes it a nerve-jangling away day for the champions-elect.
To his credit, Carlo Ancelotti did not seek to hide from the crucial role that 12th man Lady Luck played in keeping his team's title flame burning.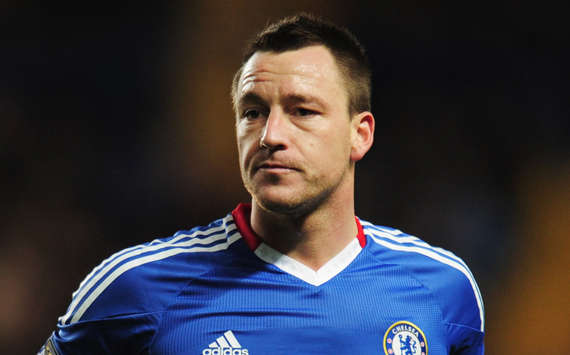 Old guard | John Terry and Chelsea's 30-somethings have kept their title bid alive
"You can see that we were lucky with both the goals" admitted the Italian of Frank Lampard's 'ghost' goal and Kalou's winner.
Tottenham have effectively been relegated to the Europa League after match officials wrongly judged Lampard's speculative 30-yard shot to have crossed the line. Gomes spilled it under his body, then desperately scrambled to halt the ball's path as it dribbled towards the line. Replays showed that only about three-quarters of it had crossed the chalk.
That it was horrible goalkeeping by the error-prone Gomes is not in doubt. He makes some fabulous reflex saves but his concentration wilts at too many crucial times for him to be considered a reliable last line of defence.
He made a similar mistake in the Champions League quarter-final second-leg against Real Madrid from Cristiano Ronaldo but that had not proved decisive as Spurs were already 4-0 down on aggregate. This time it did. Gomes errors have directly led to five Premier League goals this season, the equal-worst count (with West Ham's Robert Green) in the top division. Expect Harry Redknapp to be in the market for a new No.1 in the summer.
For Lampard it was atonement for the goal that never was in the World Cup against Germany last summer.
Moreover, it has re-ignited the debate about the requirement for goal-line technology. But, in truth, there is no debate. Only a minority of Luddites, most of whom are employees of Fifa, believe a piece of machinery that can make line decisions in seconds should not have been introduced at least a decade ago.
Cricket, rugby, tennis, cycling and many American sports have been benefiting from this technology for the best part of two decades, while football is still stuck in the caveman era.
Referee's assistant Mike Cairns had to rely on his eyesight from a relatively poor angle to make a judgement that could be worth millions of pounds. Pity him if Spurs fall a point short of fourth place at the end of the season.
| | |
| --- | --- |
| "Gomes errors have directly led to five Premier League goals this season, the equal-worst count (with West Ham's Robert Green) in the top division. Expect Harry Redknapp to be in the market for a new No.1 in the summer" | |
"He has guessed and guessed wrong," opined Redknapp in a fair and good-natured summary of Cairns' mistake. "It's the most difficult thing in the world to see from where he was – he was probably on the 18-yard box when the ball dropped on the line, and he has given what he thought was the right decision. No one can judge from there. It's impossible to judge. But he has not done it because he wants Chelsea to win or Tottenham to lose."
Redknapp questioned the wisdom of jobsworth fourth officials patrolling the dugouts and haranguing managers for overstepping the technical area by a yard when they could simply be handed a TV monitor and told to get on with it. The halt in play for a camera trained along the goal-line to produce the correct decision would be so infinitesimal it would be barely worthy of mention. "It takes five seconds to get the right decision," said Redknapp.

But football persists with the belief that the official is always right, while careers and match outcomes are at the mercy of a man with a flag.
Not that Chelsea will spend too long ruminating on a debate that should have been open and shut a long time ago.
The warmer weather has brought a steady improvement in their results, despite that Champions League quarter-final defeat to Manchester United, their next opponents in the Premier League.
The old guard of Lampard, Terry, Petr Cech, Ashley Cole and Didier Drogba, impressive in both a free-floating right-sided role and as the centre-forward when Fernando Torres departed after an hour, are providing the foundation for their late title challenge.
Ancelotti joked afterwards about them hibernating for too long when the nights drew in early but it was no coincidence that when Lampard, Terry and Drogba were absent at various periods in midwinter, the champions were a shadow of themselves.
All three were instrumental in the fightback against Spurs, even if Ancelotti needed to call on all three substitutes – Ramires, Nicolas Anelka and matchwinner Kalou – to turn the tide and claim all the points.
Should United fall short at Arsenal, there will be genuine hope that the outsider can topple the favourite in Manchester next weekend.
Our

provides the best breaking news online and our

football fan community is unmatched worldwide. Never miss a thing again!