EXCLUSIVE
By Oliver Yew
Former Tottenham defender and ex-
Newcastle
manager Chris Hughton insists there has never been more riding on the outcome of a north London derby than there will be when Spurs and
Arsenal
clash in the Barclays Premier League at White Hart Lane.
The former Spurs player and assistant manager, who won the FA Cup twice and a Uefa Cup during his 13 years at the club, said: "It is the biggest derby in London but this game will be even bigger because there is so much at stake for both sides."
Hughton, who made 397 appearances for the club and spent 14 years as assistant serving 10 managers, added: "The history of the game and what it means to the managers, players and fans will always be there but this time there is so much riding on the outcome of the result.
"Going back 20 years Tottenham were arguably the better of the two sides but throughout the Premier League years Arsenal have been the dominant team in north London derbies.
"Local pride has always been there for the winner but now so much rides on the derby in terms of league position and this will add to the spectacle."
Goal.com UK
spoke to Hughton, 52, to look ahead to the key on-field clashes which will shape the outcome of the north London derby.
Gareth Bale v Bacary Sagna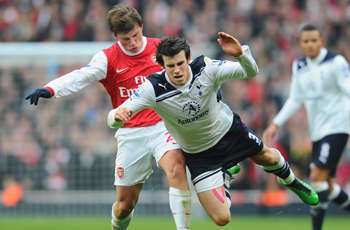 Hughton says:
"The Welshman has been such an influential player for Harry Redknapp's side this season and is fully deserving of his PFA Player of the year award.
"He has been a constant match winner for Spurs and in the form he has been in this season it has been very difficult to stop him.
"But Arsenal will have devised a way to cope with Bale.
"Whatever you do marking Bale is a really tough ask for any side and Bacary Sagna, who will probably be the man charged with dealing with the threat, will have his hands full at White hart Lane.
"How he goes about stopping him is difficult. He is not the type of player you want to get too tight to because he has the pace and power to burst clear and get past you and if you give him too much space he has an exceptional left-foot and can whip great crosses into the box for the front men.
"It's a really tough one but Arsenal and Sagna will look to double up on him and get as many bodies around him as possible to close off the space."
Verdict:
The Welsh winger can use his pace to exploit the space left by Arsenal's atacking style to give Spurs the edge in this battle.
Luka Modric v Cesc Fabregas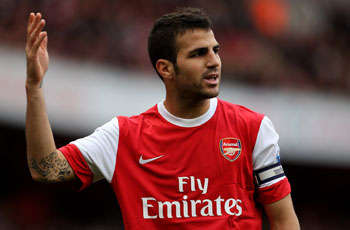 Hughton says:
"Arsenal are at their best when they can get their fluent passing rhythm going in the middle of the park.
"With players like [Samir] Nasri, Fabregas and [Jack] Wilshere threading passes about they are a joy to watch so it will be important for Spurs to counter that.
"In Luka Modric they have their own creative force in the middle of the park. He has been superb this season and while Gareth Bale has been recognised for his performances by the PFA, the impact the Croatian has had on Spurs' season cannot be forgotten.
"The big thing Harry [Redknapp] has changed with him is switching him from a wide position into the middle of the park. There were doubts about whether he could cope with the physical aspect of the English game but he has proved everyone wrong and is at the heartbeat of Spurs' game.
"He faces a tough battle with Arsenal skipper Cesc Fabregas to get a grip on the game for his side.
"Fabregas has had a stop-start season and it has not helped him get a rhythm going. Add to that the publicity - that never seems to go away - surrounding a possible transfer to Barcelona and it has been a difficult season for the Arsenal skipper.
"But when he does play Arsenal are a better team. He gives the side goals, assists and authority in the middle of the park, which they lack when he is not in the side.
"He is a key player for Arsene Wenger's side and the type of player who will raise his game for the big occasion.
"It will be really congested in the middle of the park and who ever can find enough space to make their side tick will be a key part of the match."
Verdict:
This battle is too tight to call but whoever can come out on top here could decide the outcome of the game. Honours even.
Peter Crouch v Johan Djourou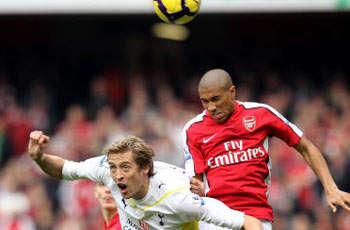 Hughton says:
"Everybody knows what Peter Crouch's strengths are and when he plays he is a handful for any side.
"His height and ability to hold up the ball is vital for Spurs and with him in the side you know you will win balls so players like Rafael van der Vaart, Gareth Bale and Aaron Lennon can feed off him.
"The key to bringing Crouch into the game will be the quality of Spurs' crosses. If they can get good service into him Arsenal will have a difficult night ahead.
"But in Johan Djourou they have one of the Premier league's in-form defenders. He and the rest of the Arsenal defence showed on Sunday against Andy Carroll they can deal with a tall powerful striker."

Verdict:
Another close battle but Crouch can win a lot of balls for Spurs. What will decide the outcome of this battle though will how both sides react to the second ball.
Michael Dawson v Robin Van Persie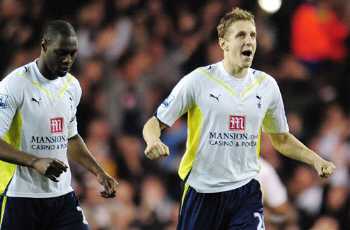 Hughton says:
"There will be some fantastic attacking talent on show at White Hart Lane with the likes of Samir Nasri, Cesc Fabregas and Robin van Persie for Arsenal and Rafael van der Vaart, Gareth Bale and Luka Modric for Tottenham.
"How both sides cope defensively will be hugely important in decidng where the three points end up.
"Robin van Persie will be looking to get the goals for Arsenal. The Dutchman's movement is fantastic and he hits a sweet ball with his left foot so Michael Dawson will have to be on his guard.
"But Dawson has been superb so far this season.
"He has been extremely important for Tottenham this season as they have been without Ledley King and Jonathan Woodgate for a long time.
"He has got a run of games under his belt and because of it he has grown in stature.
"His performances in Europe against AC Milan were of the highest order and he will be looking to put in another of those displays against Arsenal."
Verdict:
Yet another tight battle but Van Persie's superb scoring edges this one.

Benoit Assou-Ekotto v Theo Walcott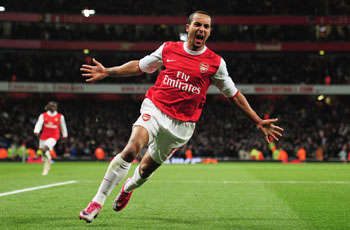 Hughton says:
"Theo Walcott gives Arsenal a wonderful outlet down the right and this season he has fulfilled some of the promise we all know he has.
"Despite a series of injuries it has been a promising season for the England winger.
"He will be a key player for the Gunners at White Hart Lane because his pace will keep Tottenham honest.
"He is a match winner and someone I think is in the same bracket as Gareth Bale. That's what this type of player can do. With their pace and ability on the ball they can turn a game in a flash and they are difficult players to stop in full flow.
"Assou-Ekotto will be tasked with dealing with threat of Walcott and he is another player who has been exceptional for Tottenham.
"He has been very consistent all season and will have to be once again tomorrow night up against the pace of former Southampton trainee."
Verdict:
Arsenal's ability to pick out Walcott in space could hurt Spurs. Walcott just has the edge in this battle.
Chris Hughton was speaking on behalf of Barclays Ticket Office, which is giving fans the chance to win a pair of free Barclays Premier League tickets every 90 minutes throughout the 2010-11 Barclays Premier League season. Request a receipt from any Barclays ATM to enter, or visit www.barclaysticketoffice.com

Hughton said: "I'm very lucky to be able to go and watch a lot of football and it is great that the Barclays ticket office scheme is giving supporters the opportunity to get tickets for Premier League games.

"Supporters get the chance to win tickets to games every 90 days for 365 days of the year and it gives people the chance to watch top football."