Arsenal
boss
Arsene Wenger
has rallied his players to "give every drop of blood" to stay in contention for the Premier League title ahead of Wednesday's crucial match against bitter rivals
Tottenham
.
The Gunners were left bitterly disappointed on Sunday after conceding an injury time equaliser to Liverpool as they aim to catch leaders Manchester United, who are seven points ahead following Tuesday night's 0-0 draw with Newcastle.
And after exiting the Champions League and losing the League Cup final, the pressure is firmly on Wenger's team to get back to winning ways with six games left to play in the league.
He told
Arsenal TV Online
: "We want to continue to develop, stay in the top four and, after, get close to Manchester United to still have a chance to win this Premier League.
"I still believe it is absolutely important, essential that we give absolutely every drop of blood to do it."
Wenger reflected on Sunday's result and said he wanted his team to show the strength of character to bounce back with a win against Tottenham.
"It was difficult to swallow, the equaliser [against Liverpool], but you look forward and you want to put it right again in the next game - that is what our job is about," he added.
"When you play at Arsenal, you need to have the mental dimension to deal with that.
"We are on a 15-game unbeaten run and we want to continue that. Maybe, you never know, it will be a point that will be helpful at the end of the season."
The manager, who gave the interview on the club's TV channel after cancelling his press conference on Tuesday, said that playing Tottenham would give his side the ideal opportunity to get back to winning ways.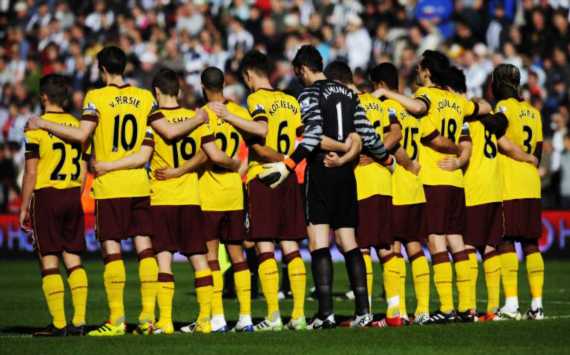 Mind games | Wenger has called on his young team to show mental strength
"We always play good games against Spurs, and played very well in September in the Carling Cup," he said.
"We will play our game, don't worry. We want to show we have the mental dimension to play for this club.
"The players want to show that and there is no better way to do that than against Spurs."
The Frenchman insisted, however that he had not set a points target for the remainder of the season.
He concluded: "Let's give absolutely everything to win this one. We are not in a period where we can calculate. I believe it is important that we give absolutely everything to win our next game."