Arsenal captain Cesc Fabregas has insisted that the club must decide whether their aim is to win trophies or develop young players.

The Gunners were held to a 1-1 draw with Liverpool on Sunday following Dirk Kuyt's 102nd minute penalty, as Arsene Wenger's side missed the chance to close the gap on leaders Manchester United, as their hopes of winning the Premier League title took another blow.

And come the end of the season it will be six years since Arsenal last won a trophy, if they fail to leapfrog United, and Fabregas is adament that the Gunners need to start winning silverware.

"It's true that Arsenal have got a reputation of a team who play beautiful football, but don't win anything," Fabregas told Don Balon.

"We won the FA Cup when I got here and we reached the Champions League final. However, we haven't been successful since 2007, despite playing good football.

"That's when you realise that it doesn't work. We were in four competitions at one stage of the season, but we're still empty handed," he added.

"We have to make a decision whether we want to develop young players or whether we want to win trophies."

With his future constantly the subject of specualtion, Fabregas' comments will set alarm bells ringing among Arsenal fans, but the 23-year-old admitted that while he would be open to a move away from the club, he would definitely not consider joining another English team, as his compatriot Fernando Torres did this season.

"I don't feel like I have an obligation to stay at Arsenal," he told continued.

"It's not like it's now or never for me to leave the club. There's still plenty of time. It's all about patience and waiting until the right moment arrives.

"Who says I'll become a key player at my new club? I'm very happy at a personal level right now. I've spoken with [Carles] Puyol who told me that he didn't win anything until he turned 26."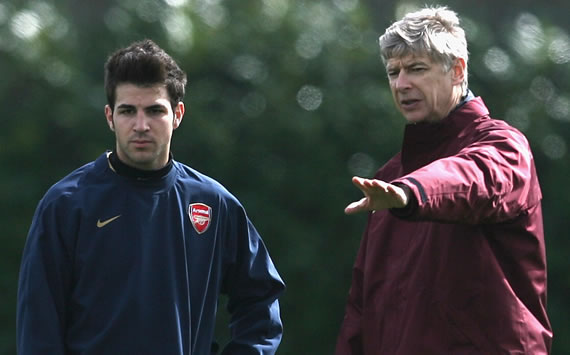 Decision time | While Wenger insists second spot is enough, captain craves silverware
About Torres' move to Chelsea, he added: "The thing is it happened so quickly I did not expect it. I did not imagine Torres leaving England or that he would leave in mid-season. I think it was a good decision."
But what the Spaniard dimissed the idea of a move to rivals Chelsea.
"Me? Paint pictures? I would not paint anything," said Fabregas.
"I cannot see it. If I leave Arsenal one day I would not join another English team. I am quite sure.

"Life is all about patience and working hard," he continued. "[Arsene] Wenger is the boss and he decides what happens. I still have a contract with Arsenal and he has every right to decide on my future at the club. He's always willing to listen to me though and communicates very openly."

And the Gunners captain reflected fondly on the beginning of his Arsenal career, and 'The Invincibles' side who went a whole season unbeaten, as well as the pressures of being the leader of a young team.

"We really had a great team when I broke into the first team," he added. "'The Invincibles' had won the league title without losing a single game. I got a lot of playing time and I feel like I played a part in the 49 games unbeaten record that the team set.

"There's no doubt that it was the best team I've ever played in. I really developed a lot that year.

"I even wonder every now and then whether I wasn't a better player back then.

"It was really impressive to be part of that winning team," he continued. "If you made a mistake, there was always someone to make it up for you.

"Things have changed a lot since then and there's a lot more pressure now. Everybody's looking at me when I play a bad game.
YOUTH OR SUCCESS?
"
We have to make a decision whether we want to develop young players or whether we want to win trophies
"
"I feel the responsibility to perform for the fans, especially now I'm wearing the captain's armband. [Robin] Van Persie and I are the only ones left from that earlier generation and we're happy to take our responsibility.

"It's important for a team to have a good combination between younger and experienced players. I'm very happy that I was part of a great team where I learned from the best.

"The young players are now looking toward me, but people shouldn't forget that I'm only 23. I was lucky to get the chance to work with some very experienced players, but it's more complicated now.

"I'm not saying one situation is better than the other though, but there were more players to look up to before. Players who had won trophies and helped you develop.
"Just have a look at the situation of [Jack] Wilshere and you'll realise that things are different now. He is a great player. I love him and he is going to be a star. He is very strong for his age and I wish I had that strength. He will be a great player as he continues to mature."
Fabregas also praised his manager, Arsene Wenger for the stability he had brought to the north London club, but also contrasted the difference between England and Spain.

"If a coach in Spain, like [Unai] Emery, [Jose] Mourinho or [Pep] Guardiola doesn't win anything for three years, he's out.
"Things are different here though. The manager is an intelligent guy and the club really appreciate what he does for Arsenal. The team always reaches the Champions League, fights for trophies right until the end and is financially very stable.
"That's very important for the chairman, even though there will probably come a moment where he's had enough if we don't win anything."