EXCLUSIVE
By Oliver Yew
Former
Arsenal
defender Nigel Winterburn believes
Arsene Wenger
's defence has been his team's biggest strength this season - and has called on the Frenchman to strengthen the midfield and attack this summer.
The former Gunners full-back, who was part of the famous back four that included Tony Adams, Steve Bould and Lee Dixon, said: "You don't go through a season conceding the second least goals in the league by defending badly."
Winterburn, who won three league titles, two FA Cups, a League Cup and the European Cup Winners' Cup in 440 appearances in 13 years at the club, added: "It is up front and in midfield where they are lacking but they are not far off the pace and if they could find a striker to help Robin van Persie and a powerhouse midfielder they would get even closer."
Goal.com UK
spoke to Winterburn, 47, to get his thoughts on how each Arsenal defender has fared this season.
JOHAN DJOUROU | League starts: 15, Sub appearances: 2, Clean sheets: 8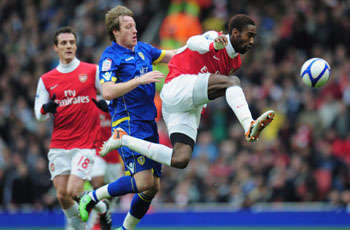 Nigel Winterburn
:
"He has been outstanding for Arsenal this season and his performances have been commanding throughout the season.
"But he is one of those players who has a problem with injuries. Like Robin van Persie, just when he starts to have a huge impact on the first team he can break down very easily.
"He just seems like one of those players who is injury prone and that is a great shame for him and for Arsenal because when fit he has proved himself as a top defender."
LAURENT KOSCIELNY | League starts: 26, Sub appearances: 0, Clean sheets: 8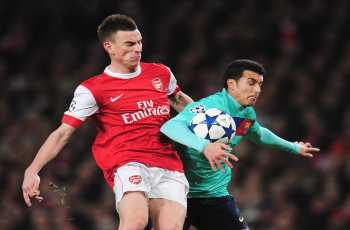 NW:
"He started the season alongside Thomas Vermaelen and due to the number of injuries Arsenal have had he has been thrown in at the deep end.
"But he has shown some promising performances alongside a number of different central defensive partners.
"He has shown commitment and he has the pace to get him out of trouble.
"On a couple of occasions he has come unstuck when he has dived in too easily.
"This has seen him involved in quite a few penalty claims so he needs to learn to hold back instead of diving in all the time.
"He is still quite an inexperienced defender though and from what I have seen in his first season in the English top flight he can become a very good player for Arsenal."
SEBASTIEN SQUILLACI | League starts: 19, Sub appearances: 1, Clean sheets: 4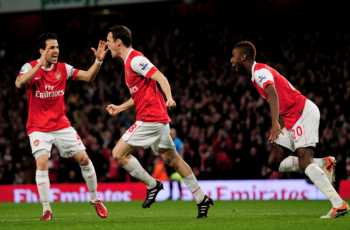 NW:
"It's difficult to judge a player who has been at the club for less than one season and has only recently come to English football but he has still come in for some criticism.
"It must be must remembered that Arsenal's expansive style and their ambition to push players forward can really leave the centre-backs exposed.
"If it comes to the end of year and we are still talking about the same things, then that is the right time to judge."
GAEL CLICHY | League starts: 30, Sub appearances: 0, Clean sheets: 11

NW
:
"Everyone knows Arsenal's style is to push the full-backs on to create extra men in attack but the one thing I would say is so important for a full-back is to be consistent.
"At times the full-backs at the Emirates can neglect their defensive duties and it leaves the defence exposed.
"In many ways the full-backs have gone away from the art of defending but Gael Clichy is still a fantastic player and he gives Arsenal a lot down the left.
"He is prone to the odd mistake and it is something Arsenal in general have to cut out."
BACARY SAGNA | League starts: 27, Sub appearances: 0 Clean sheets: 10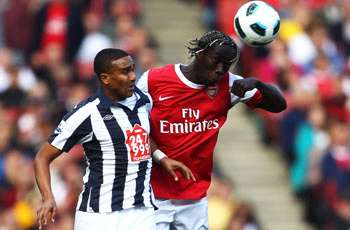 NW:
"Bacary Sagna is probably the most consistent defender in the Arsenal squad and this has been shown by his inclusion in the PFA team of the year.
"For the past few seasons he has proved his quality and once again it has be shown this season going forward and when in his own half defending."
KIERAN GIBBS | League starts: 1, Sub appearances: 3, Clean sheets: 1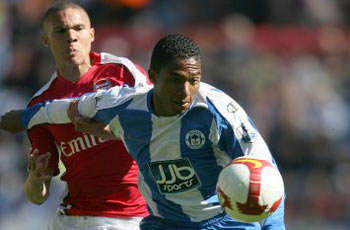 NW:
"Kieran Gibbs has done well when he has come into the side and he has deserved the England recognition he got earlier in the season.
"He has made the transition from winger to full-back very well but still needs to brush up on the defensive aspects of his game.
"But he is another who is prone to injury.
"Every time he manages to get himself a chance in the first team he picks up another knock which is frustrating for the lad but he has a bright future at the club."
EMMANUEL EBOUE | League starts: 8, Sub appearances: 3, Clean sheets: 2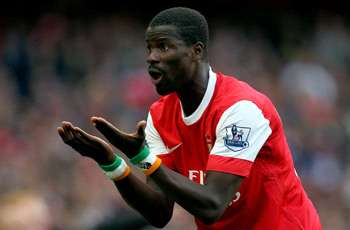 NW:
"He is definitely a full-back in the Arsenal mould as they like them to get forward no matter what and Eboue does that.
"His defending is not the best though and he can be caught out of position far too easily on occasions."
Nigel Winterburn is an ambassador for grassroots youth football competition the Tesco Cup, for more information go to www.tesco.com/football