Former West Ham boss also expects Torres to shine at Stamford Bridge
Former
Chelsea
and Italy player Gianfranco Zola insists
Manchester City
striker
Mario Balotelli
has the potential to become 'as good as he wants' in football - if he learns some self-discipline.
The temperamental Italian international yet again showed his bad-boy reputation last night after being sent off for a reckless challenge on Goran Popov in City's 2-1 aggregate defeat to Dinamo Kiev in the Europa League.
He has now been shown two red cards and eight yellow cards in 15 appearances for Roberto Mancini's side.
But former West Ham manager Zola, who worked with the forward for a short spell during his time as assistant manager of Italy's Under-21 side, believes the former Inter player has all the attributes to be a big star in world football.
He said: "I worked with him for a short spell. He can become as good as he wants.
"Everything is in place except the self-discipline. He is a skilful player, a strong player; he just needs to learn the self-discipline that is so important in achieving results.
"All the biggest players I've seen in my career had talent, but they also had strong self-control which made them key players.
"I think Mario [Balotelli] knows that, and he has to learn to use his passion for football in the best way."
Manchester City travel to Stamford Bridge on Sunday for what is a key fixture in the race for Champions League qualification and, perhaps still, the Premier League title.
Mancini's side have an excellent recent record against the Blues, winning the last three meetings between the two sides.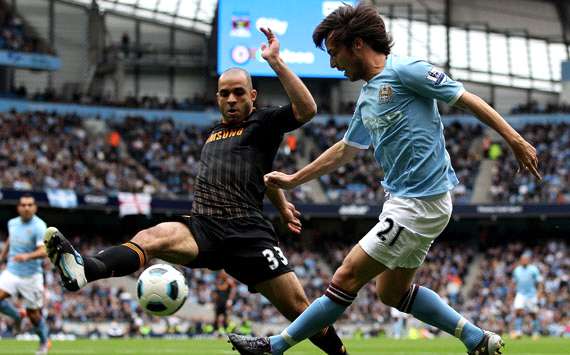 Four in a row? | Manchester City will be looking to extend their winning run over Chelsea
Zola, who spent seven seasons with Blues, thinks Chelsea will be desperate to end their dismal run against City.
He added: "They are on a good run now but I'm sure Chelsea have got a lot to play for and they'll want to end that run as quickly as possible.
"It won't be easy... but it'll be a good game."
The former Italy international made 312 appearances for Chelsea and scored 80 goals, winning two FA Cups, a League Cup, a European Cup Winners' Cup and a European Super Cup.
Zola, who was voted Chelsea' greatest ever player in 2003 by the fans, left the club in the summer of 2003 just at the time when Roman Abramovich became the club's new owner and took the Blues to a new level.
But this season Chelsea have dropped back in the title race and find themselves nine points adrift of league leaders Manchester United.
Zola puts this down to injuries to key players and a reduction in manager Carlo Ancelotti's squad size.
He said: "They've lost important players throughout the season, like John Terry and Frank Lampard to injury and Didier Drogba who had malaria for several months.
"So to think that you have a team that is missing three such important players, that doesn't help the situation.
"In previous years Chelsea had a bigger squad, they had so many players, but this year I think they've reduced the squad and so that could be one of the reasons."
Abramovich did strengthen the squad in the January transfer window though and spent £75 million bringing in Fernando Torres from Liverpool and David Luiz from Benfica.
Luiz has proved an instant hit with the Chelsea fans but Torres has struggled to adjust to life in his new surroundings.
The Spanish striker has failed to score in six matches for his new club but Zola is adamant the striker will come good in time once they find a way to fit him into their system.
He added: "With [Fernando] Torres it's not just about him, it's also about Chelsea finding a way to deploy him at his best.
"I believe that Torres is not playing his best football at the moment, but he's a striker that moves in a way that is beautiful.
"I've not doubt that he will be an effective player, and he will be a player who'll make Chelsea stronger."
Our

provides the best breaking news online and our

football fan community is unmatched worldwide. Never miss a thing again!