Enquiries from women interested in officiating have 'exploded'
EXCLUSIVE
By Tom Bellwood
A leading female referee has commended Sky's decision to sack disgraced commentator Andy Gray and insists that women in football are now becoming widely accepted in the game.
Lorraine Deschamps, an FA ambassador and one of only a handful of female FA-licenced referee instructors, said the TV station made the right choice in axing the £1.7 million-a-year pundit.
A host of video clips have surfaced this week featuring Gray and Sky Sports anchor Richard Keys making lewd comments, after they were caught questioning the ability of Sian Massey, a female assistant referee.
Deschamps told
Goal.com UK
: "What Gray and Keys have failed to grasp is that there's more and more women getting into refereeing, there's more women in the game full stop. And their anachronistic attitudes have only served to highlight the change.
"Rio Ferdinand got it exactly right, they are dinosaurs. What makes it worse is the position they hold, they are in the privileged position where their words can affect the thinking of others.
"Thinking like this should not be tolerated by Sky and I congratulate them for taking the decision to remove Gray."
She continued: "What was most insidious about this whole thing was that the comment came before the game, they hadn't given her a chance.
"If they hold that view about her, they will potentially hold views about others on different grounds, it was symptomatic of prejudice full stop.
"And that apology Keys offered, please! He's only doing it because he got caught, there was no sincerity there.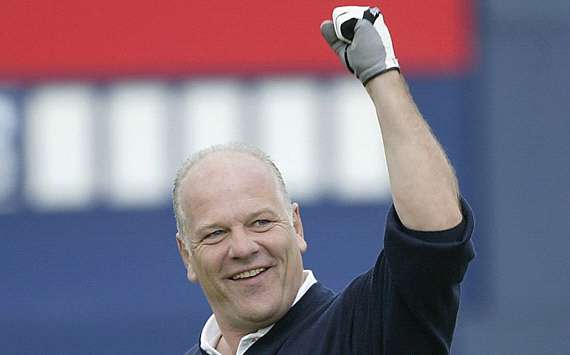 Out of touch | Andy Gray has been axed from his £1.7m-a-year job as a Sky pundit

Deschamps, a Level 5 referee (Senior County level) who regularly officiates in men's semi-professional football and in the Women's Premier League, spoke of her own experiences in facing the sort of attitudes shown by Keys and Gray.
"Of course I've faced blatant sexism in my life but it just makes you stronger. When I first started 12 years ago it was always the usual 'go and do the washing' or 'shouldn't you be in the kitchen'," she said.
"These days, the attitude I receive is players don't care that I'm a woman. They're not interested in that. Can you control the match? Will you make the important decisions? Can we trust you?
"In the past I used to be told 'Oh, you did well for a woman', that's all stopped, too.
"That has all stopped now. I haven't had a nasty jibe or barbed comment in over five years, at least. But these two think they can still come out with it, it's laughable."
However, Deschamps, who once worked as a club secretary for Middlesex football club, believes the whole saga will serve to increase the number of women in the game.
"I'd like to thank Mr Gray for his comments. I hear that enquiries to the FA from women who want to become refs has exploded," she added.
"I think there's a bright future, refereeing is wide open, anyone can take it up. As an official you have to be able to blot out all the negativity but, more importantly, I do hope for Sian's sake that you lot (the media) allow her to get on with her game."
Lorraine Deschamps was speaking on behalf of the British Asian Sports Awards, for which she is on the judging panel. The awards will celebrate a decade on Saturday, March 5 at Grosvenor House Hotel, Park Lane. Voting lines open in the first week of February, for further information visit www.basauk.tv Follow BASA: www.twitter.com/basauk or join the British Asian Sports Awards Facebook fanpage