There was a moment in the first half of
Liverpool
's 0-0 draw with
Utrecht
in the
Europa League
that summed up the 2010 version of
Fernando Torres
.
Raul Meireles found a pocket of space on the edge of the home side's penalty area, looked up, and clipped an inviting ball to the back post.
It was the sort of cross Torres fed off in his first two and a half years with Liverpool – think back to Liverpool's 2-0 win over Chelsea at Anfield in February 2009 and the way he nipped in front of Petr Cech to glance in the opening goal. It was a similar chance, one that required anticipation, a turn of pace, a deft touch and, above all hunger to be converted.
Against Utrecht, the ball floated harmlessly out of play, Torres barely having flinched. It begged the question: what is wrong with Fernando Torres?
If manager Roy Hodgson is to be believed, the answer is 'nothing', except perhaps a lack of consistent playing time. "He is getting better and better. He has been behind our last four goals in the league," said Hodgson when announcing that Torres would travel to Holland for the Europa League clash earlier this week.
"Those assists will help his confidence. I've said all along for him it is a matter of time and a matter of games and it is nice to see him coming back to the form and the kind of player he is."
Except, this isn't the Fernando Torres that Liverpool fans have come to know and love. It is hard to remember the last time the Spaniard played with a smile on his face, which had become a feature of his free-scoring ways after arriving at Anfield in 2007.
Of course, much has changed at the club since then. On the field, the biggest change is the collapse of the Rafael Benitez era, and the inauspicious beginnings to the Hodgson one.
It seemed that Torres was fully behind his new manager after the 63-year-old jetted out in the summer to speak to perhaps the second most important player in his team, behind only skipper Steven Gerrard, and convinced the striker to commit his future to the club.
FERNANDO TORRES
| In numbers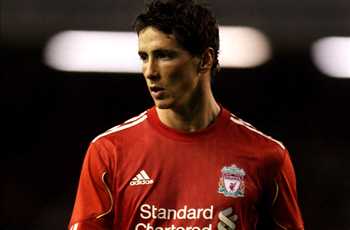 SEASON

2007-08
2008-09
2009-10
2010-11


GOALS PER GAME




0.72 (33 in 46)
0.45 (17 in 38)
0.69 (22 in 32)
0.13 (1 in 8)

Perhaps the answer, then, lies in this telling quote from Hodgson from late July, when speculation was rife that Torres would be leaving Liverpool. "Unfortunately, I cannot do much more," said Hodgson. "His beef is with the club and not me."
Is Torres really carrying that "beef with the club" onto the field? Has the consternation in the boardroom – and the subsequent unrest on the terraces – really affected the attitude of a European and world champion to the extent he is not giving his all?
What should not be overlooked of course is Torres' seemingly constant quest for full fitness. Even Spain's triumph in the World Cup final ended with their striker flat on his back having injured his groin. Indeed, he was not expected to start against Utrecht on Thursday, but was then named in the first XI.
Hodgson disagrees. "I think the injury problems are behind him," he said. "I don't think we can consistently bring up injury problems.
"They were supposedly cleared up when he went to the World Cup but because he didn't meet expectations there were suggestions it was because of injuries.
"But he has been recovered from the actual injury which kept him out of the end of last season since the start of the World Cup and the injury picked up in the final was very minor and had cleared up by the time he came back for pre-season training."
And yet – according to Opta – Torres completed none of his five dribbles against Utrecht, sent all three shots wide (though one was actually a fine save by goalkeeper Michel Vorm that should have seen a corner awarded) and had the lowest passing accuracy on the pitch.
As our table above shows, Torres' goalscoring rate this season has plummeted compared to previous years. One important note, however, is that after he had played eight games in season 2008-09, Torres had also scored only one goal - he then scored 16 in his next 30 matches until the end of the season.
Perhaps another Torres goal glut beckons. Blackpool, you have been warned.