Arsenal
manager
Arsene Wenger
has warned his players to keep their feet on the ground and stay focused after beating
Tottenham
4-1 at White Hart Lane to knock Spurs out of the League Cup.
The Gunners took the lead in the first half through Henri Lansbury but were forced into extra-time after Robbie Keane equalised after the break. However, a penalty double by Samir Nasri and an Andrey Arshavin strike sealed the win which Wenger believes his side deserved.
"I believe that we deserved to win the game but you can never predict what the difference will be," he told
Sky Sports
after the game.
"We were tested but we played some outstanding football today.
"We were consistent, for us it is important to keep our feet on the ground and focus."
Speaking at his post-match press-conference, Wenger also admitted his team selection was proof that he wanted to win the League Cup and was taking the competition seriously.
"We played well in first half but Tottenham came back. We were in danger but in the final 20 minutes looked like we could score," he said.
"We got a few reproaches that we didn't this take competition seriously. It was a derby. For us to go out would have been difficult.
"Some players needed competition like young [Kieran] Gibbs and [Carlos] Vela. I don't know yet how I will go in this competition. It depends on injuries. If everybody is fit, I can go."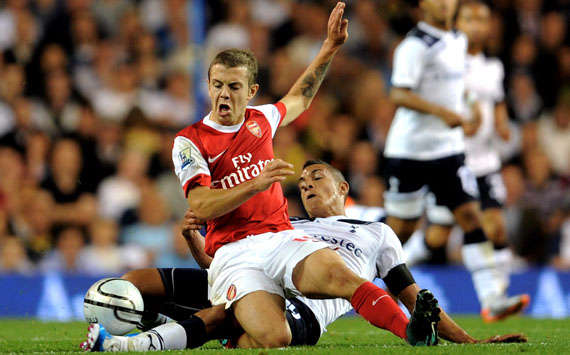 Outstanding | Wenger hails Wilshere's display against Spurs
The Frenchman also took time out to praise teenager Jack Wilshere who put in an impressive performance to help the Gunners to victory.
"Jack Wilshere was outstanding. I'm a bit cautious with him because you don't want all the praise too early," he said.
"In the first half you saw everything you want from a footballer – took some stick, got on with it, tactically his position was good. He is fearless."
Yet there was some disappointment for Arsenal with their manager revealing that Gibbs had picked up an injury which could see him forced onto the sidelines.
"That's the only disappointment of the night. He [Gibbs] had a very good game. We hope that we do not get bad news tomorrow morning," added the Frenchman.
"It is a metatarsal again, the one next to the one that was broken. We hope we have good news tomorrow morning because that would be a massive blow to us."