ANALYSIS
By
Andy Brassell
Having already made his big defensive investment of the summer with his £8.5 million outlay on
Laurent Koscielny
,
Arsene Wenger
has been more typically creative with his latest reinforcement. The arrival of
France
international
Sebastien Squillaci
from
Sevilla
is a typically unglamourous Wenger signing, but could be the touch of experience at the back that
Arsenal
have been crying out for.
So what will Squillaci add to the mix?
Goal.com
examines his qualities next to those of his new central defensive colleagues.....
Heading
A strong suit. Though Squillaci is tall rather than towering at 6'1, he anticipates the flight of the ball and the forward's first move well. Arsenal have arguably lacked a defensive leader since the departure of Kolo Toure - someone who can give them authority at defensive set pieces.
Arsenal's vulnerability to straight, long balls has been a problem for far too long - Squillaci has the presence to put a stop to this. Wenger will hope he can pass on his mastery of these situations to the less experienced Koscielny and Djourou.
Better than: Thomas Vermaelen, Laurent Koscielny, Johan Djourou

Anticipation
This is a key area in which Arsenal's centre-back pairing, whoever they may be, have to improve this year. As already mentioned elsewhere in these pages, Thomas Vermaelen's major fault is being drawn towards the ball too easily, and he has a tendency to overcommit. Squillaci is not afraid of a last-ditch challenge should the situation demand it, but is far more sanguine.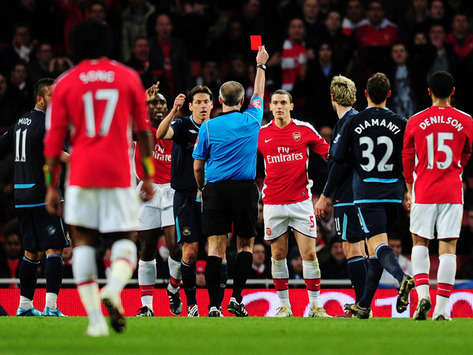 Caught out | The excellent Vermaelen has occasionally been left short-handed without cover
Squillaci's first instinct is to block and jockey, rather than watch an attacking move escalate. At Lyon he formed an effective partnership with Cris. Though neither of them were blessed with breakneck speed, they became excellent at helping each other out. If Cris went towards the ball, Squillaci would always make himself available to sweep up behind his skipper.

Better than: Vermaelen, Djourou
Comparable to: Koscielny

Pace
This is the area in which the former Monaco man could conceivably come unstuck, and could give him the odd problem early on in his Arsenal career as he strives to come to terms with the hurly-burly nature of the Premier League. Squillaci tends to rely on his reading of the game to make a pre-emptive strike, rather than leave himself one-on-one with a forward.
For this reason, Koscielny or Djourou might be a good match for him in the centre of defence. Squillaci can play right or left of centre, but deployment on the left would give Koscielny the opportunity to cover him diagonally - the quicker Gael Givet, now of Blackburn, did this well when the pair played together at Monaco. Alternatively, Gael Clichy can come across from left-back.
Worse than: Koscielny, Djourou, Vermaelen
Strength
Squillaci made his name as a muscular, physical competitor in Ligue 1; these were exactly the characteristics that attracted Manolo Jimenez to buy him for his traditionally rugged Sevilla side back in 2008. The Frenchman should have little difficulty in absorbing the blows which come with being a Premier League defender.
This is an aspect of the English game which Vermaelen also took to very quickly. Received wisdom is two such players don't complement one another, though the Belgian's desire to bring the ball out of defence, as well as the successful partnership between two 'destroyers' in Alex and John Terry at Chelsea, suggests this would not necessarily be the case.

Better than: Koscielny, Djourou
Comparable to: Vermaelen
Passing
Brought up in sides that expect to play out from the back, Squillaci is no mug on the ball, without exactly being Rio Ferdinand either. Clearly some degree of competence in possession is vital when playing for Arsenal and the 30-year-old meets this criteria; the evolution in the likes of Tony Adams and Steve Bould in the early years of Wenger's reign suggest that Squillaci could even improve is his new environment.
Arsenal's rhythm will be kept going by Squillaci at the very least. Koscielny is more stylish and Vermaelen tends to demand the ball more, but the former Lyon man is a sober and appropriate foil for either player in this sense. Alex Song's growing presence in the fetcher/carrier role means Squillaci will always be the centre-back to hang back.
Comparable to: Djourou
Worse than: Vermaelen, Koscielny

Temperament
Without being especially agricultural, 'Toto' picks up his share of bookings - he took five in just 16 La Liga appearances last season - but this reflects more on his 100 per cent commitment and his profile as an old-fashioned, no-nonsense centre-back rather than any short fuse.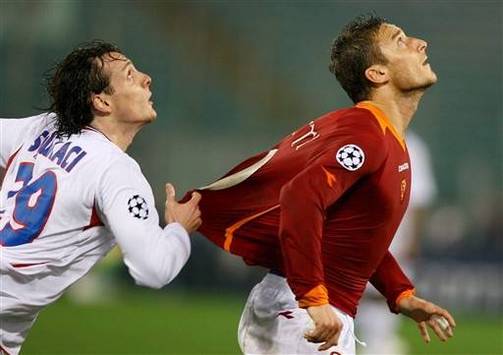 Competitor | Squillaci proved his top-level pedigree against the likes of Totti while at Lyon
It's the other half of his temperament which will interest Arsenal fans more - his winning mentality. Squillaci's career has been littered with trophies (seven), from the Ligue 2 title win back in 2002 while on loan at Ajaccio, through winning the championship in both his years at Lyon (including a double in 2008) and being topped off by Sevilla's Spanish Cup win in May.
He has extensive Champions League experience, and was an important figure in Monaco's thrilling run to the 2004 Champions League final. In short, Squillaci has big-match knowhow in abundance.
Better than: Koscielny, Vermaelen, Djourou
Summary
There is little suggestion that Squillaci will be the first name on the team sheet at the Emirates, but there is a strong chance he will become a key member of Wenger's squad, particularly as the season draws on.
His experience - plus his ability to communicate, both football-wise and with French as a first language - with his central defence colleagues could bring much-needed calm to what has in the past often been a harried Arsenal backline.