By
Sulmaan Ahmad
at Goal.com UK

GK: Joe Hart (Birmingham City)
As always, there was a string of solid goalkeepers in the Premier League to choose from, but Hart's consistency puts him just past Pepe Reina (of whom excellence has become so expected), as well as Edwin van der Sar, Mark Schwarzer and Brad Friedel.

RB: Branislav Ivanovic (Chelsea)
Right-backs haven't flourished in the Premier League for a while now, so much so that Chelsea's make-shift centre-back, Ivanovic, has become the outstanding player in his position. Among the most improved players in the league; strong and commanding as well as improving going forward.

CB: Richard Dunne (Aston Villa)
Here is a man who was allowed to leave Manchester City after an inexplicably poor season - despite having been their best player for several seasons prior - it seemed maybe as though he was a player past his peak, but the new club has made all the difference. Alex and Nemanja Vidic ran him close for his spot, but he played a leadership role all of his own in a resolute Aston Villa defence.

CB: Michael Dawson (Tottenham Hotspur)
Energy and physicality are now being matched by execution, which makes him a formidable opponent on his day. Ledley King may take due credit for his development, but it is Dawson himself who contributed most, throughout the season, to Spurs being more solid at the back than in years gone by. Was that the difference that got them fourth place?

LB: Patrice Evra (Manchester United)
Ashley Cole was in some of the best form of his life when injury struck, and Evra matched him all the way, in a back four ravaged all season long by injury. He continues to show tremendous all-round strength in his position, not to mention almost unparalleled stamina.
RW: Craig Bellamy (Manchester City)
If Carlos Tevez was Manchester City's best player, Bellamy was their most impressive. He played mostly on the wings, out of position, but his selfless work rate, tremendous stamina, deceptively brilliant all-round play and still-strong goalscoring instincts made him hard to hate. Craig Bellamy. Hard to hate. Seriously.

CM: Frank Lampard (Chelsea)
Another season, another remarkable goal return. This time, he was at his most prolific in the Premier League, despite a slow start. His all-round play, as always, was understated but equally productive. His conduct throughout Chelsea's lowest period was arguably the best testament to his character and quality as a professional.

CM: Cesc Fabregas (Arsenal)
Though injury ruined the end to his season, more poignant was how rapidly it also ruined his club's. Fabregas, for the first few months of the season, was playing as well as anybody else in the world, and even after, he maintained world class standards until his leg fracture.

LW: Florent Malouda (Chelsea)
A remarkably well-rounded performer within Chelsea's team, who perhaps best embodied their all-round superiority this season, Malouda provided boundless energy, strength and skill, as well as a healthy tally of goals and assists. His consistency saw him past the more dazzling but also more fleeting Luka Modric and Gareth Bale.

ST: Didier Drogba (Chelsea)
In any other season, we would once again be talking about Drogba the incomparable. His power, touch and finish make him almost impossible to deal with for defenders, and he has scored at a remarkable rate all season long, surpassing the feats of overachievers such as Darren Bent and Jermain Defoe.

ST: Wayne Rooney (Manchester United)
But Rooney is well and truly the man of the season. Think Tevez, but that much better. Or think Fabregas' equivalent up front, but with an injury that only took him out of a smaller fraction of the season. A massive amount of goals, coupled with sumptuous all-round play, including a ridiculous range of passing. He is well and truly on top of his game. Can it get any better?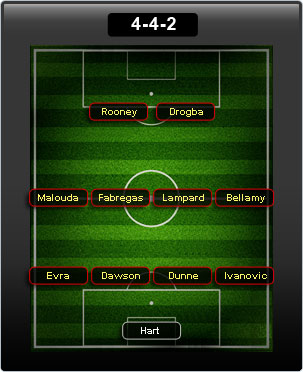 Become a fan of Goal.com's Facebook fan page for all the latest news and insight into everything related to the beautiful game!