Ivory Coast's four-month-old political standoff took a memorable turn on Monday, when the incumbent president Laurent Gbagbo – believed by most of the world to have lost November's election - was lugged out of his underground bunker and arrested. The situation prevented a feared full-blown civil war and kindling hopes in millions of Ivorians who had been counting their days on earth while in search of space to bury their gone loved ones – claimed by either direct or stray bullets; beheaded, or perhaps burnt alive.
A once safe haven and economic power in the West African sub-region, Ivory Coast gradually ground to a halt and triggered the process of implosion, with few reasons left to live for and few faces left to give or receive smiles.
A typical outdoor Ivorian population was forced to be holed up in their homes for days while armed fighters from the rival camps engaged a final and merciless showdown for the control of the commercial city and centre of power, Abidjan.
After a hellish and unending nightmare, of which survivors swore never to wish their worst enemies, Ivorians can now heave a sigh of relief from hunger, thirst and the fear of picking the next flying bullet or having the roof collapse on the kids from missiles and rockets.
People are still scared of stepping out to assess what's left of their backyards, gardens, and streets. Kids, emaciated from hunger, dehydrated from thirst and traumatized from the sounds of death or death itself, dare not pronounce the name Didier Drogba or football. They know it is not yet a priority and their parents will curse if it is heard.
By the way, where would they kick any ball if they found a shop to buy one and had the strength to play? In their former playgrounds where countless decaying dead bodies now lay? Or at the standard stadiums which were quickly sealed off even to professional clubs in the wake of the crisis, to prevent rival supporters from slaughtering themselves?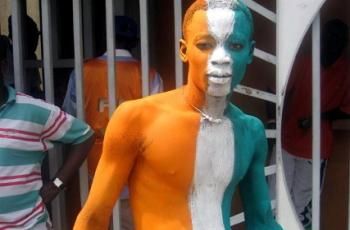 Fans can't wait to enjoy the beautiful game again
Chelsea, Manchester City, OSC Lille, Sevilla, etc, live games could have helped as forms of escapism from the lingering horror that under-aged children and young adults have just experienced, but the state TV RTI is one of the dead victims of the conflict too.
After weeks without drinking water and electricity, a number of families jubilated when their overhead fluorescent lamps glowed a day ago. The premier reflex was switching on the TV in preparation for Tuesday and Wednesday's UEFA Champions League quarterfinal games, but the screen was as dark as their hopes were when the whole ordeal began early December 2010.
A nation has fallen and broken socially and economically. Time now is for reconstruction and reconciliation. Every other activity is still in a complete standstill, including sports.
A number of local players lost their lives, according to early reports. Some were hit by stray bullets while exercising. Others were abducted because of their tribal affiliations. Some became victims of atrocities, after being mistaken for combatants from rival groups.
Asec Mimosas' management once issued a statement expressing how worried they had been about the safety of their players who lived scattered in town, especially in zones where fighting was fiercest.
Some footballers fled to neighboring countries for cover and to seek for clubs, vowing never to return to the "cursed" land anymore. Local fans never had the opportunity to attend their national team African Cup of Nations qualifying game against Benin, which was moved to Ghana.
Ivorian clubs participating in CAF competitions had their fixtures postponed, relocated or reduced to a one-off encounter, and painfully severed from their supporters.
Unconfirmed reports say a number of Ivory Coast internationals had their homes either vandalized or completely burnt by militiamen. One had his village attacked.
The damage is enormous, the loss is incalculable and the cleavage between the northern and southern populations keeps tearing deep. But Ivorians are bound to live together like the soft tongue and the hard teeth in one mouth.
Starting football again
Once the security situation reaches optimum, the suspended national league will kick off, according to a source at the Ivorian Football Federation (FIF). The source also said the body had hopes that the next rounds of the 2012 AFCON qualifiers would hold in the country and before the Elephants' fans.
Another source at the FIF told Goal.com that Ivorian soccer stars would soon be launching a nationwide reconciliation campaign to bring the battered nation together once again. Even though some ethnic differences still linger within the players themselves, their supposed role model image, which they carefully cherish, could help offer some viable sacrifices of peace for the masses.
And as the international community disburses emergency aid for reconstruction, it is hoped that the Ivorian new administration will not forget to allocate a portion to sports, especially football, after all the pains and losses.
Not too long from now, fun-loving Ivorian people would start yearning for their greatest passion – football, with the memories of the wicked moments no longer palpable to keep haunting.