A background to the Ivorian tragedy…
This article is designed to better explain an unprecedented political and military crisis that has been rocking the Ivory Coast since late November 2010.
Ivory Coast profile: Ivory Coast gained its independence from former colonial power France in 1960, but socio-economic ties between both countries lingered on and helped shape the West African nation into becoming the most developed in the sub-region, with enviable social amenities and a robust economic power, turning a home for countless migrant workers and traders from the rest of the region.
Long dependent on cocoa export, of which it is the world's No.1 producer, Ivory Coast has begun drilling its modest oil reserves discovered discreetly some years back, but with a now overblown population of 21 million, degrading infrastructure and incessant unrests, the once magnetic Ivorian Miracle is fast metamorphosing into a nauseating nightmare.
Political backdrop: After the death of founding father Felix Houphouet Boigny in 1993, the battle of succession swerved Ivory Coast's course of destiny from the lane of peace and stability to a boulevard of uncertainties. Henri Konan Bedie, who succeeded the late president, and Alassane Dramane Ouattara, then prime minister, both set the stage of the political events that have unfolded since then.
Bedie's attempt to prevent Ouattara from running for a scheduled presidential election, after labelling him a non-Ivorian or not a full Ivorian, led to the county's first military coup in December 1999, staged by young officers mostly from the Muslim north, who deemed Bedie's attitude to Ouattara as a strategy to exclude northerners and Muslims from running for president.
President Laurent Gbagbo, who was elected in October 2000 after a brief transition, had the chance to soothe away the lingering frustrations, but a continuous tangle with Ouattara over his nationality issues (Ouattara's father was originally from Burkina Faso, but that was before independence and demarcation of borders. His mother was a full Ivorian) sparked a civil war in September 2002, which finally split the 322,460 km2-sized nation into a south controlled by Gbagbo's administration and a rebel-held north.
But after almost a decade of negotiations and brokering of several peace deals, all aspirants, including Ouattara, were allowed to run for an open 2010 presidential election, meant to reunify the country, with the United Nations sanctioned by Ivorians themselves to certify every step of the electoral process, including the final results.
Out of 14 candidates, incumbent Gbagbo finished first in the vote held in October 2010, with 38%, but closely followed by Ouattara, who scored 32%, while Bedie, a now ally of Ouattara (both had settled their differences years back), finished third with 28%.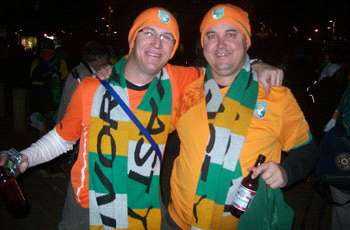 Since none scored up to 51% needed for an outright win, a second round runoff was held in November 2010. The Election Commission declared Ouattara as the winner with 54% (Bedie had called his supporters to vote for Ouattara against Gbagbo), with Gbagbo scoring 45%. But the Constitutional Council, meant to validate the results, annulled close to 600,000 votes from Ouattara's bastion – the rebel-held north, for alleged massive frauds and overturned the result to declare Gbagbo winner with 51%. However, almost all the independent local and international observers of the polls attested that there had been no frauds to prompt such annulment.
The Constitutional Council chairman Yao N'Dri is a known pal of Gbagbo, who was named to that post two months prior the votes.
The United Nations mission stepped in to confirm Ouattara's victory after a certification process it said was parallel to that of the Election Commission. The whole world, including regional body ECOWAS, the African Union, the European Union, the United States and the United Nations, has called on Gbagbo to accept defeat and cede power to Ouattara, but he remains obstinate, leaving the country in a deadlock that has ignited street and jungle armed conflicts between supporters of both camps in which some 600 people have been killed, one million displaced, more than 2,000 injured and about 150 abducted, with a decaying concomitant humanitarian crisis, seemingly ignored by much of the world.
Cleavage cancer: Ivorians are as divided as a twin river over the current crisis, making a compromise for peace too hard to reach, even from the grassroots. Most of the Muslim north support Ouattara, while many evangelical Christians from the south root for Gbagbo, whose wife, Simone, is a devout Christian, although the man has a second wife – a Muslim girl from the north – whom he traditionally married years ago.
But Ouattara's supporters' base has been broadening due to Bedie's followers who keep jumping on board en masse, even within the military. Most of them are Catholics from the South-central part of the country. A combined population from Ouattara and Bedie's tribes (Dioula and Baoule respectively) thoroughly dwarfs that from Gbagbo's Bete tribe and the tiny ethnic groups supporting him.
When you attempt to uphold reasoning quite different from what each of the opposing camps think, you are treated as a foreigner or simply a devil. Ivorians are therefore constrained to join one side. If the neutral camp existed and was consistent, it could have perhaps been able to persuade both warring sides to the negotiation table.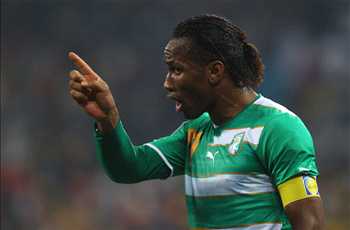 Ivorian soccer stars: Forget about the public declarations of Ivorian soccer stars. Forget about what they write or do, they are as well divided as the population. Even as they attempt to publicly conceal their personal political sentiments, their ethnic and family affiliations will mostly hamper any sincere effort to effect a change.
While researching for this article, an official of the Ivorian FA (FIF), who pleaded not to be mentioned because of the sensitive times in the country, said on phone: "Look, the Ivorian players themselves are divided like the politicians and the population. But you won't know it unless you're close to them.
"They have parents and families they listen to, these people have their political preferences, which these players most times adhere to. For example, a player from the north naturally supports Ouattara, while a player from the central part of the country goes for Bedie, and then those from the west are automatically for Gbagbo. Understand this well Mr. journalist. I'm telling you a big secret. We saw how the players voted during the elections. Even us here within the FA, we have our preferred Heads of State (cause we have two now in the country).
"Some in their hearts have chosen Ouattara as their president, while others still stick to Gbagbo. So that's the bitter situation here. You have to be close to see it. There is nothing a player, however his fame and money, will say or do to convince one Ivorian in this crisis. Because before the player speaks, many know who among the two Heads of State he's supporting."
Helpless international community: The international community seems to have exhausted pressures and pain in trying to convince Gbagbo to step down. And as focus has shifted to a more lucrative crisis in Libya, Ivorians are left behind to seek their own solution to a lamentable and a no-way-out deadlock, with death toll soaring and refugee flow hemorrhaging.
What happens now? War, escalation of violence, which started even this week, when forces supporting Ouattara (northern rebels and some former Gbagbo soldiers who have switched allegiance) launched a nationwide attack from three fronts, and have captured half a dozen key cities, with a final objective of seizing main city Abidjan to install Ouattara in the presidential palace.
Gbagbo's camp, now short of soldiers due to defections and mass desertions, began mass enrolment into the army on Wednesday. Some 15,000 youths earlier volunteered to join the army last week when Gbagbo's Youth Minister Ble Goude first made the call.
Imagine the eventual clash; don't expect a scoreless tie however!
Follow Goal.com on

. Get the latest football news direct... Check out Goal.com's

page; be part of the best football fan community in the world!