Both are soccer icons and household names but some homes see them differently …
I have asked myself before and I've been asked by others too - many times. Who is the real African football legend between Liberia's George Oppong Weah and Ghana's Abedi Ayew Pele? My answers have been insincere and have caused rows in the midst of many soccer fans. But I keep asking, to learn and to know, where these two great sons of Africa stand at the altar of our soccer museum.
Both men were fantastic in their long careers. They had won lofty trophies with their teams and bagged personal awards as well. They were adored by their people and have dined with their presidents. But who's on top of who?
I would try to explain my thoughts by first defining the meaning of the attribution both names have earned from us – the word 'legend'! Why do we say someone is a legend in their chosen career? Why are Brazil's Pele and Argentina's Diego Maradona regarded as world soccer's legends? Or why are Elvis Presley and Louis Armstrong still esteemed to date as music legends?
A legend is an extremely famous person in a particular field of human endeavour, whose works remain as a reference for a long time. Their name and tale linger on across ages and generations. The love they inspire binds many together to uphold the solemn reverence their images invoke.
Our two subjects – Weah and Abedi – possess these attributes and thus can be referred to as legends of African football. But who comes first and who follows is the question. Some categories of soccer pundit say Abedi bests Weah as far as the African continent is concerned, because the Ghanaian realised more success around here than the Liberian. Others believe the grandeur of a man should be judged by the height of his achievement and not the region where he operates from, in reference to the FIFA World Player of the Year award obtained by the footballer-turn-politician in 1995, which Abedi never smelt, nor has any other African player to date.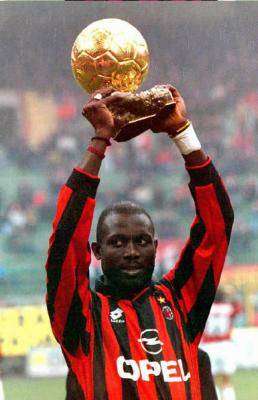 But Abedi can counter with his UEFA Champions League title won with Olympique de Marseille in 1993, where he came out Man of the Match in the final against Milan. It's probably the most coveted title for any professional footballer in Europe. Weah couldn't get it, even as hard as he tried and wished. Both men are balanced with the number of African Footballer of the Year awards reaped. Three for each, but Abedi's was more stunning because of their consecutiveness - 1991, 1992 and 1993 while Weah's came quite unevenly - 1989, 1994 and 1995.
Those who feel Abedi merits the African football legend crown more than Weah perhaps place more emphasis on the Africa Cup of Nations participation and credits. Abedi appeared in five editions – 1982, 1992, 1994, 1996 and 1998, winning one title in 1982; whereas Weah scantily showed up twice – in 1996 and 2002, and never lifted a trophy on his continent.
But you can't expect that to bug the Liberian, he's been voted African Player of the Century by sports journalists from all around the world, beating Abedi down to third position.
The BBC has crowned Abedi thrice as well as being listed by FIFA among their best 100 players. Weah would punch these acclamations back with his 1995 European Player of the Year award. I don't know, it's a tug of war picking the African football chief of all time, and I'm being held hostage by fans of both "legends", can you help me out by picking he who is?