It appears that Paul Le Guen is the favourite to succeed Pim Verbeek at the helm of the Socceroos and
Goal.com
is here to tell you everything you need to know about the enigmatic French manager.

Youth outlook
There's no doubt that Le Guen likes to take a punt on youth, which in a sense makes him an encouraging choice for Football Federation Australia. Perhaps their thinking is that, with a golden generation of Socceroos edging towards retirement before Brazil 2014, it is time to cultivate a number of the nation's rising stars.
It is an entirely logical option, with the likes of Brett Holman, Carl Valeri and Nikita Rukavytsya showing promise in South Africa for the future. Indeed, the former duo outperformed their more experienced teammates as if to emphasize how obsolete the likes of Vince Grella and Marco Bresciano have arguably become.
Le Guen's work at club level suggests he'll have no qualms in giving these players preference, as well as ushering through even younger alternatives, which could present largely forgotten players like Matthew Spiranovic, Nathan Burns and Bruce Djite with an immediate path back into the national team set up.
"Le Guen does, or at least did, make his name by making fairly astute signings in the transfer market for Rennes. He tended to sign a series of young players and bring them through the ranks, but he also used the club's youth academy pretty well," says
Goal.com's
resident Ligue 1 expert Robin Bairner.
"Guys like Anthony Reveillere (Lyon & France) and Julien Escude (Sevilla & France) came into the first team around that time, so he has proven in the past that he can work with young players and mould them into a team.
"Even during his time at Lyon a few players did start to come through into the first team from the youth setup."
Indeed, at PSG Le Guen attempted to rebuild the embattled club around youth, as explained by a piece run by
The Times
on the French manager back in 2007.
"The former Rangers manager installed Mamadou Sakho, a 17-year-old, as the PSG club captain, and threw two other youngsters, Younousse Sankhare and David N'Gog, both just 18, into his team.
"Sakho, Sankhare and N'Gog are all young black players from the suburbs of Paris, representing classic examples of PSG's youth policy in the city..."

Bizarre decisions

Yet in the same breath that the piece seemingly admires Le Guen's faith in youth – something that characterized his successful first managerial spell with Rennes – it bemoans the bizarre decisions that have largely resulted in the fall of his star.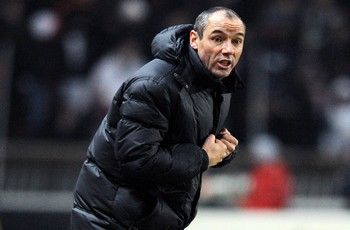 Enigmatic | Le Guen's has been a topsy-turvey career
"Le Guen's team have yet to win a league match this season at the Parc des Princes, having won only three of their 16 league games so far.
"But what has startled and amazed the club's supporters – in an echo of Le Guen's fate at Rangers – has been their manager's 'shock therapy' in his bid to turn the club around.
"Le Guen has ruthlessly gutted his PSG team of its foremost players. He dropped Pauleta, the iconic Portuguese striker, and he also axed Marcelo Gallardo, the club's established Argentina international, whose form under Le Guen has dipped.
"When Sylvain Armand, the PSG captain, also showed signs of faltering under Le Guen, he too was despatched to the bench or dropped completely."
Such was the displeasure at Le Guen's decision making that eight police vans were called in to protect the former Lyon boss at PSG's training complex from disgruntled fans; all this despite his standing among them as a "hero" from his days as a player.
"He seems to have a rather baffling habit of starting players out of position and refuses to change even long after it's obvious something isn't working," Bairner continues.
"Basically, he's not pragmatic enough and doesn't have the understanding of the game to necessarily get things right first time."
A more recent example would of course be Le Guen's decision to play iconic Cameroon striker Samuel Eto'o out of position at the 2010 World Cup. Many of the Inter Milan and former Barcelona star's talents were negated by his having to take up a wide role rather than being the focal point of his team's attacks, contributing in no small part to what was a disastrous group stage campaign for the African outfit.
That they departed South Africa without a point is in sharp contrast to a qualifying campaign that was ignited by the arrival of the Frenchman, whose controversial decision to give the captain's armband to Eto'o after removing it from veteran Rigobert Song proved to be a masterstroke. Both players were inspired by the move, though the stroke of genius has been buried beneath the poor display at the finals themselves.
Personality clashes
Le Guen's unique, volatile approach to the tactical side of the game appears to mirror his dealings with individuals off the pitch. His infamous decision to strip Rangers icon Barry Ferguson of the captain's armband during his failed spell in charge of the Scottish club was one of the catalysts for his unceremonious exit.
"At a time like this, it is a lift we need, not something like this happening to our one class player,"
Jim Templeton of the Rangers Supporters' Assembly said at the time.
"Paul Le Guen could not have picked a worse time and I would imagine that 90% of Rangers fans will be behind Barry Ferguson.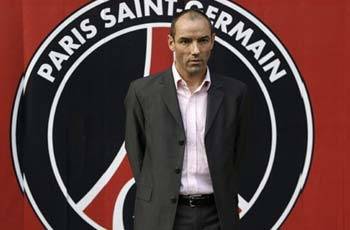 French Disaster | Le Guen struggled at PSG
"The manager obviously knows that, by taking such a decision, he has put his neck on the line, so the club need to come out and state why this has happened.
"Making Gavin Rae captain is as strange as dropping Barry Ferguson. I know he has had injury problems, but making someone captain who has been unable to hold down a regular first-team place makes no sense whatsoever."
His tenure at the club was the shortest in its history, during which he isolated himself from the same fans who had greeted his arrival with much fan-fare and anticipation. By the time he left he was accusing members of the club of "undermining" him, though in truth none of this was particularly new territory for Le Guen, who had left his first post with Rennes after falling out with the club's board.
"I think he's a similar kind of coach to Raymond Domenech, though not quite as wacky," continues Bairner.
"He's had problems with players/staff at every post he's previously been involved with and I think that if there's any deficiency in talent at international level it can at least partially be made up for with great team spirit.
"Le Guen has struggled to foster that in the past and I think there could fairly quickly be rifts once again."
Bairner's warning for Australia is ominous given the reports of a dressing room divide and clear tension within the squad that travelled to South Africa. If the notoriously conservative and refrained Pim Verbeek was struggling to maintain dressing room stability, what chance does the unpredictable Le Guen have? Theoretically, what impact would stripping Lucas Neill of the captaincy have on the side?

The verdict
Bairner goes on to praise Le Guen's impact in cup competitions, winning PSG the Coupe de la Ligue and reaching the Coupe de France final in the same year as they were almost relegated.
Describing him as a manager with an "eye for talent", he also states that one of his major weaknesses is turning individuals into a cohesive collective, which is one of the hallmarks of a successful national team manager.
Le Guen will not only have to foster and combine a broad spectrum of players who differ in age, ability and mentality; it is a period of generational transition for the Socceroos that must be handled delicately. Indeed, as if predicting that their international careers might be winding down, a number of the older players have already insisted they are ready to play on through the 2011 Asian Cup.
His track record in dealing with personalities isn't particularly encouraging in this regard, though there is an argument for a ruthless overhaul of a playing squad that is well past its used-by date and conspicuously lacking the spark and motivation of four years ago.
The problem with Le Guen is certainly not a lack of talent or understanding of the game but rather an unbalanced approach when it comes to applying his philosophies practically. If he is in fact appointed, one imagines the role of assistant manager Aurelio Vidmar will be crucial in facilitating the arrival Frenchman in what will be totally new surroundings.
Indeed, perhaps the similarly talented Vidmar would be the more sensible, solid alternative but that is a debate for another day.

Become a fan of Goal.com International on Facebook! Just click onto Facebook.com/Goal to join the beautiful game's leading fan community...