SYDNEY FC

Clint Bolton – 6.0:
Could do nothing about Durante and Ifill's goals and otherwise was untested by the Phoenix. A straightforward 90 minutes for the veteran.

Sung Hwan Byun – 7.0:
Kept a lid on the potentially dangerous Leo Bertos for the early parts of the match and again provided an oft-unheralded balance to his side. Produced an untenable cross from which his side score their match-changing second goal and whilst the forward forays with which he caught the eye against Melbourne Victory last week were absent, his discipline in defence was crucial to helping keep the trio of Wellington attackers quiet. Allowed Daniel to cut in on his left foot create Wellington's second goal far too easily, though.

Stephan Keller – 6.5:
Responsible for keeping Dadi's strike partner Chris Greenacre quiet and succeeded save for a brief moment in the second half for which he wasn't punished. Generally his positioning was outstanding and as always, he was unbeatable in the air. Worked well with Simon Colosimo and put in his array of typically robust challenges.

Simon Colosimo – 6.0:
Reduced marks for the uncharacteristic lapse in discipline that allowed Andre Durante to equalize in the first half but it was an otherwise composed display from the World Cup hopeful, who performed one of the toughest tasks in the league in marking Paul Ifill out of the game for the most part of it. Made a crucial aerial intervention on the stroke of half time to redeem himself after the earlier error.

Seb Ryall – 6.0:
Sound defensively by virtue of his physical advantage but doesn't offer a great deal in the way of attacking impetus down the right flank. Too often he strived to get into advanced positions without appearing to know what to do with the ball, unable to produce meaningful delivery for his teammates. A wholehearted performance nonetheless.

Terry McFlynn – 6.5:
One of his better showings in a Sydney jersey over the past few weeks, living up to his reputation as his side's resident workhorse and hard man. Pressed to particularly good effect and was often found closing down the Phoenix's midfield trio, who weren't allowed time and space on the ball by the tireless Northern Irishman.

Karol Kisel – 7.5:
Gave his team their attacking impetus out of central areas, the only of Lavicka's midfield to truly provide an attacking drive. Involved in the build-up to the first goal and was a constant menace to the Wellington back-line with his incisive runs forward. Though his efforts from outside the box were not effective they reflected a positive mindset that was so crucial to the success of Brosque, Payne and Bridge.

Stuart Musialik – 6.0:
Lost the aerial challenge to Vince Lia that allowed the Phoenix midfielder to set up the equalizer and is marked down as a result, largely going about his business in a holding role with the minimum of fuss. Moved the ball quickly and was economical in possession.

Mark Bridge – 7.0:
Scored the match-ending fourth goal and set up the more important third with a clever reverse ball for Alex Brosque. Skirted in-behind Sydney's front duo to particularly good effect and has proven himself an able successor to the retired Steve Corica in that possession. Never afraid to pick up the ball and unsettle the Wellington backline by running at them.

John Aloisi – N/A:
Replaced in first half with injury.

Alex Brosque – 8.5:
Saved some of his best moments for the penultimate match of the season, causing the Phoenix no end of troubles with his movement. Scored one goal and set-up another – the former a brilliant solo effort and the latter a display of wonderfully deft technique – in an irrepressible display. It was Brosque who ultimately condemned Wellington and carried Sydney into the Grand Final with a performance that advances his chances of making it to South Africa.

Substitutes
Chris Payne – 8.5:
We'll save the moral judgement for another day and rate him based purely on his impact on the match, in which he played the ultimate super-sub role. Who would have expected the teenager to come away with two first half goals after having not started the match, thrown into the mix after Aloisi's early exit. Showed tremendous strength in powering through for his first and anticipation and positioning two hand Sydney their second.

Brendan Gan – N/A:
Came off the bench late in the match.

Hayden Foxe – N/A:
As above.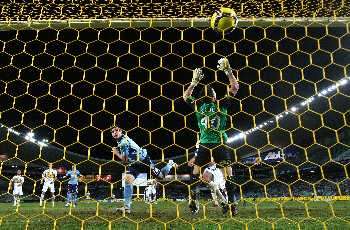 Payne | Was a game-breaker

WELLINGTON PHOENIX

Liam Reddy – 6.0:
Despite conceding four times Reddy was impressive when called upon, making an early save from Brosque but powerless on every other occasion on which he was beaten. Made a couple of particularly sharp saves during the second half to underline just how important he has been in Wellington's run-in to the finals.

Tony Lochhead – 5.5:
Somehow allowed the inexperienced Payne to get goal-side of him for the opening goal before being completely outmuscled by the teenager. Redeemed himself with a steady performance for the rest of the match but didn't have much of an impact on it in an attacking sense, which is essentially occupies his left-back spot. Did his best to link up with Ifill when he went forward but it was to no avail.

Jon McKain – 5.5:
Wasn't his usual composed self at the back today and rarely had the opportunity to put his foot on the ball, as he has done to good effect for the Phoenix this season. Struggled with the pace of the game and the movement of Brosque from the off, though he wasn't often enough covered by his full-backs. Positioning was questionable at times, part of a back-line that never organized itself and either sat too deep or too high up the pitch.

Andrew Durante – 5.5:
Provided lone resistance at the back as well as scoring a sharp equalizer but he is marked down for firstly allowing Payne to beat him to the ball (despite the illegal use of the hand) for Sydney's decisive second goal and then for being utterly outpaced by Brosque for the third. Guilty of not commanding his back four but has had a stellar season and one off-par performance doesn't change that.

Troy Hearfield – 5.0:
Hauled off just before the hour-mark after struggling to keep a lid on Brosque as well as failing to contribute to his side's limited attacking phases. Not a natural defender and despite making the right-back position his own toward the end of this season, looked particularly out of place against one of the league's most potent attacks.

Vince Lia – 6.5:
Can be pleased with his performance in midfield after toiling for the entire match and setting up his side's equalizer. Put in a number of tough challenges and contributed to build-up play that too-often broke down. Moved about the pitch to good effect and covered a lot of ground in the centre of the park.

Manny Muscat – 5.5:
Really struggled in midfield and the absence of his usual strange-hold in a defensive midfield role was perhaps at the heart of his team's downfall and his back-line's struggles this evening. Gave away a number of fouls, a sign that he was a little off the pace, and was largely responsible for Sydney's third goal.

Tim Brown – 5.5:
Lacked his usual bite in midfield and crucially, didn't get the opportunity to make his characteristic late runs into the penalty area. Was sacrificed in the 65th minute for an extra striker, perhaps more a sign of the way in which Wellington's system failed rather than his performance floundered.

Leo Bertos – 6.0:
Worked hard to get himself into the game during the second half after finding no inroads during the first. Delivered the set-piece for the equalizer but otherwise was ineffective against a disciplined Byun, unable to hit the by-line and provide service so crucial to Ifill and Greenacre's chances in front of goal.

Chris Greenacre – 5.5:
Missed the one opportunity that fell his way suddenly during the second half, a snapshot that ended up clearing the crossbar by some way. Tasked every week with doing the hard work off the ball that lays the platform for Paul Ifill's brilliance but it came to no avail this evening, as he was marked out of the game by Stephan Keller.

Paul Ifill – 6.0:
Like Bertos, did his absolute best to force his brilliance but under an injury cloud, he met a more than able foe in the form of Simon Colosimo. His turns of pace didn't have their usual impact but there was one moment in the first half in which he spun away from Keller before going inches wide of the upright with a sublime effort that showed why he is the competition's best player. Replaced before the end.

Substitutes

Diego – 6.0:
Set-up Dadi for his late consolation but otherwise had little impact on the match.

Eugene Dadi – 6.5:
Put himself about and worked hard after his introduction, setting up Greenacre with a brilliant chance before scoring himself.

Daniel – 5.5:
Didn't have much of an impact on a match that was perhaps already beyond his side at his introduction.


Become a fan of Goal.com International on Facebook! Just click onto Facebook.com/Goal to join the beautiful game's leading fan community...