By Julian Bennetts

Mikhail knew what lay in store for him.
"After the tournament is over and all the international media have left, you will never hear from any of us again," he said from the anti-government protest camp positioned yards outside the FanZone that had been hastily erected in central Kiev for Euro 2012.
"The police will leave us alone while everyone is watching but they will come for us when it is all over."
Mikhail abruptly stopped replying to emails three days after the final of Euro 2012, but we have heard a lot more from his fellow protesters in these last few weeks.
Some 300 metres from that protest camp on Kreshchatyk Street – the equivalent of London's Regent's Street – is Independence Square, or Maidan as it has become known, the epicentre of the revolution that has swept Ukraine.
Seeing the pictures of Independence Square as it has been transformed into the centre of a political uprising it is hard to believe Euro 2012 was just 20 months ago, but the tournament played an important part in shaping current events in Crimea and potentially the future of Europe.
Now, as Fifa faces more questions about the 2018 World Cup in Russia and - particularly in light of new allegations of corruption this week - the 2022 jamboree in Qatar, it is worth thinking about the impact of major football tournaments on countries that are not used to staging such events.
In short, the principal legacy of Euro 2012 was to drive a greater wedge between the people and their government, weakening already fragile social structures and helping to fan the revolutionary flames.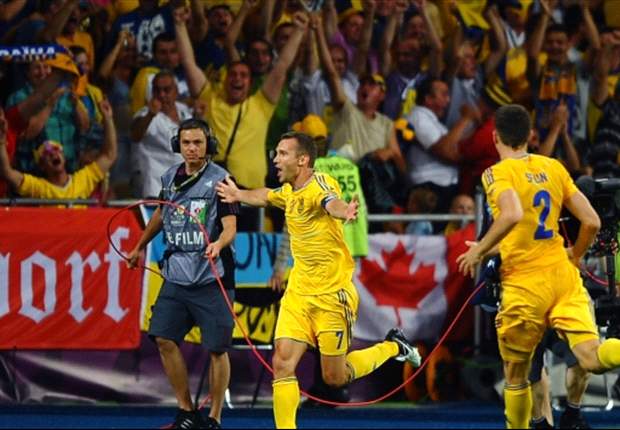 Goal glory | Andriy Shevchenko's goals were a rare high point in Ukraine's Euro 2012 campaign
You did not have to scratch the surface too hard to realise there may have been some basis in accusations of corruption levelled at President Viktor Yanukovych's government.
"He embezzled funds on other projects, not this one. I can account for every penny we spent," smiled Deputy Prime Minister Borys Kolesnikov when asked whether he was concerned that the construction manager of the Olympic stadium redevelopment, Volodymyr Artiukh, had admitted to embezzling €2.18 million of public money from a state bank.
The redevelopment of the existing stadium in Kiev cost €399m, double that of the privately funded Donbass Arena in Donetsk, which was built from scratch.
It seemed wise not to argue too much with Kolesnikov. He said: "I gather you want to ask me if I have stolen €2.9 billion," a reference to opposition claims that 40 per cent of the €7.26bn budget for the tournament had disappeared.
More obvious methods of intimidation were practised on Ukrainians, but the protesters were undaunted. They took heart from the fact that international leaders boycotted the tournament, with politicians from the likes of the UK, Germany and France refusing to attend matches in Ukraine in protest at Yanukovych's regime.
The temporary amnesty for those on the front line - not even Yanukovych, a master of disastrous PR, could remove the protest camp at Kreshchatyk during the tournament - meant they could plan in plain sight and convert more to their cause.
Anecdotal evidence suggests that the thousands of visiting supporters gave the protestors even more encouragement that their future should be aligned to the west, rather than Russia, with Yanukovych's decision to turn towards Moscow rather than Brussels the spark that led to his downfall.
To say that Euro 2012 led solely to recent events would be incorrect. Issues over Ukraine's future and the behaviour of its leaders stretch back much further. But the tournament does seem to have helped speed up the process, and football's power to bring about genuine, lasting change has never been stronger.
"The Euros will leave a very important legacy in these countries," said Uefa president Michel Platini the day before the final of Euro 2012.
"Never before has a slogan been more true - 'let's create history together' - in terms of social development and promoting these countries all over the world."
At present, Qatar is only being promoted as one of the most unequal countries on the planet. A spotlight has been shone on Doha and so far it has led to claims of Nepalese workers in shocking conditions, bribes to anyone with influence and an ancient attitude towards homosexuality.
The Winter Olympics in Sochi were dogged by controversy as a defiant Russia president Vladimir Putin refused to back down regarding his views on homosexuality, and yet the World Cup is heading to Russia in four years' time. The opportunity for football to make a difference is being missed, with new allegations of misdeeds leading to heads being thrust further into oil-rich sand.
And as the smoke has cleared in Kiev it seems one idol was left untouched: the figure of Valeriy Lobanovskyi, enshrined in bronze, is still intact. He sits outside Dynamo Kiev's old home, which lies on Hrushevskoho Street, the road that links Parliament and Independence Square.
One hundred people died on that road and Institutskaya Street, which is one road further south. The latter has been renamed by locals and is now 'The Avenue of 100 Celestial Heroes'.
Euro 2012 has left a legacy, one no-one could have expected to foresee. Now, looking to Russia and Qatar, one must wonder if there will be another Avenue of 100 Celestial Heroes, or if football will pat itself on the back and move on to its next guilt-free one-night stand.