PROFILE
By Kris Voakes | International Football Correspondent
He wants to succeed Sepp Blatter as Fifa president before introducing orange cards and sin-bins, giving referees greater powers through technology, and forming a more trustworthy, transparent governing body. But who is Jerome Champagne?
The former Fifa Deputy Secretary General launched his bid for the Fifa Presidency on Monday ahead of next year's elections, but while he is well known to many who have graced the corridors of the world governing body's headquarters in Zurich, he remains something of an unknown to many football fans.
Below,
Goal
gives a rundown on the key information pertaining to the man who hopes to be the next world leader of the globe's greatest game.
Date


Role

1983-1984
1985-1987
1987-1991
1991-1995
1995-1997
1997-1998
1999-2002
2002-2005
2005-2007
2007-2010
2010-present

Cultural and Technical Attache, Embassy of France in Oman
Third Secretary, Embassy of France in Cuba
Technical Advisor, Department of Economic Affairs
Deputy Consul General, Consulate General of France in Los Angeles
First Secretary in Charge of Domestic Policy, Embassy of France in Brazil
Chief of Protocol, Organising Committee of World Cup 1998
Fifa International Advisor to the President
Fifa Deputy Secretary General
Fifa Delegate to the President
Fifa Director of International Relations
Advisor/Consultant to Palestinian FA, Kosovan FA, Turkish Cyprus FA and TP Mazembe
Champagne was born in Paris, France in June 1958, and was a Saint-Etienne supporter from the age of 11. However, having been sent to school in Catalunya by his parents, he is also a fan and socio of Barcelona.
Having built up a multi-cultural resume in politics, he found himself working in Los Angeles during the USA-based World Cup of 1994, and he would also go on to work on the French Organising Committee for the following finals tournament in France.
After first at Fifa as International Advisor to President Sepp Blatter, he became known as a key ally of the Swiss. However, after being overlooked for the role of Secretary General in 2007 in favour of Jerome Valcke, Champagne was given the less important job of Director of International Relations.
Three years later, he became the victim of a power struggle within Fifa during which severe pressure was exerted on Blatter to dispose with Champagne's services amid allegations that the Frenchman had overstepped the mark in attempting to affect policy outside of his job description. Since his dismissal, he has worked as a consultant to many footballing institutions around the world, having already played a key role in the development of facilities in Palestine during his time at Fifa.
He has now spent 27 of the last 31 years living and working outside of his native France, calling four different continents his home at various times and visiting a total of over 150 countries.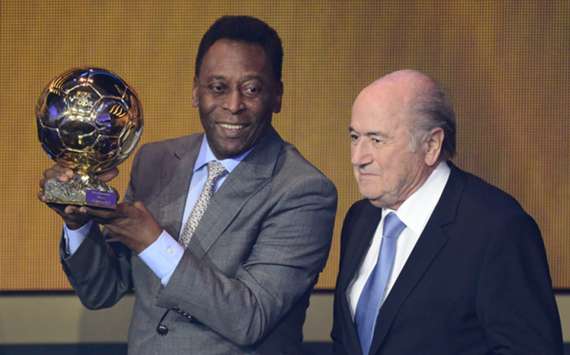 Pele & Blatter | The Brazilian is backing Champagne to succeed the current president
Having become known as a Blatterite during his spell at Fifa, there are serious question marks over Champagne's ability to distance himself from the current perception of the governing body as an outdated organisation.
But beyond that, he was unable to promise that he will remain in the running for the presidency should Blatter decide to stand for re-election. The inference is that Blatter is intending to retire after his current mandate, but any change of stance would result in Champagne reviewing his own candidacy.
When questioned as to the legitimacy of claims that his aversion to running against Blatter makes him little more than a direct replacement for the Swiss, he stressed his desire to move the organisation into the 21st Century and fix long-standing issues regarding transparency and the current "image deficit" suffered by Fifa amid recent corruption charges.
Champagne is confident that his work as a consultant to footballing organisations over the last four years will satisfy the governing body's criteria that a presidential candidate must have been working within football for at least two of the last five years.
His plan to revolutionise the Fifa Executive Committee (ExCo), which currently proposes and ratifies the majority of the sport's rules, will need to be used as a key tool in winning new backers. He believes that, as with governments around the world, the president should be allow to elect his own ExCo, with the members coming from a variety of different organisations around football.
However, it appears that it will take Blatter's assurance that he will retire next year for Champagne to truly be taken seriously, with the Frenchman having had to reject accusations at the launch on Monday that he is simply seeking attention ahead of a fifth term for Blatter.
Champagne admitted on Monday that he would dearly like the endorsement of former ally Blatter should the Swiss not run for re-election, citing the backing of the current president as a huge boost to his chances.
He has been able to count Pele as a personal friend for the past 18 years, and the Brazil legend has lent his weight to the Frenchman's cause, recording a video message wishing Champagne luck in his fight for the leadership.
Having worked closely with Michel Platini in his role within the Organising Committee of the 1998 World Cup, he may well seek to gain assurances from the former France international that he will back his campaign rather than run himself.
During hs launch, Champagne also claimed to have had the backing of five confederations ahead of the elections, but refused to name them in light of the possibility that they could be persuaded to change their minds over the forthcoming 12 months.
He has already sent letters to each of the 209 national associations affiliated to Fifa to state his intentions regarding the future governance of the game, and counts many FA heads as friends and allies thanks to his work in football over the last 15 years.
But again, if Blatter decides to run and Champagne still goes ahead with his campaign, he may well find his hopes compromised due to their shared views and subsequent split audience.