Gareth Bale scored a hat-trick in Real Madrid's first match under Zinedine Zidane - but insists he has nothing to prove to the new manager.
Bale put in a man-of-the-match performance as Madrid thrashed Deportivo La Coruna 5-0 at the Santiago Bernabeu on Saturday evening and took his tally to 12 goals in 14 league appearances this season.
The forward, who also expressed his disappointment over the sacking of Rafa Benitez, denied suggestions that he wanted to send a message to the new man in charge.
"No, I just want to keep playing my football," he told reporters. "I don't feel I need to make a statement to anyone.
"I know what I'm capable of and I just want to keep enjoying my football and when I do that I play my best football."
Zidane will be hoping Bale's impressive scoring run continues and the new manager has described the Welshman as a "fundamental" part of the team.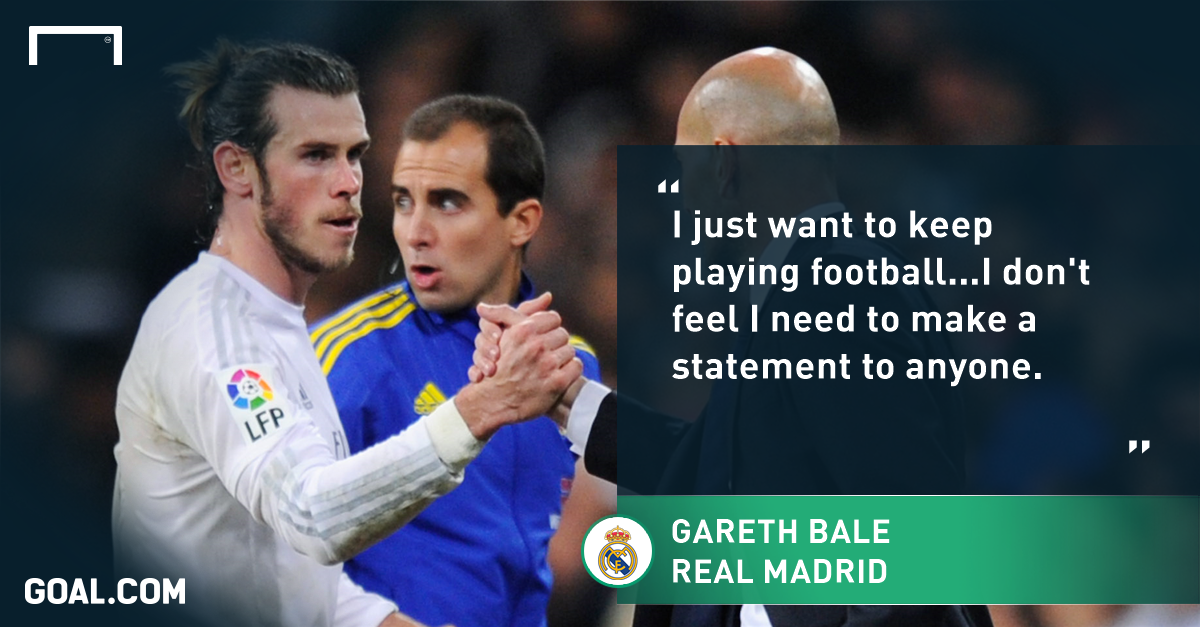 Despite his disappointment at Benitez's dismissal, Bale is determined to work with Zidane to bring success to the Bernabeu.
Bale added: "We had a chat when he first came in, and I think no matter what I'll always give 100 per cent on a football pitch and that's what I did tonight."
Bale spoke of his admiration for Zidane, but refused to name the France legend as his favourite player.
"I didn't really have a favourite to be honest at the time [when Zidane was playing]," he said. "They were all superstars and I just loved watching Real Madrid.
"Obviously I watched him a lot when he was playing and you can't really say too much about him as a player. He was incredible."


Where Zidane will utilise Bale over the course of the season remains to be seen, with Benitez having experimented with playing the Welshman in a more central No.10 role earlier in the campaign.
On Saturday, however, the former Tottenham man was deployed on the right wing with freedom to move inside - a role which Bale approves of.
He said: "There's been comments in previous interviews where I've been stuck on the right and I didn't have that freedom, but now on the right I'm able to come in and float around a bit as well.
"I'm enjoying my football, I'm enjoying my position at the moment and hopefully I'll continue to do so."