Antonio Conte must have a thing for controversial Argentines.

With Carlos Tevez already in his ranks, the Juventus boss has recruited Southampton striker Pablo Osvaldo on a loan deal until the end of the season, with the option of a permanent €19 million deal in the summer.

But the former Roma star has a chequered past, littered with indiscipline and disputes with his peers. Goal takes a look at the Argentina-born Italy international's top 10 most infamous moments to date...

1. After scoring a 93rd-minute winner against Juventus whilst playing for Fiorentina, Osvaldo decides to celebrate the goal by removing his shirt and machine-gunning the fans. (not literally of course). This resulted in his second booking of the game and he was subsequently sent off.
2. During his time at Roma, our man Osvaldo took offence to team-mate Erik Lamela (now at Tottenham) not passing him the ball often enough. In the dressing room after the 2-0 defeat to Udinese, he decided to slap Lamela round the face. Unsurprisingly he was fined and suspended for the incident.
3. After returning from his native Argentina following last season's winter break, the striker decided to call in sick and give himself a few extra weeks off. He consequently missed the club's winter training camp in America, with Roma's American owners not amused by his unprofessional behaviour.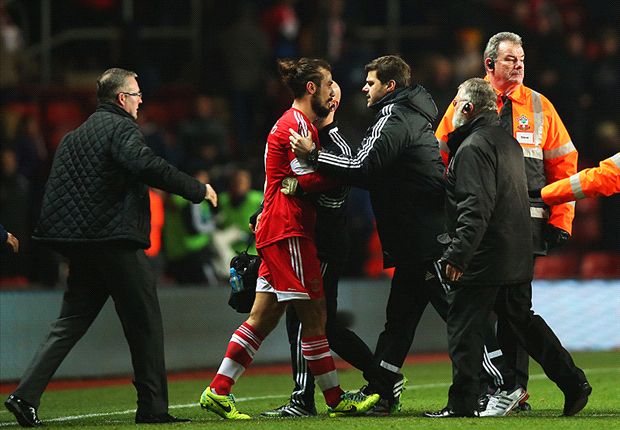 A saint becomes a sinner | The red mist descends amid a touchline brawl
4. Osvaldo wins a penalty against Sampdoria, but as Roma legend Francesco Totti steps up to take it the striker decides that as he won the penalty he should take it. After an argument, he duly gets his wish but ends up missing the penalty - much to the disgust of Totti and the Giallorossi fans.
5. This time Osvaldo decides to try and emulate Totti. After scoring in his first ever Rome derby he lifts up his jersey to reveal a t-shirt with the slogan 'I have purged you too' - replicating the Roma captain's 1999 slogan 'I have purged you again'. This did not go down well with the club and their fans as they lost the match 2-1.
6. After one of Roma's key players Daniele De Rossi was left out of a match against Atalanta due to disciplinary issues, the capital club looked to Osvaldo to provide a mature head in his absence, only for the Italy international to be given a straight red card for elbowing an Atalanta player. Roma lost the game 4-1.
7. As his team-mates contested a Rome derby, Osvaldo spent the night in a swanky London hotel with his girlfriend. Although the striker was suspended for the match, the club felt he should have been supporting his team-mates from the stands, as he clocked up another black mark against his name.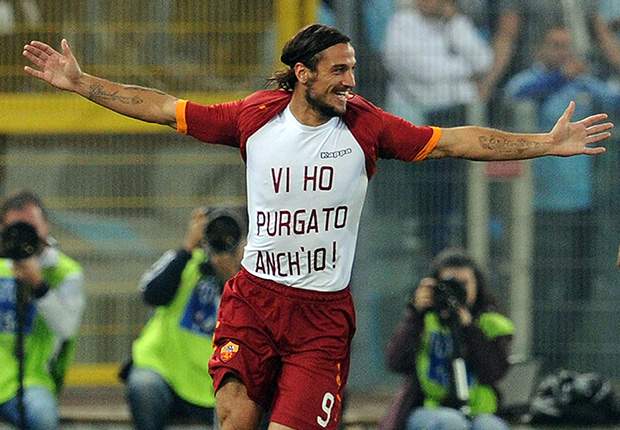 Wrong message | Daniel Osvaldo tries to emulate Roma legend Francesco Totti and fails
8. The final straw for Osvaldo's Roma career came after the 1-0 loss to arch-rivals Lazio in the Coppa Italia final. Unhappy at only being used as a late substitute, Dani took to Twitter to vent his feelings at caretaker boss Aurelio Andreazzoli. "You would do more good if you admit to being incompetent…go and celebrate with those of Lazio," tweeted the striker. "He is just a cry baby," responded the 59-year old. Osvaldo was later sold by Roma.
9. In a game which looks likely to be Osvaldo's last for Southampton, the Italian was the main perpetrator in a touchline brawl with Newcastle that involved several players from each side and even coaching staff. He was fined £40,000 and suspended for three games by the FA.
10. Obviously forgetting about the trouble the fight with Lamela landed him in, Osvaldo again decides he knows best and after a robust training ground challenge by team-mate Jose Fonte, he becomes involved in a fight with the centre-back. Osvaldo was allowed to join Juventus on a loan deal until the end of the season on transfer deadline day, with the option of a permanent €19 million move in the summer.