EXCLUSIVE
By Jay Jaffa
Manchester United
legend Peter Schmeichel believes that it would be an achievement if the club qualified for the
Champions League
in
David Moyes
's maiden season as manager.
The Red Devils have started life after Sir Alex Ferguson with inauspicious form, currently sitting eighth in the Premier League with just three wins to their name. They have suffered defeats to Liverpool, Manchester City and West Brom, while Southampton grabbed a late equaliser at Old Trafford on October 19.
Such inconsistencies have heightened the pressure on Moyes, yet Schmeichel feels that a transitional season was inevitable, suggesting that it is too soon to cast judgement on the Scot given the enormity of the task of replacing Ferguson.
ON THE CHAMPIONS LEAGUE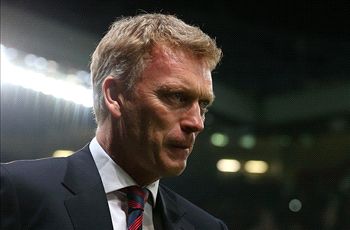 "We've had a good start, four points after two games. Winning the first game at home was crucial - that was David Moyes's first Champions League game ever. That was a big moment for him and a big moment for the club as well.

"From what I've seen of Bayern Munich this season, I don't think anyone can compete with them. I think they'll be the first team to retain the title - it will take something very special to stop them, someone to come up and stop not only 11 but 20 of the best players in the world. They're expressing themselves, having a lot of fun on the football pitch. I kind of felt sorry for Pep Guardiola, coming in after the season they had, but, my god, he has ... it's a scary team. For me, it's for Bayern to lose it instead of someone to challenge it."
Speaking to
Goal
, Schmeichel considered the Red Devils' tricky start to the campaign: "I'm not one of those guys that thinks it has been like that [a poor start]. Results-wise it has been a little bit up and down but I'm happy.
"This is difficult, difficult for anyone no matter who came in after Sir Alex. It was always going to be difficult. Defending champions - a 13-point gap last season - with a squad of players that's got a lot of quality but not the best squad he ever had but the biggest gap he's ever had.
"The only way you can do that is by knowing your players inside out, exactly who can play with who, what time during the season, how you mix the team, how you set it up every single game. That has always been Sir Alex's biggest strength, knowing his players."
Instead, Schmeichel believes that it is more a case of patience - a concept often lost in the Premier League. That said, the six-year contract handed to Moyes on arrival at Old Trafford should afford him the time to mould the squad to his preference and find success at his new home.
The Dane continued: "You can't expect David Moyes walking through the door at Old Trafford and know the players as well as Sir Alex did. That's going to take time and of course he's going to play players where you think this will work but it doesn't. Sometimes you get away with it, sometimes you don't.
"It's going to take time for him to put a team out that he knows with confidence that they'll go out there and win the game. You come in and it doesn't matter where - League Two, Premier League - as a new manager you want your own players. Players you've picked out, sat across the table with them, looked them in the eye and said 'I want to sign you'.
"It gives you loyalty, a bond, and makes the player think he belongs to the manager and the team. He's not had the opportunity just yet but we've got a transfer window coming up and another in the summer and, as long as we get Champions League football this year, everyone who loves Manchester United will be quite happy with what's happening at Old Trafford."
Despite his supportive stance, Schmeichel is eager to highlight the size of the club, particularly in comparison to the positions that Moyes has previously held. As a club ambassador, the 'Great Dane' regularly travels around the world and is touched by the global reach of Manchester United and the Premier League.
ON DAVID DE GEA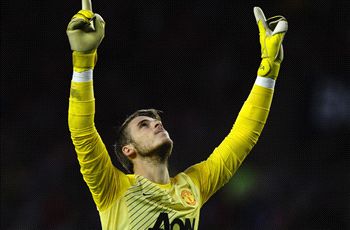 "The thing about him is, having survived the first six months where the media basically had a massive dig at Sir Alex Ferguson for signing him and he had to read and see on TV every day how bad a goalkeeper he was, he still managed to turn it around in the same season. Making saves and doing things that kept Manchester United in the title race and then moving on from there.

"I'm really impressed by the strength of his mentality. He's improved and, this season, improved again. He's got another goalkeeping coach coming in, having a fresh look at him, and you see the difference. He's growing. Every time he goes on the pitch he's growing in stature, growing in confidence. If he wants to stay at Manchester United forever, I think he maybe could stay at Manchester United forever but you just don't know the external circumstances [of what else could happen]."
"It must have come like a bombshell [being approached by Manchester United], came out of the blue. Within a month he was handed the keys. He must have stood there and thought: 'What am I going to do now?'," he added.
"No disrespect whatsoever but there's a big difference between Everton and Manchester United.
"Manchester United isn't a football club, it's a worldwide institution. Whatever Manchester United are doing, it has an effect on people's lives everywhere around the globe. I see the effect that whatever happens at Old Trafford, win, lose a game, sign a player, not sign a player, it's big news and so close to so many people's hearts. It has such an effect every day on people's lives.
"[Moyes] wouldn't have realised that but it was great [that] the pre-season tour was Asia because that gave him an idea of how big Manchester United is. You can talk about it but you have to experience it. It's incredible when you see how big this club is around the world."
Schmeichel is helping launch the latest instalment of Barclays' Thank You campaign, a series of videos paying homage to the Premier League's global audience, something he believes is unique.
"It's essential that the Premier League has global support. It's what separates the league from anywhere else," he enthused.
"My work as a Manchester United ambassador takes me everywhere in the world and I'm amazed every time I step off a plane in Vietnam or Kuwait, I'm amazed how much the Premier League means and what length people go to watch a game.
"You're in Malaysia and you understand a Champions League game is in the middle of the night, four in the morning and people actually go to bed, put the alarm clock on and get up and watch it."
Peter Schmeichel was speaking at the launch of the new global advert for the Barclays Thank You campaign. This season Barclays is saying thank you to all the dedicated global fans for their support in making the Barclays Premier League what it is. To view the film from Saturday morning, please visit www.youtube.com/barclaysfootballtv