EXCLUSIVE
by Victor Vago & Rupert Fryer
Marcos Rojo drifted a yard or so behind the rest of the Sporting defence. So did
FC Porto
's
Jackson Martinez
. Leaning against that imaginary offside line that all of the game's great goalscorers draw in their heads, Danilo read the Colombian's mind and chipped a pass into the box.
The problem was that it was played too square and with insufficient pace. With so little room inside the confines of the penalty area, Martinez had to check his run and could only take the ball on his thigh. Then he had a problem. He was facing the wrong way.
As Rojo closed in, Martinez was forced to improvise. He allowed the ball to drop, then flicked a heel at it, sending it past Rui Patricio and into the net. For the few
Portistas
yet to be convinced, it was a moment that told them they had something special on their hands.
MARTINEZ'S CAREER STATS

Club
Independiente M.
(2004-2009)

Chiapas
(2010-2012)

Porto
(2012-Present)
League Apps
136


58


30


Goals
55


28


26


That goal was just one of 31 he would go on to score in the first season of what has been a seamless transition to European football.
Arriving from Mexican outfit Jaguares in 2012 for a fee of around €9 million, the Colombia international, who came in at
no. 33 on the Goal 50
, felt right at home from the minute he touched down in Portugal.
"From the day I arrived, the team made me feel a part of the group; part of them," Martinez told
Goal
. "Porto are a club which receives people very well. They communicate with everyone and leave us only to concentrate on playing."
They've had a lot of practice. Martinez arrived in the summer of 2012, a period in which the club recorded a net €65m in the market. With Joao Moutinho and James Rodriguez having been shipped off to Monaco, the club are already looking at a profit of €45m in this window.
That could well double should big-spending Napoli lure Martinez away from Estadio Dragao. Porto are reluctant to sell, however, and Martinez says he is happy to stay put. Porto will be happy to keep him, too.
The club have never struggled for replacements, but they have lacked a centre-forward following the sale of Radamel Falcao, with Kleber and Marc Janko unable to fill the sizeable void left by the now Monaco man.
Martinez has proved himself a rightful heir to his compatriot's no.9 shirt and the recent success of Colombians at the Dragao played a role in his decision to join the club.
"I heard a lot about Porto from James Rodriguez and from Fredy Guarin, when he was here. It's a source of pride for me to see compatriots compete and win in the highest competitions."
Martinez has already continued that tradition. But then, he has always hit the ground running. He bagged nine goals in his 13 games in Mexico and notes his debut goal against Academica as an important moment in what has been a successful first season in Europe.
"I really enjoyed scoring my first goal and seeing that I could help the team," he says. "It earned the confidence of the coach and a great group of players and aided my adaptation.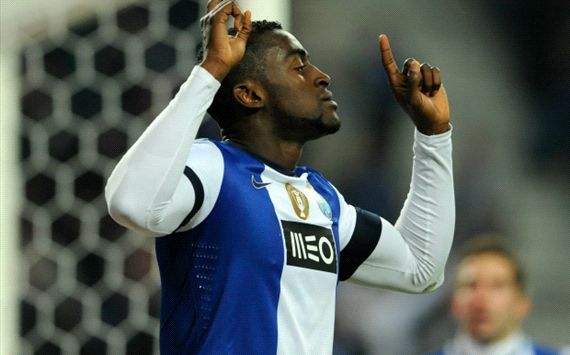 Feeling at home
| Jackson Martinez wasted little time in winning over the Dragao faithful
As Brazil's economy continues to boom and the prices of young talent rises, the unrivalled kings of the transfer market are beginning to look a little further north for their next cash cow. Hector Herrera and Diego Reyes have now followed Martinez' journey from Mexico and should he remain at the club, Martinez will now find himself welcoming outsiders to a group of which he's become an integral part.

"Portuguese football has improved a lot," he said. "There's a lot of quality and a lot of preparation. There are different playing systems. But it also depends on the team, the coach and the style of play. I think the difference here is in the systems of play."

Should Jackson Martinez be prized away from Porto this summer and find himself faced with the task of assimilating to yet another system, he'll no doubt relish the opportunity to acclimatise once again. And if not, he can always improvise.