EXCLUSIVE
By Pilar Suarez | Barcelona Correspondent
Former
Barcelona
striker Steve Archibald says
Lionel Messi
's lack of fitness meant the
Blaugrana
played with 10 men during the 4-0 defeat to
Bayern Munich
last week but is confident the Argentine can inspire his side to a comeback in the Camp Nou return.
The 25-year-old started in Munich but was a shadow of his usual self as he and his team-mates toiled at the Allianz Arena and eventually lost 4-0 to Jupp Heynckes' side.
"It was surprising but it is easy to see what happened to Barca," the Scot exclusively told
Goal.com
.
"Messi wasn't on form. To play against Bayern, in Germany, you need a whole team and all of them on form and strong - it's difficult. But you can't go there and play with 10 men - and that's what Barcelona did.
"They took a risk with Messi and it didn't work. It affected the other players and it ended up affecting the result as well."
Nevertheless, the former Tottenham forward does not believe Barca rely too heavily on the Argentine.
"Everybody says that Barcelona don't have a Plan B, but up until now they haven't needed one," he explained. "It's like any big club - the biggest clubs depend on one, two or three players.
"Madrid are the same with [Cristiano] Ronaldo, but Barcelona play a different way to all the others and they truly need Messi to be functioning so the system can work correctly at that level."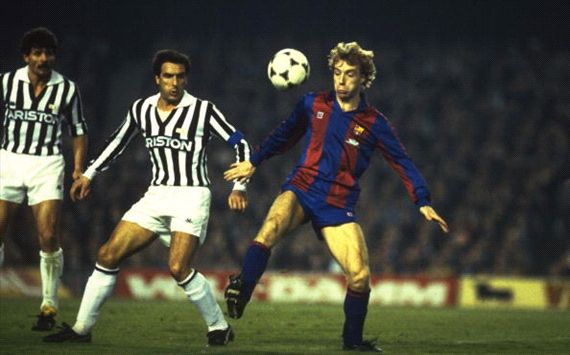 Great Scot | Archibald in action for Barcelona against Juventus
And Archibald, who played for Barcelona between 1984 and 1988 and won La Liga in his first season, says Messi can lead the Catalans to a memorable comeback on Wednesday.
"It's reasonable to think they can [come back]," he continued. "Messi has scored lots of goals. He has scored three or four in many games on his own, so it's not unreasonable to think that if Messi is on form, Barcelona can go through."
The former striker, who also had a spell at Espanyol, also claims a fit Messi could have influenced the result in Germany last week.
"Bayern pressed high up the pitch and that was very risky. If Messi had been on form and strong, he would have driven them crazy, but they pressed to test him and Barcelona, and they saw he wasn't on form. There's no going back now."
Nevertheless, Archibald would like to see Barcelona sign a traditional centre-forward like Borussia Dortmund's Robert Lewandowski, a player he previously recommended to many clubs.
"I have said it for a long time: Barcelona would benefit from having a typical No.9. But you can't criticise them because they have been the most successful team on the planet and scored lots of goals.
"The time will come when they will change system and play with a classic No.9. They could use Lewandowski, for example: a No.9 with good movement, who is strong, scores goals and is good in the air."