TIDYING UP ALL THE LOOSE STORIES IN FOOTBALL THIS WEEK

By
Wayne Veysey
| Chief Correspondent
LAMPARD BEGINS HOUSE-HUNTING IN LA
Frank Lampard's run of goalscoring form either side of the new year is yet to prompt a formal U-turn in Chelsea's decision to allow him to leave this summer.
He has been free to negotiate with foreign clubs since January 1 and talks are at an advanced stage with LA Galaxy over a move at the end of the English season.
The Sweeper
understands that Lampard has now instructed agents to find him a selection of properties to choose from in Los Angeles as he prepares for a new life on the west coast.
The Blues star is only likely to turn his back on the huge offer on the table from the American club if Chelsea revise their decision to let him leave.
The midfielder was officially told on December 31 that he was free to find a new club but Roman Abramovich's sanctioning of a new contract for Ashley Cole, 32, in January, has prompted hope from Blues fans that the club's owner will do the same with Lampard, who turns 35 in June.
The England man's strike against Wigan on Saturday was his 10th goal in 15 games for club and country and took his Chelsea career haul to 198, just four short of Bobby Tambling's club record.
CAZORLA AIDS MONREAL ACCLIMATISATION
Such was the last-minute nature of Nacho Monreal's switch to Arsenal and his hectic schedule, the defender has not had time to sort out living accommodation in England.
The Sweeper
understands that the left-back is temporarily staying in the house of Santi Cazorla, his fellow Spain international and former Malaga team-mate, who has also been driving him into training every day.
Monreal's first 10 days as an Arsenal player involved getting acquainted with his new team-mates in training, two league matches and a spell on international duty.
The £8 million deadline-day signing was granted dispensation by his new club to return to Spain at the start of the week to sort out his domestic situation.
The 26-year-old, who does not speak any English, is hoping to bring his family over to London to live with him when he has found some permanent accommodation.
OLSSON CONTRACT HAS SERIES OF BUY-OUT CLAUSES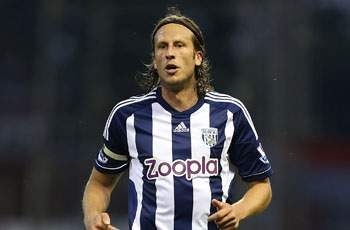 Olsson's deal is believed to have included a January buyout clause of £3.5m for a handful of 'named' clubs

Jonas Olsson signed a four-year West Brom contract last October but only did so after a series of release triggers were written into his agreement.
The defender's deal is believed to have included a January buyout clause of £3.5m that could be invoked only by a handful of 'named' clubs but a separate release of £7m for all others.
It is written into Olsson's contract that the buyout commitments will change in this summer's window, when the higher fee will be reduced.
Arsenal, who made an enquiry for the centre-back in January, are believed to be one of the clubs who could have bought him for £3.5m. QPR, who had a bid rejected by West Brom, were not.